---
"Ridgeway Sentinel." by Suzie Emery
£1,200.00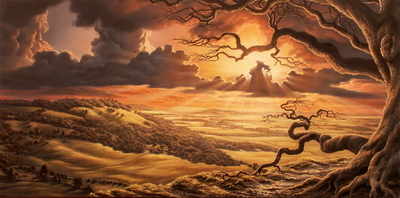 MAGNIFICENT ORIGINAL HIGH PRESTIGE EXHIBITION STANDARD OIL PAINTING "Ridgeway Sentinel." BY THE SUPERB ARTIST SUZIE EMERY. This lovely painting capturing the beauty and tranquility of the sacred Ridgeway. This tree at Aston Rowant has stood alone for centuries battling time and all elements....the Sentinel Painted on the magical Ridgeway looking down across Oxfordshire................ Measurements height 20 inches by 40 inches. Oil on Canvas.............
Ref only; asgard-arts.com
Suzie Emery
has exhibited work in the T.W.A.S.I and N.E.W.A exhibitions and the prestigious Mall Galleries in London. She has also exhibited with the International Crafts and Hobby Fair at the N.E.C and the Woburn Abbey Summer Craft shows. A collection of her work sold prolifically on a T.V network show. Many of her works have sold abroad! Suzie Emery loves painting wildlife especially big cats and is drawn by their beauty, power, grace and vulnerability. She also loves painting landscapes being fascinated by the sky and the dramatic cloud formations and the effects the weather can have on the mood of a landscape. Suzie loves the promise that spring holds and the comfort and warmth of summer. The glorious colours of autumn and the silent splendour of winter.

GUARANTEED TO BE 100% ORIGINAL AND GENUINE WITH C.O.A 100% GOLD POWERSELLER