---
"Higger Tor from Carl Wark" by Arwyn Quick (now sold 19/4/18)
£575.00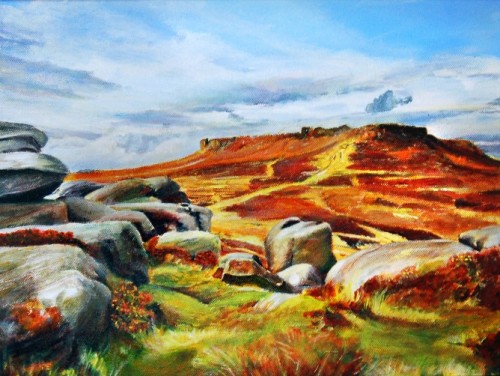 TRULY STUNNING ORIGINAL PAINTING

"Higger Tor from Carl Wark

"

.............. BY THE FABULOUS ARTIST ARWYN QUICK!

"Higger Tor from Carl Wark" by Arwyn Quick
Late afternoon view of Higger Tor, in the Peak District, as viewed from the ancient hill fort of Carl Wark, in Autumn. The spent bracken and heather glows red and the millstone-grit outcrops glint in the half light.
............. by the Superb Artist Arwyn Quick!!!
Measurements; 12 inches by 16 inches (30 cms x 40 cms)
Acrylic on Canvas
After training as a teacher, Arwyn taught in a Junior School, man and boy, for 35 years, specialising in art. He now paints professionally and for enjoyment; rather than for school productions after a long hard day. His work has appeared in several galleries around the country, and has been published in several magazines.
Arwyn has a passion for the sense of spaciousness evoked by the landscape around the Derbyshire Peak. He uses COLOUR to reinforce the immediacy of first impressions & to emphasise spatial awareness & sense of place. By accentuating those elements caught in a Play of Light, he seeks to recreate the scene with a heightened sense of depth. Sometimes, he allows FORM & COLOUR to evolve, (seeking to portray the raw forces behind the scene ) resulting in a rather Abstract Impression.
Investment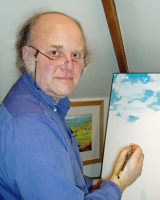 " An Amazing Blue Chip Investment Opportunity to Acquire an Original Arwyn Quick Painting" ..


Invest in one of our paintings, rather than risky bank investments, where you can actually touch your investment. Take pleasure in looking at it and watch it appreciate in value over the years!! Remember we guarantee every painting sold is unique, original e.g only one of it's kind in the world!!!

Scarcity alone guarantees the investment !!!!

Asgard Arts offers works of art which will not only look fantastic in your home or offices (One Investment Bank in particular has purchased paintings from us for their offices see Bull paintings) but will also be a sound financial investment for the future. Art has long been regarded as a strong and safe investment. Investment in paintings was discussed recently on Bloomberg television as a sound investment as a hard asset like Gold, Platinum Silver etc. Also Ellen Kelleher a personal finance journalist for The Financial Times recently wrote an article recommending the purchase of Art, particularly in the $500 - $50,000 range as a sound long term investment with an impressive current average annual increase of 9.7 percent. Go to Latest Art news on Asgard Arts and see Hang your investments on the wall by Ellen Kelleher Published October 22 2010 in the Financial Times.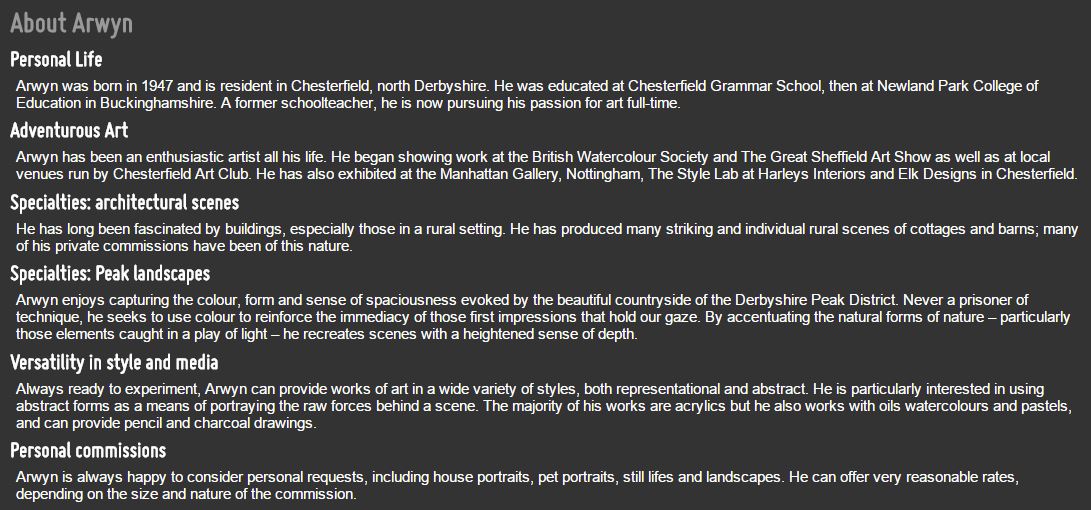 GUARANTEED TO BE 100% ORIGINAL AND GENUINE WITH C.O.A.