---
"Guardian Angel" by Natalie Connor
£350.00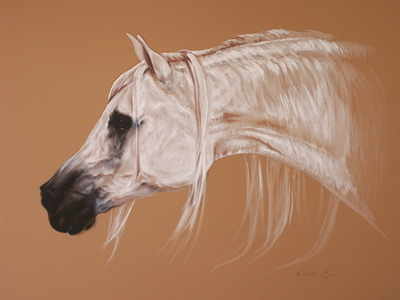 BEAUTIFUL ORIGINAL EXHIBITION STANDARD OIL ON CANVAS "Guardian Angel." BY THE SUPERB ARTIST NATALIE CONNOR. ..........................
Measurements height 16 inches by 23 inches. Oil on board.........
Natalie Connor studied art at Amersham College of Art & Design. She has worked for a publisher designing cards, posters and prints. Natalie has been inspired by her rural upbringing and a deep love and fascination with everything equestrian. She is currently living in North Buckinghamshire. Her work has been exhibited and sold in Art Shows and Charity Fund Raising Events in Worcestershire, Buckinghamshire and Oxfordshire and has had various commission works for private and commercial clients varying from paintings, designs on vehicles and horseboxes, corporate greetings cards, murals and large garden sculptures.
Natalie's work has sold worldwide with one commission requested from New Zealand. Most of her work is equestrian themed although she has also completed commissions for pet portraits, contemporary and abstract designs, humorous depictions, landscapes, flora and fauna, aviation, nautical and agricultural plant and machinery.

GUARANTEED TO BE 100% ORIGINAL AND GENUINE WITH C.O.A. 100% GOLD POWERSELLER.