---
"Lot's Wife" by David Aldus (now sold)
£14,000.00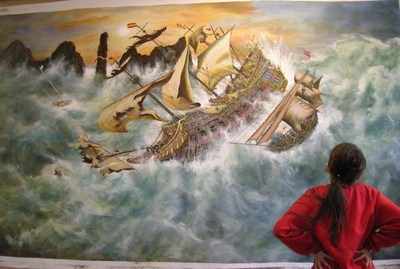 MAGNIFICENT ENORMOUS MASTERPIECE HIGH PRESTIGE EXHIBITION STANDARD OIL PAINTING "Lot's Wife" . BY THE FABULOUS ARTIST DAVID ALDUS.
This amazing painting capturing, in golden splendour, one of England's most historic moments. The painting illustrates a terrible storm back in 1588 and an invading Spanish Armada Galleon being attacked by smaller English frigates.
The painting the exact size of J.M.W Turner's 1812 "Snow Storm, Hannibal and his Army Crossing the Alps" shows the Solent and in the background the Isle of Wight's Needles. The Needles are shown as they were back in 1588 so legendary Lot's wife is shown.
Lot's wife was the name locals called the tall, spiky, Needle shaped stack that sadly crashed back into the sea in 1764 so cannot be seen today!!!!!!!!!!! Lot's wife gave the present day needles their name as it was needle shaped!!! The locals called the Needle Lot's wife as it's tall white shape looked like Lot's wife from the Bible. Lot was told by God not to look back as he destroyed the city of Sodom. Unfortunately Lot's wife looked back and so God turned her into a tall pillar of salt.... hence the name!!!..