---
"The Music of the night- Phantom of the Opera" by Leon Goodman (now sold 10/1/11)
£1,200.00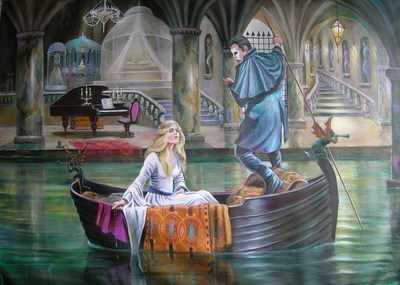 ABSOLUTELY STUNNING VERY LARGE ORIGINAL OIL PAINTING ON CANVAS "The Music of the Night- Phantom of the Opera"
This sensational new Goodman painting captures the story of the tragic Phantom of the Opera. The Phantom of the Opera is the story of Christine Daae, pictured in the boat! Christine takes a position at the famous Paris Opera house. Her dying father had told her that he would send the Angel of Music to her to comfort her.
Christine one night hears beautiful singing and believes it to be the Angel of the night. She is actually hearing the singing of the disfigured genius Erik who lives alone far below in the damp vaults of the opera house cellars. Erik falls in love with Christine so plans to marry her and take her to his home in the catacombs (that actually exist deep below Paris today!!) The story ends when Christine kisses the deformed Erik and he releases her so she can marry her true love Raoul.
The Monkey with cymbals (pictured left)


The painting captures much from the story. If you look far left you can see the toy wind-up monkey with the brass cymbals. This monkey was the lonely Erik's only salvation and company in the depths of his despair.
Erik sings the Opera's famous "Music of the Night" to the entranced Christine !! Her eyes interestingly follow the painting's viewer wherever they are !!!!
The Grand piano pays hommage to the 1925 film of the Phantom where christine dramatically unmasks the Phantom as he plays!!!...BY THE SUPERB LEON GOODMAN WHO IS AN ACCOMPLISHED ARTIST HAVING BEEN A FINALIST AT THE GARRICK-MILNE PRIZE.HE HAS MANY OF HIS WORKS SOLD AT CHRISTIES. Measurements height 28.5 inches by 40 inches Oil on Canvas .............

Ref; Wikipedia leon goodman asgard-arts.com
Christine
The Phantom's subterranean world


GUARANTEED TO BE 100% ORIGINAL AND GENUINE WITH C.O.A. Leon Goodman has been a professional artist for the majority of his working life. His work has been sold at The Omell Gallery, Ascot, as well as Christies, the fine art auction house in London. Many of his works have sold to the U.S for thousands of pounds. (Please check out www.leon-goodman.com ) Since seeing his work, Risborough Art Gallery have made him a regularly featured artist. Leon's philosophy is that it is not the delineation of the subject which is important, but its fragmentation. He believes a strictly photographic image does not allow the viewer to participate in the painting. If the image is fragmented, the viewer can imagine for himself the missing parts and involve himself in the creation of the whole image. The viewer has seen his own interpretation of the fragmented images; the next viewer may see something different.100% GOLD POWERSELLER

.