---
" The Billow Maidens " by Leon Goodman (now sold to New York 14/2/10)
£3,450.00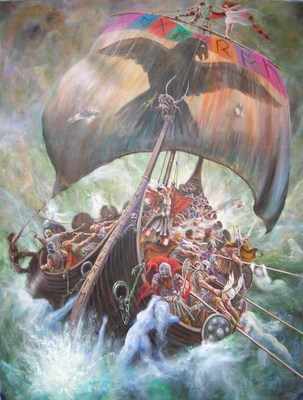 A historic rare opportunity for Asgard Arts to offer this stunning huge
( 5 foot 7'' x 4 foot 4'' / 1 metre 73cms x 1 metre 32cms )
New Viking painting "The Billow Maidens" . This very large painting capturing the legend of the Billow Maidens.

Dúfa - The Pitching One- Dufa can be seen clawing at the bow of the warship
This hapless Viking Warship of the King Harald Hardrada and his son Olaf crossing the north sea has entered the realm of the billow maidens.
King Harald Hardrada, totally bewitched, grabs the frothing wave Udr'sarm and she writhes in delight !!

The billow maidens were the nine daughters of the Sea Goddess Ran in Norse/saxon mythology. It is written in the Edda's The daughters of Ægir and Rán are nine,
Himinglæva - That through which one can see the heavens (a reference to the transparency of water) Himinglaeva holds on to the Viking's Oars and laughs at their stares.
Hefring - Hefring known as the riser tries desperately to entice the red bearded Olaf to her charms!


Dúfa - The Pitching One- Dufa can be seen clawing at the bow of the warship
Blóðughadda - Bloody-Hair (a reference to red sea foam). Bloduhadda the beautiful red head can be seen at the top of the crossbeam with a brave Viking that has been drawn to her


Kolga- the cool wave


Uðr (or Unn) - Harald Hardrada with his glorious Winged Helmet grabs the arm of Udr and tries to pull her aboard! The Frothing Wave writhes in delight!!

Hronn- the Welling wave

Bylgja- the Billow wave

Drofn- the foam flecked wave

Goodman at his studio adding the last brush strokes of this enormous epic painting!!

........................................... BY THE SUPERB GOODMAN WHO IS AN ACCOMPLISHED ARTIST HAVING BEEN A FINALIST AT THE GARRICK-MILNE PRIZE.HE HAS MANY OF HIS WORKS SOLD AT CHRISTIES.
Measurements height 5 foot 8 inches by 4 foot 4 inches
( 1 metre 73 cms x 1 metre 32cms ) (with 4'' border )
Oil on Canvas .

www.leon-goodman.com Wiki ;LeonGoodman
GUARANTEED TO BE 100% ORIGINAL AND GENUINE WITH C.O.A.

Leon Goodman

has been a professional artist for the majority of his working life. His work has been sold at The Omell Gallery, Ascot, as well as Christies, the fine art auction house in London. Many of his works have sold to the U.S for thousands of pounds. (Please check out www.leon-goodman.com ) Since seeing his work, Risborough Art Gallery have made him a regularly featured artist. Leon's philosophy is that it is not the delineation of the subject which is important, but its fragmentation. He believes a strictly photographic image does not allow the viewer to participate in the painting. If the image is fragmented, the viewer can imagine for himself the missing parts and involve himself in the creation of the whole image. The viewer has seen his own interpretation of the fragmented images; the next viewer may see something different.