---
"The Dance At The Crossroads" by Dan Ianos
£17500.00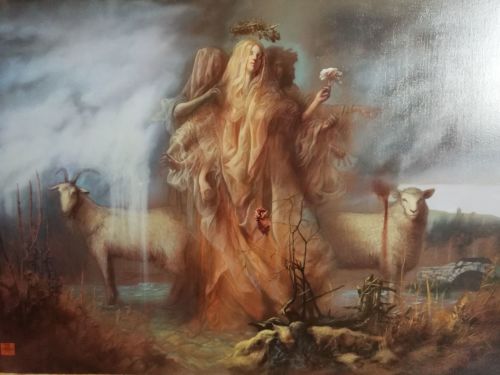 A rare opportunity to acquire an incredible original Dan Ianos painting

"The Dance At The Crossroads"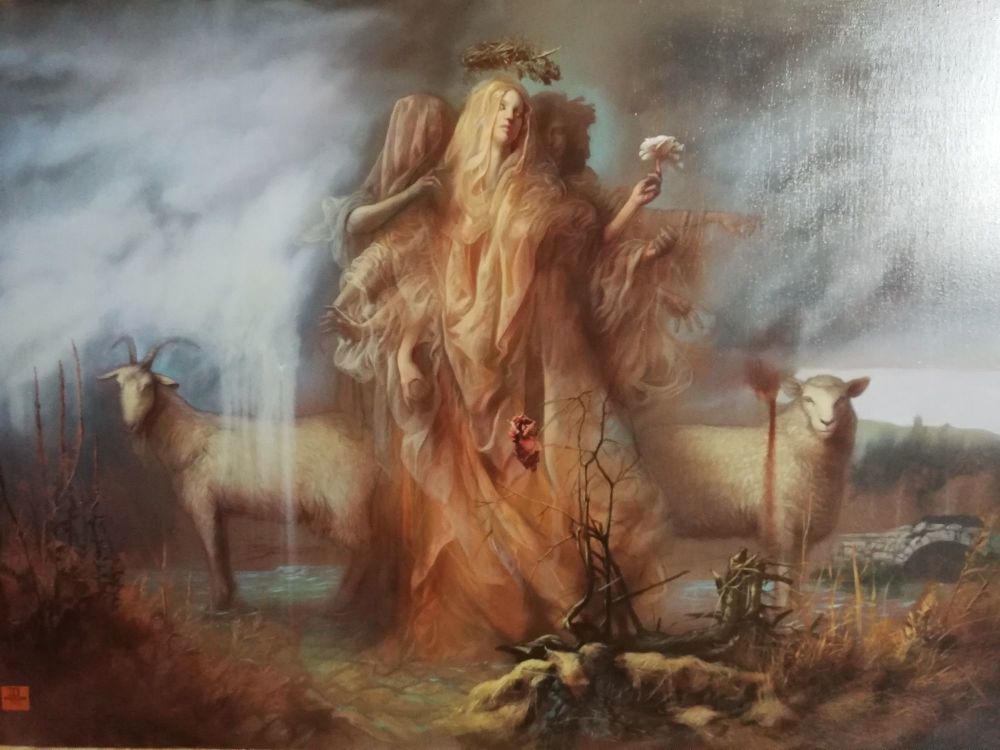 "The Dance At The Crossroads" by Dan Ianos
Stunning painting months to create centred on an old Pagan Myth.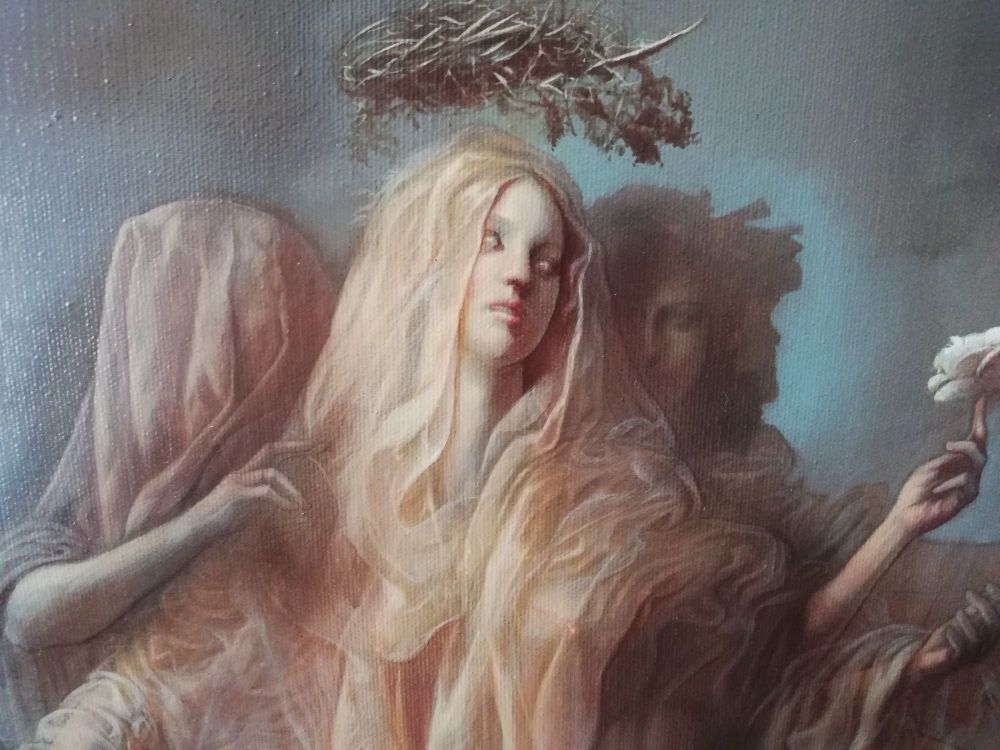 Epic Painting!!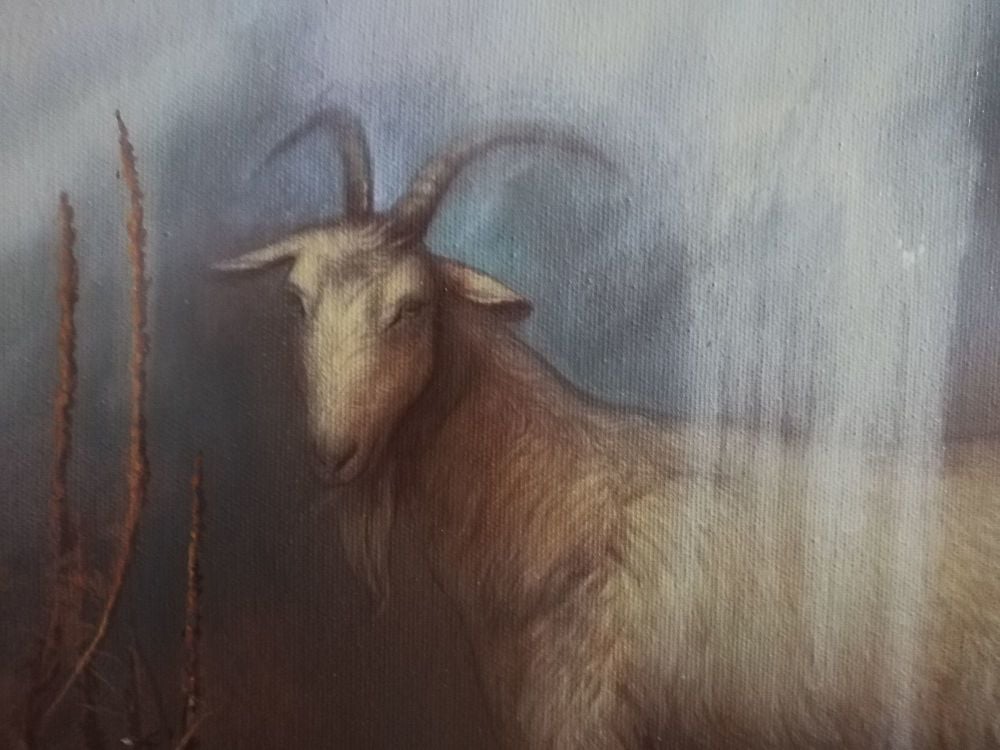 Signed by the Artist
Beautiful old style painting done in late Renaissance techniques, using dead layer on the flesh tones and a monochromatic brown under-modelling for the rest of the composition.

Dan Ianos spent 6 months just to bring the sketches to a historical accuracy, both in terms of clothing chain mail and ornamental patterns (Dan researched the history of Wallachian clothing between 14th and 16th century as well as techniques employed in that century, speaking with historians and so on.

Dan used oil resin and varnish for better blending the pigments as well as 20 glazing and scumbling layers.

The painting is done on stretched canvas primed with 10 coats of gesso polished until the tooth of the canvas was completely covered.
The face was based on the Ambras portrait but not copied because Dan thought the original portrait was done by a 3rd hand germanic-flemish painter so he couldn't rely entirely on that one.
Dan Ianos is considered to be one of the leading Renaissance revival artists in the world. He has been many award amd accolades.
............. by the internationally acclaimed, Award Winning, Leading Artist Dan Ianos!!!!

Measurements; 27 1/2 inches x 39 1/2 inches
(70 cms x 100 cms)

Large Oil on Canvas

Framed with copper bronze patina in the Gothic style but not enough to disturb the composition.

The inscription in Gothic letters, in the top left hand of the painting, written on the wall behind says "WLADYSLAWS DRAGWYLYA VOYEWODA"
his latin signature.

My signature is made on the small piece of furniture were the green venetian jar is.

" An Amazing Blue Chip Investment Opportunity to Acquire an Original Dan Ianos Painting" ..


Invest in one of our paintings, rather than risky bank investments, where you can actually touch your investment. Take pleasure in looking at it and watch it appreciate in value over the years!! Remember we guarantee every painting sold is unique, original e.g only one of it's kind in the world!!!

Scarcity alone guarantees the investment !!!!

Asgard Arts offers works of art which will not only look fantastic in your home or offices (One Investment Bank in particular has purchased paintings from us for their offices see Bull paintings) but will also be a sound financial investment for the future. Art has long been regarded as a strong and safe investment. Investment in paintings was discussed recently on Bloomberg television as a sound investment as a hard asset like Gold, Platinum Silver etc. Also Ellen Kelleher a personal finance journalist for The Financial Times recently wrote an article recommending the purchase of Art, particularly in the $500 - $50,000 range as a sound long term investment with an impressive current average annual increase of 9.7 percent. Go to Latest Art news on Asgard Arts and see Hang your investments on the wall by Ellen Kelleher Published October 22 2010 in the Financial Times.
Dan Ianos


Dan Ianos began drawing and painting at the age of 6 and knew from that early age, that all he wanted to be was an artist!
He is completely self taught and has spent most of my life studying the techniques and knowledge of the Renaissance Old Masters in great detail. dan Ianos is one of the very few artists who still use these 500 year old techniques, which sometimes includes making my own oil paints and mediums.
Dan has been painting professionally for over 15 years, undertaking regular portrait commissions for private clients and producing artworks for art gallery exhibitions. He works mainly with Oil paints on canvas.

Dan's major influences being Da Vinci, Titian, and Caravaggio and many others.

Dan is considered to be one of the UK's leading Renaissance revival, Fantasy and figurative artists, working predominantly in Oils.

Dan Ianos paintings are in many private collections Worldwide, including celebrities and Royalty.


Dan Ianos paints using two basic styles, one of detailed realism and my other more loose contemporary art style.

His main categories of paintings (and commissions), being Figurative art and portraiture, fantasy.

Dan Ianos now lives and works in Transylvania.

MEMBERSHIPS
Member of the Art Guild of Wallachia.
AWARDS & ACCOLADES
Dan Ianos is available to commission .
GUARANTEED TO BE 100% ORIGINAL AND GENUINE WITH C.O.A.
Pay instantly with your debit or credit card through PayPal.