---
Seascape signed Constantin Westchiloff
£8,000.00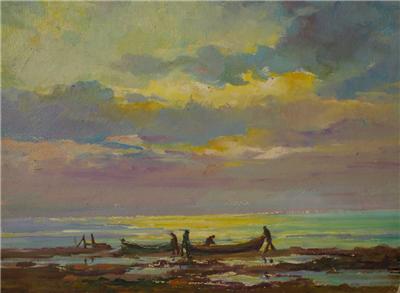 Absolutely stunning seascape signed C. Westchiloff. The painting itself measures 12" x 16" and has recently been professionally re-framed - the original frame was somewhat battered. It is now beautifully double mounted behind a hand-painted wash mount on cream sat on dark maroon, behind UV glass, within an attractive gilt frame measuring 18" x 22" overall.


Measurements 12 inches x 16 inches

Condition - Great condition for it's age
signed C. Westchiloff
Constantin Alexandrovich Westchiloff (1877-1945) was a Russian Impressionist painter.
Westchiloff was born in Russia in 1877. He Americanized his name to Constantin A. Westchiloff when he emigrated to the United States in the early twentieth century. He was born Konstantin Alexandrovich Veschilov. He studied under Ilya Repin at the Royal Academy of Fine Arts in St.Petersburg. He exhibited at the fir the first time there in 1919, and was active in theatre design at the Petrograd Technical Institute. Westchilov painted a wide variety of subjects in the Impressionist style, but was particularly noted for his seascapes and harbor scenes. He operated a studio in New York and often painted coastal Maine scenes. He travelled extensively throughout Europe, and emigrated to the United States and settled in New England , where he died.
Unfortunately, I do not have the necessary provenance to prove the authenticity of the artist of this painting - I am therefore offering this painting as "After Constantin Westchiloff".
THIS IS A GENUINE ORIGINAL OIL PAINTING AND NOT A REPRODUCTION