---
" Tirée sur arche " by Jacques Villon
£200.00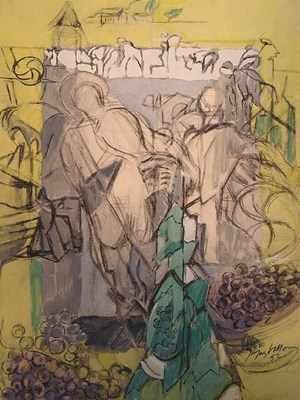 " Tirée sur arche " by Jacques Villon-
Original coloured etching. In beautiful perfect condition. Signed and dated at the bottom right of the etching Jacques Villon 52 .



On the back of the paper, several indications show the category, the type of paper employed, the numbered and the date: " Original coloured engraving - 216/300 - 1952 ".




Measurements-
15'' x 11'' 37.8 cms x 28 cms.



Jacques Villon

( 1875 - Puteaux 1963) was a pseudonym used by the famous French cubist painter
Gaston Duchamp. He
settled in Paris in 1894. Gaston took the pseudonym of Jacques Villon in homage to the poet François Villon. He placed drawings in humorous newspapers , as Le rêve ou L'assiette au beurre (the Dream or the butter plate). Attracted by Cubism, he founded the school of Puteaux: Some artists, including his brothers Marcel Duchamp and Raymond Duchamp-Villon, and Gleizes, Metzinger, Leger, Delaunay, Picabia, which would form the Golden Section. Villon won the Carnegie Prize in 1950, and the Grand Prix of the Venice Biennale in 1956. He was appointed Commander of the Legion of Honour. He died on June 9, 1963, in his studio in Puteaux, where he had worked for nearly sixty years.