---
"Les Choristes" By Edgar Degas STOLEN December 31, 2009
£0.00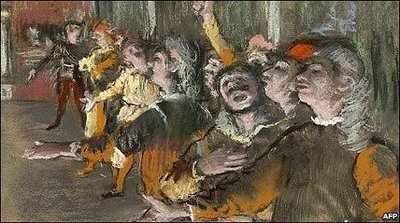 A theft of one of Edgar Degas's works
"Les Choristes" by Edgar Degas- worth $1,100,000

On the morning of December 31, 2009, Degas's painting Les Choristes
(The Chorus) was discovered stolen from the Catini Museum in Marseilles, which had the painting on loan from the Musée d'Orsay in Paris.


The 1877 pastel was on loan to the Musee Cantini from the Musee d'Orsay in Paris for an exhibition, Claudel said. The painting was discovered missing when staff opened the museum Thursday !!

Investigators were going through surveillance camera footage for clues, but Claudel said he could not offer any more information about the case.
Recognized as an important artist by the end of his life, Degas is now considered "one of the founders of Impressionism".Though his work crossed many stylistic boundaries, his involvement with the other major figures of Impressionism and their exhibitions, his dynamic paintings and sketches of everyday life and activities, and his bold color experiments, served to finally tie him to the Impressionist movement as one of its greatest early artists.