---
"The Millinery Shop" by Edgar Degas
£20.00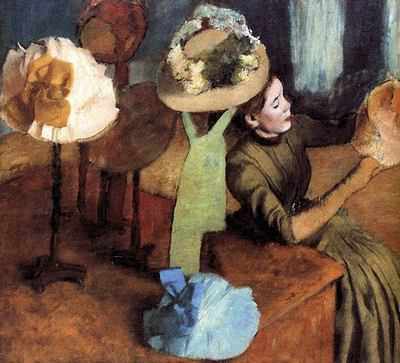 BEAUTIFUL GICLEE ART PRINT ON CANVAS "The Millinery Shop" .......................BY EDGAR DEGAS Measurements height 8.5 inches by 11 inches on Canvas. .....
This Fine Art digital print is on a Hahnemuhle Fine Art Canvas which is a museum grade canvas and we print using archival quality pigment inks. We spray all our canvases with anon yellowing spray to provide UV and environmental protection

.


Edgar Degas



Edgar Degas
(19 July 1834 – 27 September 1917), born
Hilaire-Germain-Edgar De Gas
was a French artist famous for his work in painting, sculpture, printmaking and drawing
. He is regarded as one of the founders of Impressionism
although he rejected the term, and preferred to be called a realist.
A superb draughtsman
, he is especially identified with the subject of the dance, and over half his works depict dancers. These display his mastery in the depiction of movement, as do his racecourse subjects and female nudes
. His portraits
are notable for their psychological complexity and depiction of human isolation.
Early in his career, his ambition was to be a history painter
, a calling for which he was well prepared by his rigorous academic training and close study of classic art. In his early thirties, he changed course, and by bringing the traditional methods of a history painter to bear on contemporary subject matter, he became a classical painter of modern life
.


In 1859, Degas moved into a Paris studio large enough to permit him to begin painting The Bellelli Family—an imposing canvas he intended for exhibition in the Salon, although it remained unfinished until 1867. He also began work on severa history paintings: Alexander and Bucephalus and The Daughter of Jephthah in 1859–60; Sémiramis Building Babylon in 1860; and Young Spartans around 1860. In 1861, Degas visited his childhood friend Paul Valpinçon in Normandy, and made the earliest of his many studies of horses. He exhibited at the Salon for the first time in 1865, when the jury accepted his painting Scene of War in the Middle Ages, which attracted little attention. Although he exhibited annually in the Salon during the next five years, he submitted no more history paintings, and his Steeplechase—The Fallen Jockey (Salon of 1866) signaled his growing commitment to contemporary subject matter. The change in his art was influenced primarily by the example of Edouard Manet, whom Degas had met in 1864
At the outbreak of the Franco-Prussian War in 1870, Degas enlisted in the National Guard, where his defense of Paris left him little time for painting. During rifle training his eyesight was found to be defective, and for the rest of his life his eye problems were a constant worry to him.

As the years passed, Degas became isolated, due in part to his belief that a painter could have no personal life.The Dreyfus Affair controversy brought his anti-semitic leanings to the fore and he broke with all his Jewish friends. His argumentative nature was deplored by Renoir, who said of him: "What a creature he was, that Degas! All his friends had to leave him; I was one of the last to go, but even I couldn't stay till the end."
Although he is known to have been working in pastel as late as the end of 1907, and is believed to have continued making sculpture as late as 1910, he apparently ceased working in 1912, when the impending demolition of his longtime residence on the rue Victor Massé forced a wrenching move to quarters on the boulevard de Clichy. He never married and spent the last years of his life, nearly blind, restlessly wandering the streets of Paris before dying in 1917.