---
"Tête de Clown" 1955 Bernard Buffet Reproduction by David Aldus.(now sold 31/8/10)
£450.00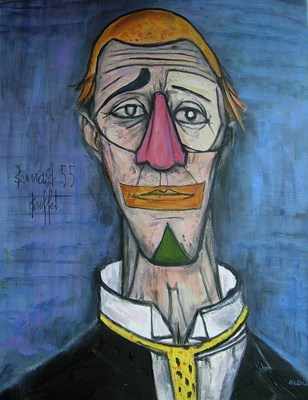 MAGNIFICENT REPRODUCTION OIL ON CANVAS OF BERNARD BUFFETS'S FAMOUS PAINTING "Tête de Clown". 1955 BERNARD BUFFET REPRODUCTION BY THE FABULOUS ARTIST DAVID ALDUS.



This Lovely reproduction painting of the French expressionist painter Bernard Buffet. David Aldus in completing this reproduction, following the original brushstrokes, felt the sadness and turmoil of the original Artist . ( Highest price received for one of his paintings is £10,000 !!! Absolute investment opportunity! ) Measurements height 20 inches by 16 inches Oil on canvas. .
www.davidaldus.com Wikipedia; david aldus
David Aldus

the artist has exhibited with the Royal Society of British Artists ( R.B.A ); the Royal Institute of Oils ( R.O.I ); and the Royal Society of Marine Artists ( R.S.M.A ) He has been nominated twice as a finalist in the Garrick/Milne prize exhibition held at Christies LONDON. His work has been selected for the Discerning Eye Exhibition by Art Critic, Edward Lucie Smith, where all his work was sold. He also sold all his work at the Lambeth Palace when exhibiting under the auspices of the Royal Society of Marine Artists. Highest price received for one of his paintings is £10,000.The same painting was the subject of a congratulatory letter from Queen Elizabeth II. Lord Lewin, Admiral of the Fleet also sent a letter of congratulations. He has held one or two-man shows at Knightsbridge; South Kensington; Windsor,and numerous other venues. He has exhibited in Westminster Central Hall; Royal Festival Hall; Birmingham's Royal British Artists exhibition; Victoria Art Gallery, Bath; Rooksmoor Gallery, Bath; London Guildhall; Mann Island, Liverpool; Christies,the London Auction House, etc. GUARANTEED TO BE 100% ORIGINAL AND GENUINE WITH C.O.A



Bernard Buffet
(10 July 1928 – 4 October 1999) was a French painter of Expressionism and Member of the Anti-Abstract Art Group "L 'homme Témoin [the Witness-Man]" Buffet was born in Paris
, and studied art there at the Ecole Nationale Superieure des Beaux-Arts. (National School of the Fine Arts) and worked in the studio of the painter Eugene Narbonne
. Among his classmates were Maurice Boitel and Louis Vuillermoz.
Sustained by the picture-dealer Maurice Garnier, Buffet produced religious pieces, landscapes, portraits and still-lifes. In 1946, he had his first painting shown, a self-portrait, at the Salon des Moins de Trente Ans at the Galerie Beaux-Arts. He had at least one major exhibition every year. Buffet illustrated "Les Chants de Maldoror" written by Comte de Lautreamont in 1952. In 1955, he was awarded the first prize by the magazine Connaissance des arts, which named the 10 best post-war artists. In 1958, at the age of 30, the first retrospective of his work was held at the Galerie Charpentier.
December 12, 1958 Buffet married the writer and actress Annabel Schwob. His daughter Virginie was born in 1962, and his daughter Danielle in 1963. His son Nicolas was born in 1973, the same year that he was named "Chevalier de la Légion d'honneur". One of Buffet's disciples, Jean Claude Gaugy, was the father of Linear Expressionism. He now lives in New Mexico with his wife, Cerberus

November 23, 1973 the Bernard Buffet Museum was inaugurated; it was founded by Kiichiro Okano, in Surugadaira, Japan.
Buffet created more than 8.000 paintings and many prints as well.
He commited suicide at his home in Toutour, Southern France, on October 4, 1999. Buffet was suffering from Parkinson's disease and was no longer able to work. Police said that Buffet died around 4 p.m after putting his head in a plastic bag attached around his neck with tape.