---
"The Fighting Temeraire " Joseph Turner reproduction by David Aldus
£750.00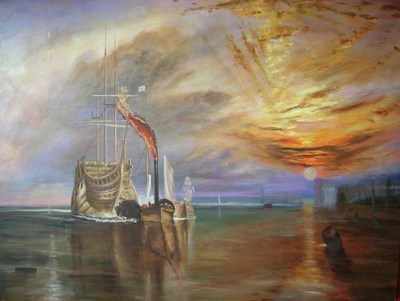 MAGNIFICENT VERY LARGE REPRODUCTION OIL ON CANVAS OF JOSEPH TURNER'S FAMOUS PAINTING "The Fighting Temeraire ". BY THE FABULOUS ARTIST DAVID ALDUS.
This Lovely reproduction painting uses oils ever more transparently and turned to an evocation of almost pure light by use of shimmering colour. Turner's beautiful masterpiece captures the tragic last journey of the heroic battleship "The fighting Temeraire". The ship is being dragged up the river Thames to be scrapped. Turner's genius also captures the end of an era as the old sailing ship is being pulled by a steam ship heralding in a new dawn of the Industrial revolution. The intensity of hue and interest in evanescent light not only placed Turner's work in the vanguard of English painting, but later exerted an influence upon art in France, as well; the Impressionists, particularly Claude Monet, carefully studied his techniques. In the modern art era, advocates of abstract art were also inspired by Turner. (The battleship the "Fighting Temeraire" fought right alongside Nelson's " The Victory" at the battle of Trafalgar 1805.The ship was originally French called the Temeraire but was captured by the English and re-named the "Fighting Temeraire" )
( Highest price received for one of his paintings is £14,000 "Lot's Wife" Absolute investment opportunity! )
Measurements height 36 inches by 45 inches Oil on canvas. .


David Aldus the artist has exhibited with the Royal Society of British Artists ( R.B.A );the Royal Institute of Oils ( R.O.I );and the Royal Society of Marine Artists ( R.S.M.A )He has been nominated twice as a finalist in the Garrick/Milne prize exhibition held at Christies LONDON.His work has been selected for the Discerning Eye Exhibition by Art Critic,Edward Lucie Smith,where all his work was sold.He also sold all his work at the Lambeth Palace when exhibiting under the auspices of the Royal Society of Marine Artists.Highest price received for one of his paintings is £10,000.The same painting was the subject of a congratulatory letter from Queen Elizabeth II.Lord Lewin,Admiral of the Fleet also sent a letter of congratulations.He has held one or two-man shows at Knightsbridge;South Kensington;Windsor,and numerous other venues.He has exhibited in Westminster Central Hall;Royal Festival Hall;Birmingham's Royal British Artists exhibition;Victoria Art Gallery,Bath;Rooksmoor Gallery,Bath;London Guildhall;Mann Island,Liverpool;Christies,the London Auction House,etc.
GUARANTEED TO BE 100% ORIGINAL AND GENUINE WITH C.O.A