---
"Christ and Two Disciples" by Georges Rouault 1935
£55.00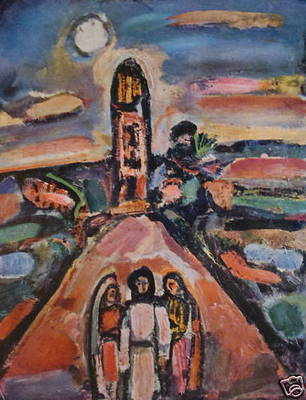 This lovely and very decorative coloured litho plate "Christ and Two Disciples" by Georges Rouault from the Rouault folio edition published in 1952 by Harry N Abrams New York. (This plate is over 50 years old.)
This colour plate in superb condition measures 10 x 8 inches (26 x 20 cms) and is tipped in onto the original folio paper with a boarder of 1 1/2 inch (4 cm) approx to the sides, top and bottom, it is very decorative and would of course look superb framed.

Georges Rouault
Georges Henri Rouault (27 May 1871 – 13 February 1958) was a French Fauvist and Expressionist painter, and printmaker in lithography and etching.

Georges Rouault also met Henri Matisse, Albert Marquet, Henri Manguin, and Charles Camoin. These friendships brought him to the movement of Fauvism, the leader of which was considered to be Matisse.
In 1891 Rouault painted "The Way to Calvary".
From 1895 on, he took part in major public exhibitions, notably the Salon d'Automne (which he helped to found), where paintings with religious subjects, landscapes and still lifes were shown. In 1905 he exhibited his paintings at the Salon d'Automne with the other Fauvists. While Matisse represented the reflective and rationalized aspects in the group, Rouault embodied a more spontaneous and instinctive style.
His use of stark contrasts and emotionality is credited to the influence of Vincent van Gogh.. His characterizations of overemphasized grotesque personalities inspired the expressionist painters.
In 1907, Rouault commenced a series of paintings dedicated to courts, clowns and prostitutes. These paintings are interpreted as moral and social criticism. He became attracted to Spiritualism and the dramatic existentialism of the philosopher Jacques Maritain, who remained a close friend for the rest of his life. After that, he dedicated himself to religious subjects. Human nature was always the focus of his interest. Rouault said: "A tree against the sky possesses the same interest, the same character, the same expression as the figure of a human."
In 1910, Rouault had his first works exhibited in the Druet Gallery. His works were studied by German artists from Dresden , who later formed the nucleus of expressionism.
From 1917, Rouault dedicated himself to painting. The Christian faith informed his work in his search for inspiration and marks him out as perhaps the most passionate Christian artist of the 20th century: first of all, in the theme of the passion of Christ. The face of Jesus and the cries of the women at the feet of the cross are symbols of the pain of the world, which for Rouault was relieved by belief in resurrection.
In 1929 Rouault created the designs for Diaghilev's ballet "The Prodigal Son", with music by Prokofiev and choreography by Balanchine.
In 1930 he also began to exhibit in foreign countries, mainly in London, New York and Chicago.
In 1937 Rouault painted "The Old King" -- arguably his very finest expressionist work.
He exhibited his cycle Miserere in 1948.
At the end of his life he burned 300 of his pictures (estimated to be worth today about more than half a billion francs ). Rouault died in Paris in 1958.