---
"Tulipes et Narcisses" by Louis Valtat
£50.00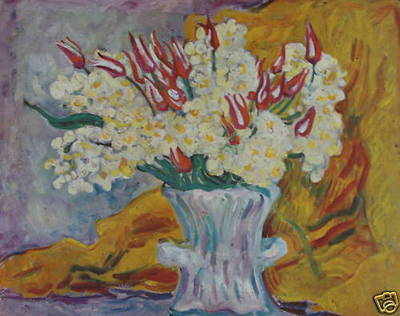 This lovely and brightly coloured Vintage plate "Tulipes et Narcisses " by Louis Valtat (Picasso contemporary) was published in 1951 by Suter SA France.(In superb condition) It is numbered 8 and titled.
This plate is over 50 years old.
The Original was painted in 1898.


The image/plate measures 10 1/2 x 9 1/2 inches (27 x 24 cms) including a border of around 1 inch (2.4 cm) top and 2 inches (5 cm) bottom, the plate is tipped in to the left on to light brown sugar paper giving a border of about 1 inch (2.4cm) to the sides, top and bottom.
It is a very decorative and colourful piece which would of course look superb framed.
Louis Valtat
was a French painter associated with the Fauves. Valtat is noted as a key link that accounts for the stylistic transition in painting from Monet to Matisse.
Louis Valtat is considered as one of the leaders and founders of the Fauvist movement (meaning "the wild beasts" for their wild, expressionist-like use of colour), which did not formally begin until 1905 at the Salon d'Automne. Valtat was involved with the most influential groups of artists, such as Auguste Renoir, Paul Signac, Georges d'Espagnat and Maximilien Luce.
Valtat exhibited widely during his career. In 1894, Louis Valtat collaborated with both Henri de Toulouse-Lautrec and Albert André in creating the decor for the Paris theater L'Oeuvre at the request of Lugné Poë.
Valtat suffered from TB and he spent many autumn/winter seasons along the Mediterranean coast in St.Tropez
.
Often, Valtat and his family would visit Paul Signac in Bollee and Renoirat the Maison de la Poste in Cagnes. During these times, along the Mediterranean, Valtat's use of colour became a major concern to him, and he began to express his Fauvist tendencies, particularly in painting seascapes