---
"Keith Richards (Skull Eyes)" by Paul Karslake
£24500.00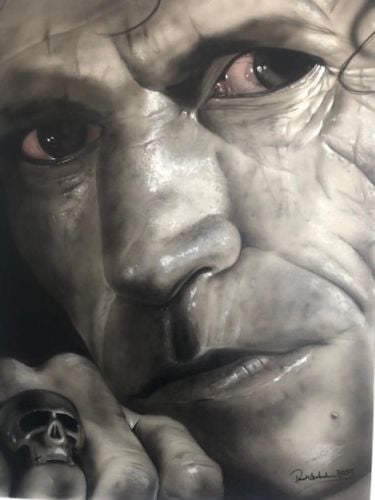 A rare opportunity to acquire a truly stunning original Paul Karslake painting

"Keith Richards (Skull Eyes)"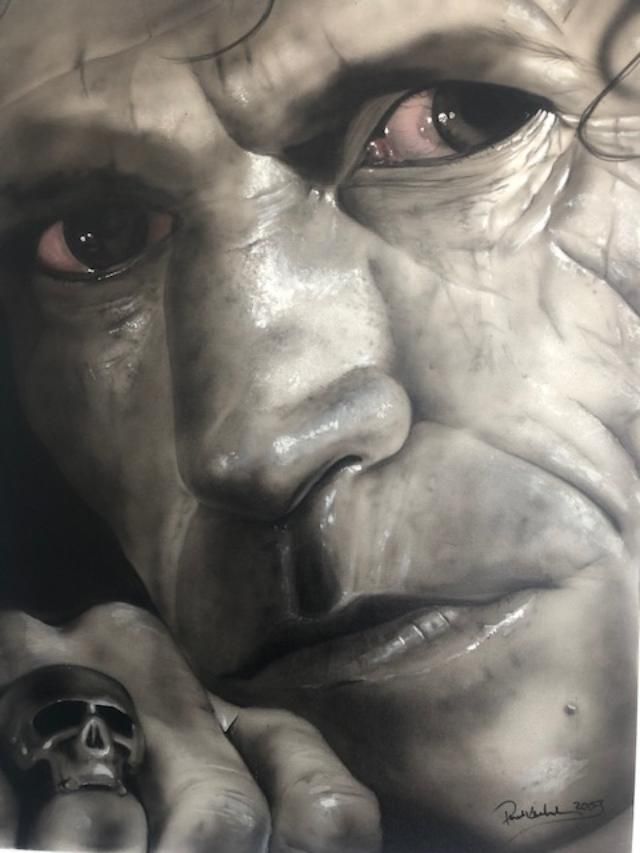 "Keith Richards (Skull Eyes)" by Paul Karslake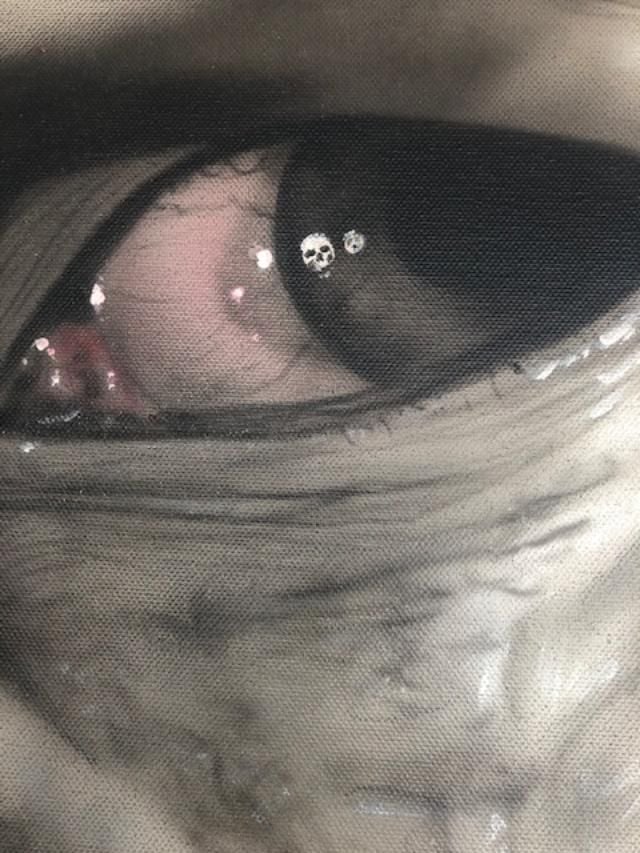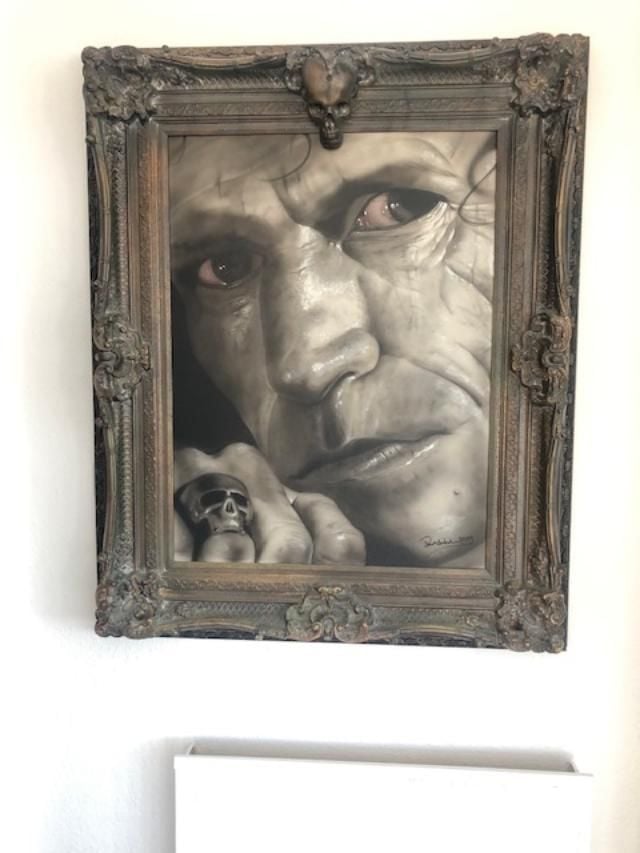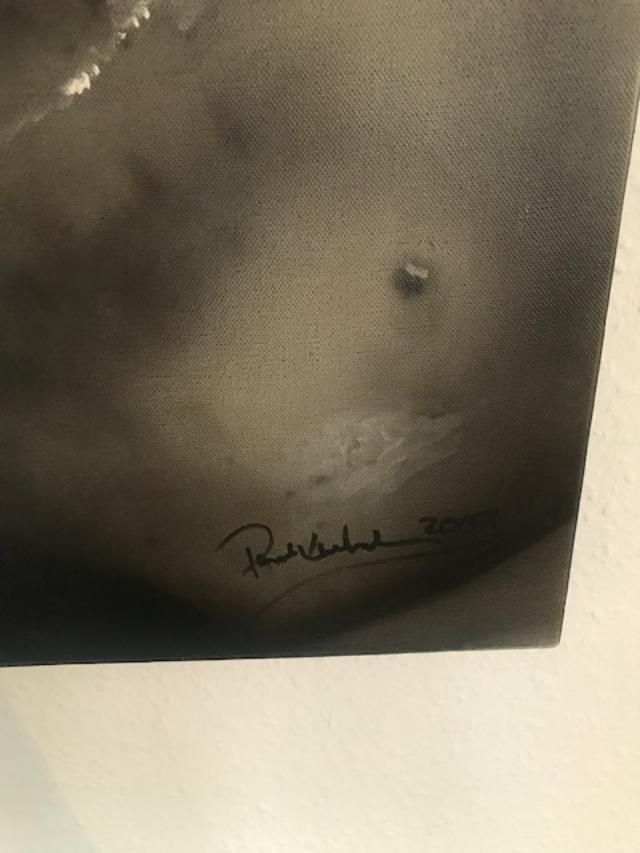 Signed Paul Karslake
............. by the internationally acclaimed award winning Artist Paul Karslake!! One of Paul's paintings the "Last Supper Rock and Roll" sold for £68,000!!! See below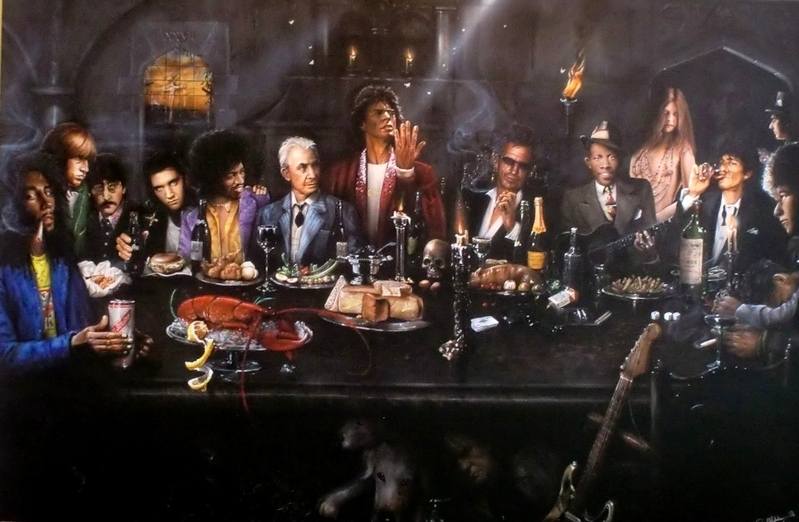 "The Last Supper Rock and Roll" by Paul Karslake FRSA
Paul Karslake Fellow of the Royal Society of Artists FRSA is primarily a painter. He is the brother of Jo Wood, former wife of Ronnie Wood of the Rolling Stones. Paul's paintings are in high demand !!! Gordon Ramsay, Johnny Depp, Keith Richards, Jackie Stewart, Terry Wogan etc etc all customers!!!!
Paul is legendary in the Art world he was even commissioned by Swiss Air to paint one of their aircraft see below!!!!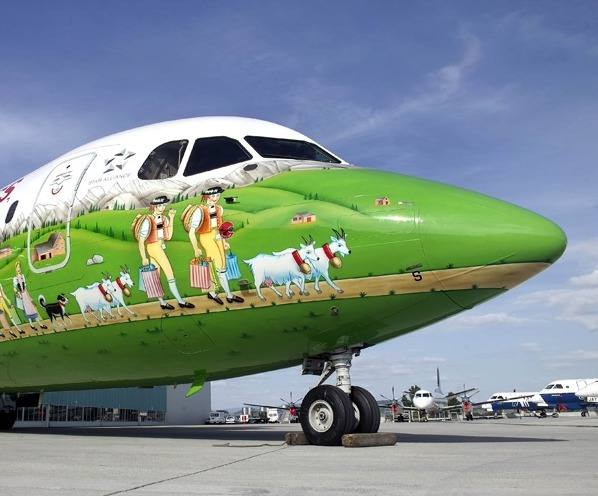 .... A wonderful investment !
Measurements; 41 inches x 31 inches
(104 cm x 78 cm)
Oil on Canvas
Framed with beautiful Gothic frame
Click on the image below of Paul Karslake's painting where Paul talks about the meanings behind his Painting 'The Last Supper Rock and Roll'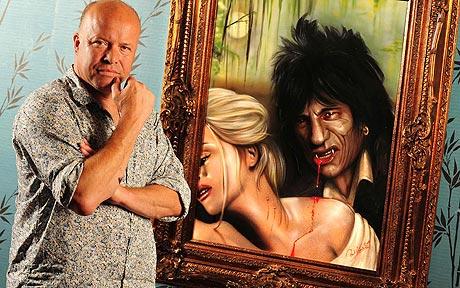 Paul's brushwork is breathlessly adept: fluid strokes make the Ladies' clothing dance weightlessly in the wind; hard-edged ones keep them from melting into nothing!!! ...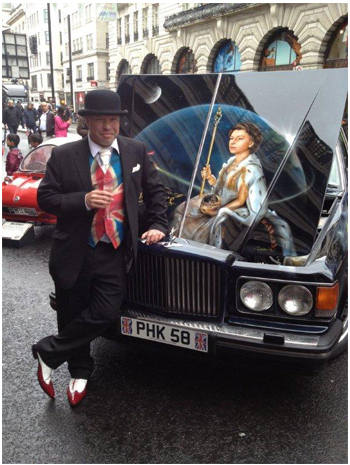 Artist Paul Karslake poses with a Bentley Mulsanne before turning it into his latest artwork titled "Empire" on January 31, 2012 in Leigh-on-Sea, England. Painted to coincide with the Queen's Diamond Jubilee, the car features scenes of British military victories including WWI, WWII, Trafalgar, Waterloo and The Falklands. The car was displayed as part of the Diamond Jubilee celebrations near London's Piccadilly Circus during the "Big Jubilee Lunch".
Karslake intends to auction off the car to raise funds for the charity Help For Heroes.
Investment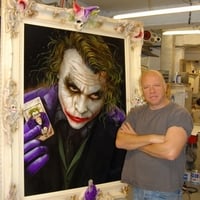 " An Amazing Blue Chip Investment Opportunity to Acquire an Original Paul Karslake Painting" ..


Invest in one of our paintings, rather than risky bank investments, where you can actually touch your investment. Take pleasure in looking at it and watch it appreciate in value over the years!! Remember we guarantee every painting sold is unique, original e.g only one of it's kind in the world!!!

Scarcity alone guarantees the investment !!!!

Asgard Arts offers works of art which will not only look fantastic in your home or offices (One Investment Bank in particular has purchased paintings from us for their offices see Bull paintings) but will also be a sound financial investment for the future. Art has long been regarded as a strong and safe investment. Investment in paintings was discussed recently on Bloomberg television as a sound investment as a hard asset like Gold, Platinum Silver etc. Also Ellen Kelleher a personal finance journalist for The Financial Times recently wrote an article recommending the purchase of Art, particularly in the $500 - $50,000 range as a sound long term investment with an impressive current average annual increase of 9.7 percent. Go to Latest Art news on Asgard Arts and see Hang your investments on the wall by Ellen Kelleher Published October 22 2010 in the Financial Times.

Ref only: asgard-arts
Paul Karslake
Paul Karslake FRSA
Self-confessed 'modern surrealist', award-winning artist and brother-in-law of Ronnie Wood, Paul Karslake can never be said to conform to the preconception of an artist struggling for inspiration and full of self-doubt, but instead brims with inspiration and enthusiasm. His studio in Leigh is a realm of colourful works of art from many disciplines, which are indicative of the scope of talent, this one-man exudes. In 1990 Paul had the honour of being elected as a Fellow of the Royal Society of Arts.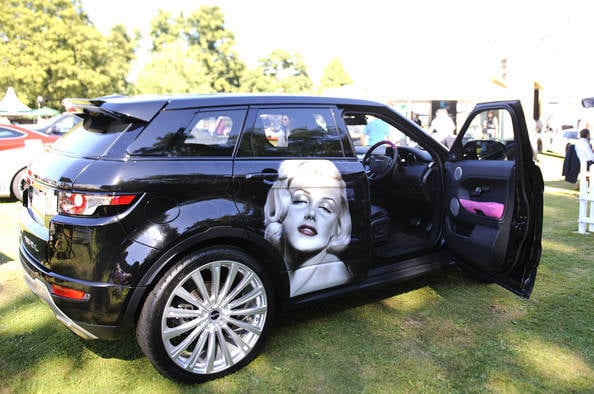 Paul's art can be found in clubs, Gordon Ramsay restaurants, on motorcycles, planes, Terry Wogan's waistcoats and the houses of the rich and famous.
From modern surrealism to photo-realism, Paul prides himself on being able to work in any style and any medium. Environmental issues, iconic heroes and human suffering are subjects which often feature in his art. Still life, animals and portraits are frequently interpreted with his own humour.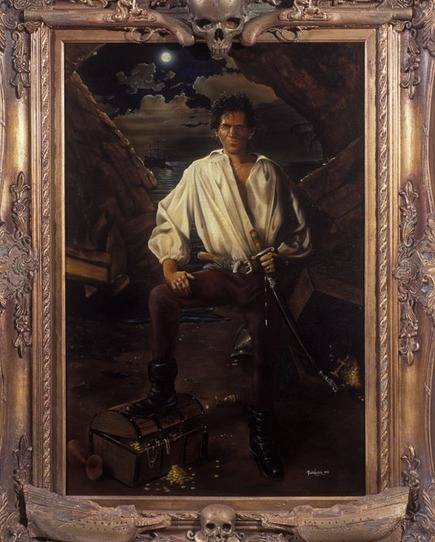 "Portrait of Keith Richards as a Pirate" by Paul Karslake
Hand embellished frame by Paul
Johnny Depp is said to have taken the inspiration for his portrayal of Captain Jack Sparrow in Pirates of the Caribbean from this painting when he saw it hanging in Keith's house


A strong believer that grim determination is a prerequisite to success in any field he has chosen to beat the trend and become a successful artist who is able to enjoy the fruits of his labour in his own lifetime: The secret of his success is simply, "to stick to what you are good at"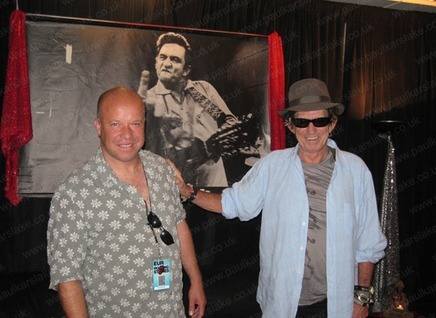 Paul backstage with Keith Richards!!!

Inspired by famous personalities whose imagery, persona or music has survived, often against the odds, his collection captures the first modern fashion icon of Audrey Hepburn, the dark fascination of the Kray Twins, the enigmatic stare of David's Eye and the eternal survivor Keith Richards.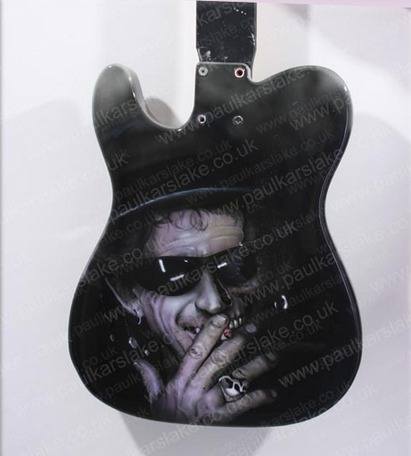 Keith Richard's artworked guitar by Paul


Paul's original painting of Keith Richards commissioned by Keith's wife in 1998, was seen by Johnny Depp at Keith's home and quoted as the inspiration behind his Pirates of the Caribbean's character, Captain Jack Sparrow.
Paul's follow up painting of Keith as a Rock'n Roll Pirate was greatly received.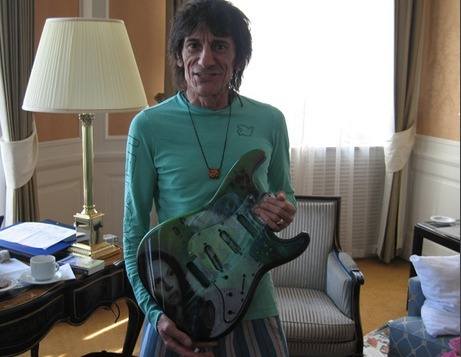 Ronnie Wood with Guitar artworked by Paul
These shots were taken in the Leigh studio

Paul was putting the finishing touches to the Heath Ledger Painting and Frame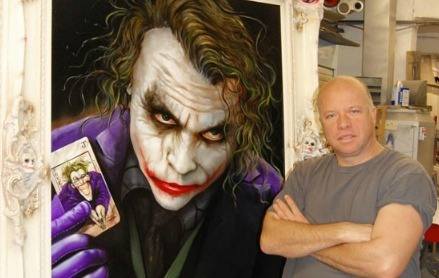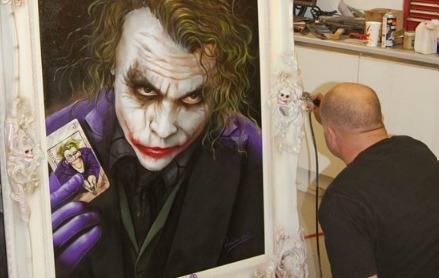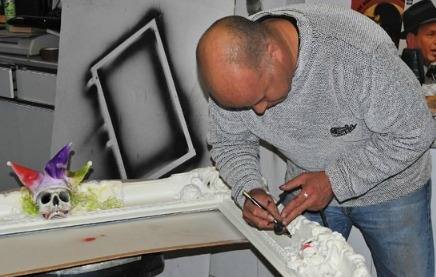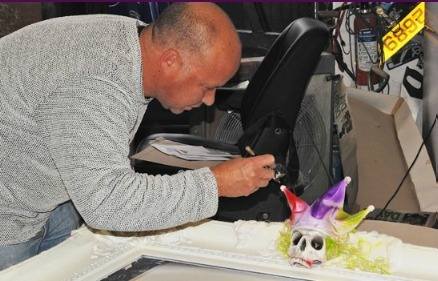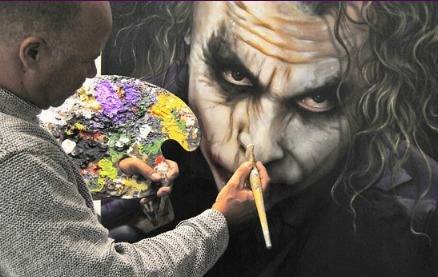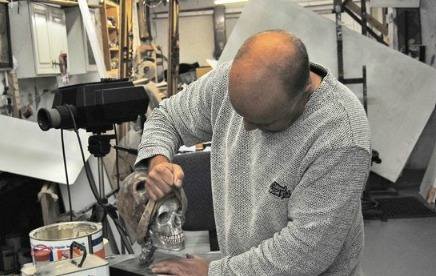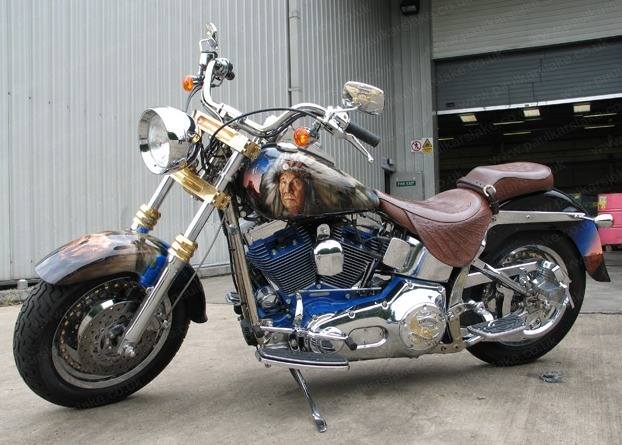 Harley Davidson with artwork by Paul
Paul Karslake F.R.S.A.

Name: Paul Howard Douglas Karslake
Studio & Gallery: Paul Karslake Fine Art
5 Carlton Drive, Leigh-on-Sea, Essex SS9 1DE
www.paulkarslake.co.uk
Born 5.12.1958

1966 Winner Essex County Art Award
1972 Tuition under Sir Peter Scott
1977 Travelled to Spain to meet Salvador Dali
1978-1981 Working and studying at art studios including Disney in Los Angeles, California
1987 Exhibition at the Limelight Club, Chicago
1988 Solo exhibition at the Limelight Club, London
1990 Winner of the Evening Standard Environment Award for artwork
1990 Elected as a Fellow of the Royal Society of Arts
1998 Solo exhibition at Derek Johns, Duke Street, St. James's
1999 Solo exhibition at Builders Arms, Chelsea
2001 Solo exhibition at The Bear, Clerkenwell
2001 Opening of The Gallery at Paul Karslake Fine Art, Leigh-on-Sea
2002 Paul signed with The Bridgeman Art Library, London, Paris, New York
2003 Solo exhibition at The Possi Gallery, Castle Cary, Somerset
2003 Winner "Most Exciting Work", Essex Open Art Exhibition
March 2004 Exhibition at The Medici Galleries, Grafton Street, London W1
October 2004 Solo exhibition at The Medici Galleries, Grafton Street, London W1
2004 Solo exhibition at Paris Art, Leigh on Sea
April 2005 Solo exhibition at Hollywood Arms, Fulham
September 2005 Opening of 'The Karslake Centre for Art' at The Cornelius Vermuyden School and Arts College, Essex
Nov-Dec 2006 Solo exhibition at Artisan Galleries, Royal Exchange, City of London
February 2008 Solo exhibition at Scream Gallery, Bruton Street, London W1
April 2009 Exhibition at Top Marques, Monaco

Paul's art can be found in both corporate and private collections nationally and internationally. Paul is often asked to tutor on various aspects of art at schools and colleges.
Paul has supported numerous charities throughout his career and has helped raise in excess of £110,000 for various charitable causes through auction sales of his artwork (see Fund Raising).

From surreal to photo-realism, Paul Karslake has devoted his life to studying the styles and techniques of all the artists he has admired. Working in styles as diverse as Arcim Boldo to the Dutch and Spanish Still Life masters, Dali to Pasmore, Paul's work encompasses all subjects. He prides himself on being able to work in any style and any medium. Environmental issues, animal rights and human suffering are subjects which often feature in his art. Still life, animals and portraits are frequently interpreted with his own humour. The result is a bold, confident style all his own.
GUARANTEED TO BE 100% ORIGINAL AND GENUINE WITH C.O.A.


Powered by eBay Turbo Lister



Pay instantly with your debit or credit card through PayPal.