---
"Kurt" by Simon Kirk
£1750.00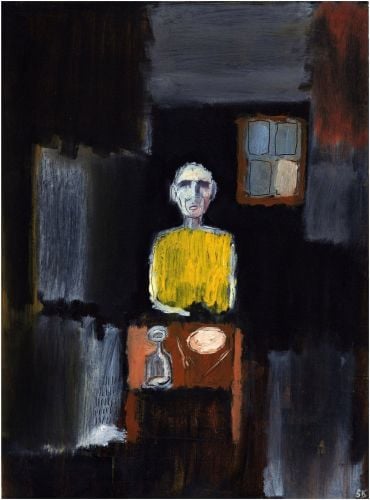 A rare opportunity to acquire an incredible original Simon Kirk portrait painting

"Kurt"

"Kurt" by Simon Kirk
'I initially intended this piece to be a minimal painting of an artist in his studio. However, as I painted I was listening to a radio discussion on poverty and I began thinking of the different way poverty is perceived. The romantic notion of the penniless artist means it's almost seen as proof of integrity, compared to the modern media portrayal of the poor as feckless and lazy. I began stripping the composition back further, and added a cup to his table rather than a glass of wine. It could still be an artist in his Parisienne garret, but it could also be a man in a room somewhere in England.'
............. BY THE INCREDIBLE ARTIST SIMON KIRK

Measurements; 7 inches x 9 inches
(18 cms x 24 cms)
Oil on Board
Why Simon Kirk's paintings are becoming collectable"Simon Kirk

, a Leigh-on-Sea based artist who has had great success with his work at the New York shows and has been accepted into the Royal Academy Summer Exhibition for the last two years, both times selling his art on the opening night. He really is one to watch as this is an accreditation to both him and his work to becoming a collectable artist."
Simon Kirk CV


Simon Kirk's works are a synergy of poetry and painting, text and image, abstraction and figuration, combining influences from both the literary and art world alike. Influenced by haiku, humanist concerns and the philosophical ideas of 'the Absurd', Kirk's mixed media pieces have become increasingly sought after by art collectors since the beginning of his career in 2007. He exhibited and sold at the Royal Academy Summer Exhibition in 2010, 2013 and 2015. He is a resident artist with the Turner | Barnes | Gallery and his work is regularly exhibited as part of their collections for the Hong Kong, Singapore and London Affordable Art Fairs. He has had solo exhibitions in France, Denmark and the USA.


His work has sold at the New York, Hong Kong and London Affordable Art Fairs. In addition to the UK he exhibits in Denmark and he is currently showing work in Flagstaff, Arizona.

Work by Simon Kirk was recently sold at the Museum of New Art Auction in Armada, Michigan as part of a fund raising program for its new state of the art museum space.
One of Simon's recent exhibitions!


Exhibitions
2017 The Affordable Art Fair Battersea, Battersea Park, London (previously: 2016, 2015, 2014 and 2013)
2017 The Other Art Fair, Truman Brewery, London (showing with Art Below)
2017 Art Below Regent's Park, Regent's Park tube station (previously 2016 and 2015) and Le Dame Gallery, Regent's Park
2017 'Genius in Beauty', group exhibition curated by the Hornshaw Gallery, London
2017 Roy's People Art Fair, inaugural group show, London
2017 'DisPlay', group show, Ply Gallery, Crouch End, London N8 9JJ
2017 The Affordable Art Fair Hong Kong, Hong Kong Convention and Exhibition Centre (previously: 2016, 2015 and 2013)
2017 Art Below Los Angeles, Grand Union Station (red line) and Sur le Mur Gallery, West Hollywood's Pacific Design Centre
2017 Solo Exhibition, Léonie, Biarritz South West France
2016 'A Higher Perspective… The East Anglian artists: Joe Webb, The Connor Brothers, Laura Keeble, Simon Kirk, Sean Hill' Turner | Barnes | Gallery, Shenfield CM15 8JU
2016 Solo Exhibition, Halles des 5 Cantons, Anglet, South-West of France
2016 Platform Open Annual Art Exhibition, Morphets Of Harrogate, 6 Albert Street, Harrogate, HG1 1JL
2016 'Es-SEX-hibition', urban art group show, Turner | Barnes | Gallery, Shenfield CM15 8JU
2016 'Looking to the Stars', group show hosted by the Hornshaw Gallery, Brick Lane E1 6SA
2015 Royal Academy Summer Exhibition Royal Academy of Arts, Piccadilly, London (Previously: 2013 and 2010)
2014 Simon Kirk and Karen Christensen Joint Exhibition, Kulturhuset Rejsestalden, Jaegerspris, Denmark
2014 'The Well Hung Gallery Inaugural Salon Exhibition', 239 Hoxton Street, London, N1 5LG
2013 The Affordable Art Fair Singapore, F1 Pit Building Singapore
2013 '1 + 1 = 11', group show, The Norwich Forum, Millennium Plain, Norwich NR2 1TF
2013 Solo Exhibition, Gallery Yada, Jutland, Denmark
2013 'Paper and Wire', group show The Faux Gallery, Leigh on Sea SS9 1AE
2013 'Impression and Narrative', an exhibition of paintings by Simon Kirk and Thomas Hogan, Lauderdale House, Highgate, London N6 5HG
2013 'That Summer Feeling: A Group Exhibition of Colour Mood Excitement and Expression', Turner Barnes Gallery, Chelmsford CM1 4LN
2013 The Affordable Art Fair New York, Metropolitan Pavilion, New York USA (Previously: 2012)
2012 Solo Exhibition, Coach House Gallery, Brightlingsea CO7 0AX
2012 'Kunst I Slusen' - Art Hvide Sande, group show, Hvide Sande, Denmark
2012 'A Reservoir of Raw Materials', group show, The Lloyd Gill Gallery, Weston-Super-Mare
2011 Solo Exhibition, Gallery 113, Flagstaff Arizona, USA
2011 'Miniatures', solo Exhibition, The White Wall Space Gallery, Essex, UK
2011 Solo Exhibition, Ida Trier Gallery, Frederikssund, Denmark
Selected Bibliography
2015 'Inside Artists' Issue 1 Spring 2015, Interview and cover feature
2011 'The Noise – Arts and News' Dec 2011 'Crossing the Ocean', feature on first US exhibition
2011 'Flagstaff Live!' October 13 – 19th 2011, Vol. 17 Issue 41, cover story and feature on first US exhibition:
2011 'Art! East Anglia', Green Pebble Publications ISBN 978-0-9558147-4-7
Promotional features:
'The Discerner' magazine - Feb 2016 to June/July 2017 (monthly feature)
'Tatler' magazine - Nov 2015, Dec 2015, Jan 2016, Feb 2016
'Aesthetica' magazine Mar 2014, Jan 2015, Mar 2015 Nov 2015
'Vogue' magazine Oct 2015
'House and Garden' magazine Jul, Aug, Sept 2015
Collections
Works held in private collections in the United States, Continental Europe, Dubai and Australia.
Investment

" An Amazing Blue Chip Investment Opportunity to Acquire an Original Simon Kirk Painting" ..


Invest in one of our paintings, rather than risky bank investments, where you can actually touch your investment. Take pleasure in looking at it and watch it appreciate in value over the years!! Remember we guarantee every painting sold is unique, original e.g only one of it's kind in the world!!!
Scarcity alone guarantees the investment !!!!

Asgard Arts offers works of art which will not only look fantastic in your home or offices (One Investment Bank in particular has purchased paintings from us for their offices see Bull paintings) but will also be a sound financial investment for the future. Art has long been regarded as a strong and safe investment. Investment in paintings was discussed recently on Bloomberg television as a sound investment as a hard asset like Gold, Platinum Silver etc. Also Ellen Kelleher a personal finance journalist for The Financial Times recently wrote an article recommending the purchase of Art, particularly in the $500 - $50,000 range as a sound long term investment with an impressive current average annual increase of 9.7 percent. Go to Latest Art news on Asgard Arts and see Hang your investments on the wall by Ellen Kelleher



Ref only: asgard-arts
GUARANTEED TO BE 100% ORIGINAL AND GENUINE WITH C.O.A.


Powered by eBay Turbo Lister



Pay instantly with your debit or credit card through PayPal.