---
Silver and Gold Saxon portrait pendant
£2,200.00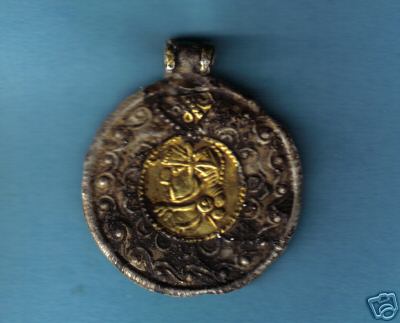 A unique chance to accuire this beautiful piece of Anglo-Saxon workmanship, this being a Silver and Gold pendant dating to the 6th / 7th Century A.D. In the centre there is a left facing bust wearing a helmet and a tunic, this is possibly the portrait of the Anglo-Saxon owners husband or it could even be one of the Anglo-Saxon Gods.
This lovely item is in excellent condition and weighs 2.6 grams and measures 36mms in width. Good luck with this no reserve auction and thank you for looking.

Unconditionally Guaranteed to be Genuine and Ancient with Certificate of Authenticity.