---
Anglo-Saxon funerary hanging bowl mount
£400.00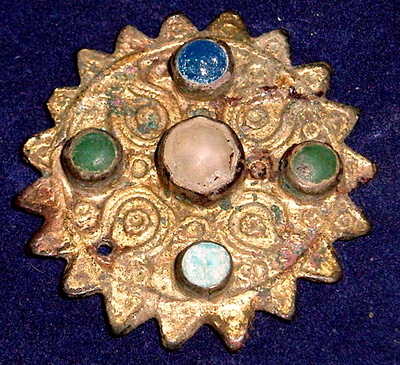 This is a stunning Anglo-Saxon funerary hanging bowl mount very similar to the example found at Sutton Hoo, but arguably of finer design. The mount is of bronze which has then been gilted with gold. 95% of this gold leaf remains intact as do all 5 of the COMPLETE stones. This stunning example of Anglo-Saxon craftsmanship is most likely to have been associated with rich grave goods and prepared for a very high-ranking individual.To have the stones and gilt remainin here is so rare. The developed ring and dot design covers the entire body of the mount. In antiquity this bowl mount has been turned into a pendant hence the single whole used to hang it from a chain.
Hanging bowls were designed to be hung by hooked mounts from three or four rings fixed to the rim. The body of the bowl often had elaborately ornamented and inlaid hook-mounts, with extra ornamental square mounts in between. Usually three colours of enamel were used: red, blue and pale green. Other glass migth be inlaid: some blue rods and bright patterns of millefiori. The curving lines and abstract patterns are typical of medieval Celtic art from Britain and Ireland.
This really is a rare opportunity to own something exceptional in design and highly collectable!

The item is from an old english collection and was recovered in North Yorkshire - a full note of provenance will be issued to the winner of this auction.
Period BC/AD : Circa 6th Century AD
Item : Rare Anglo-Saxon Hanging Bowl Mount
Condition : Very Fine
Click here to find out more about grading scores
Material : Bronze
Dimensions (w x h x d): 4 cm