---
"Beowulf and The Dragon" by Leon Goodman
£300.00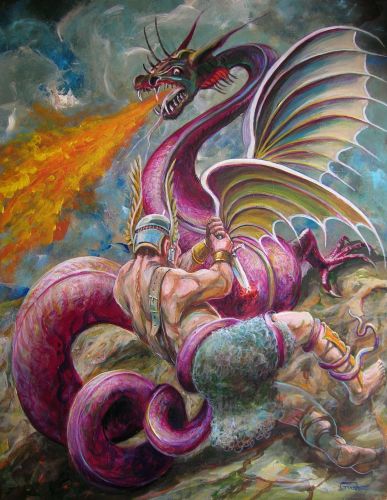 STUNNING LIMITED EDITION

"Beowulf and The Dragon"

. Incredible new Goodman Quality Edition on Canvas!

"Beowulf and The Dragon" By Leon Goodman
This unusual Edition of the painting "Beowulf and The Dragon" with Beowulf fighting the Third battle: The Dragon.
Beowulf returns home after killing Grendel and Grendel's mother. He eventually becomes Viking King of his own people. One day, late in Beowulf's life, a man steals a golden cup from a dragon's lair. When the Dragon sees that the cup has been stolen, it leaves its cave in a rage, burning up everything in sight. Beowulf and his warriors come to fight the dragon, but only one of the warriors, a brave young man named Wiglaf, stays to help Beowulf, because the rest are too afraid. Beowulf kills the dragon with Wiglaf's help, but dies from the wounds he has received. The dragon's treasure is taken from its lair and buried with Beowulf's ashes. And with that the poem ends. Wiglaf says this to the cowardly warriors who fled the battle................................................... So it is Goodbye to all you know and love on your home ground, the open-handedness, the giving of war swords. Every one of you with freeholds of land, our whole nation, will be dispossessed, once-princes from beyond get tidings of how you turned and fled and disgraced yourselves. A warrior will sooner die than live a life of shame..........................
BEAUTIFUL LIMITED EDITION Hahnemühle Fine Art Print of The Rare painting "Beowulf and the Dragon" .
BY THE SUPERB LEON GOODMAN WHO IS AN ACCOMPLISHED ARTIST HAVING BEEN A FINALIST AT THE GARRICK-MILNE PRIZE. HE HAS MANY OF HIS WORKS SOLD AT CHRISTIES.
A Quality Hahnemuhle Edition of 100 Editions - All signed by the Artist with Certificate of Authenticity.
Measurements; height 24 inches x 20 inches
(60 cms x 50.8 cms)
This is a Quality Limited Edition Art Print ( Limited run of 100) Signed by the Artist ....................
Leon Goodman has been a professional artist for the majority of his working life. His work has been sold at The Omell Gallery, Ascot, as well as Christies, the fine art auction house in London. Many of his works have sold for thousands of pounds in the U.S. ( Please check out Ref only; leon-goodman.com ) Since seeing his work, Risborough Art Gallery have made him a regularly featured artist. Leon's philosophy is that it is not the delineation of the subject which is important, but its fragmentation. He believes a strictly photographic image does not allow the viewer to participate in the painting. If the image is fragmented, the viewer can imagine for himself the missing parts and involve himself in the creation of the whole image. The viewer has seen his own interpretation of the fragmented images; the next viewer may see something different.
GUARANTEED TO BE 100% ORIGINAL AND GENUINE WITH C.O.A.