---
Original oil painting signed L S Lowry 1956 whitby (sold 23/12/09)
£2,500.00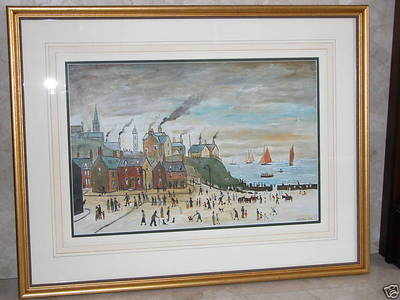 This is a superb original "Oil on Stretched Canvas" Painting signed L.S Lowry, 1956. The painting itself measures 13.5" x 20.5" and has recently been professionally re-framed - the original frame was somewhat battered. It is now beautifully double mounted behind a hand-painted wash mount on cream sat on dark green, behind UV glass, within an attractive gilt frame measuring 23" x 29.5" overall.



It features a seaside scene that is very reminiscent of the North Eastern town of Whitby - Lowry visited the North East on many occasions, staying in Sunderland, and painted and sketched many scenes from that part of the world.



signed L.S Lowry 1956
The painting itself is in very good condition with just a small area where the paint has cracked. Acquired from a lady in the Manchester area who was given it by an old lady (friend of her family) nearly 20 years ago.


Unfortunately, I do not have the necessary provenance to prove the authenticity of the artist of this painting - I am therefore offering this painting as "After LS Lowry".
THIS IS A GENUINE ORIGINAL OIL PAINTING AND NOT A REPRODUCTION