---
Celtic Gold Norfolk Wolf Stater coin (now sold)
£1,100.00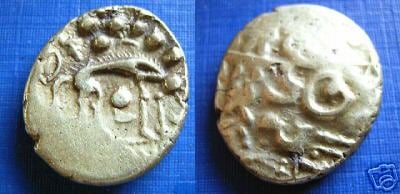 BEAUTIFUL EXTREMELY
RARE CELTIC GOLD NORFOLK WOLF STATER COIN very rare.....................

Celtic Gold Norfolk Wolf Stater, circa 65-45B.C. of the Iceni tribe based in Norfolk and neighbouring parts of Suffolk and Cambridgshire. OBV, Stylised Apollo Head, Rev Wolf right, with bird seated on rump and pellet below. High grade Gold content, with Very well detailed wolf, showing bristles. 17mm in diameter, 6.1grams. Spink no 30, VA610-1. BMC212-16. Super coin, Very very Rare !!!!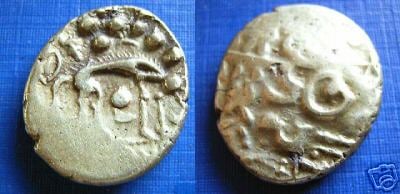 If you think that the top echelons of the iceni tribe would have handled the Gold well the chances that Queen Boudica once touched the coin are very high !!!!! Mind Blowing !!!!!!
Rarity- There are 20 other wolf staters facing the right but they are all in the British museum .The reason they are so rare is they were the last made and the iceni moved the wolf to the right to trick the romans as they had slightly altered the gold content
Unconditionally Guaranteed to be Genuine and Ancient with Certificate of Authenticity.