---
"The Mikado" by Leon Goodman (now sold 16/7/10)
£600.00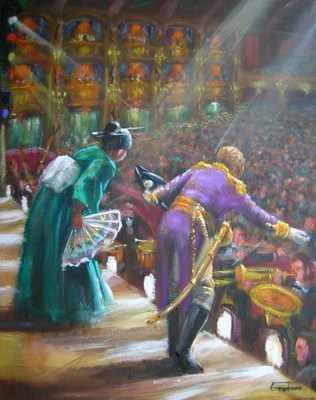 BEAUTIFUL ORIGINAL OIL PAINTING "The Mikado". This Exquisite painting inspired by the musical
The Mikado. The Mikado is a comic opera
with music by Gilbert and Sulliavan!! It opened on March 14, 1885, in London, where it ran at the Savoy Theatre for 672 performances, which was the second longest run for any work of musical theatre and one of the longest runs of any theatre piece up to that time. Before the end of 1885, it was estimated that, in Europe and America, at least 150 companies were producing the opera.
The Mikado
remains the most frequently performed Savoy Opera
and is globally popular.
Pictured is Yum Yum from the Mikado and Pinkerton from Madame Butterfly. (Joint production of the 2 operas)




Theatre poster for
The Mikado
The painting displays exquisite

Chiaroscuro with subliminal darkness to light

..........................THIS IS A ONE OFF ORIGINAL PAINTING BY THE SUPERB LEON GOODMAN WHO IS AN ACCOMPLISHED ARTIST HAVING BEEN A FINALIST AT THE GARRICK-MILNE PRIZE.HE HAS MANY OF HIS WORKS SOLD AT CHRISTIES. Measurements height 20 inches by 16 inches. OIL ON CANVAS ........... Box Framed.

GUARANTEED TO BE 100% ORIGINAL AND GENUINE WITH C.O.A. Leon Goodman has been a professional artist for the majority of his working life. His work has been sold at The Omell Gallery, Ascot, as well as Christies, the fine art auction house in London. Many of his works have sold for thousands of pounds in the U.S.A. Since seeing his work, Risborough Art Gallery have made him a regularly featured artist. Leon's philosophy is that it is not the delineation of the subject which is important, but its fragmentation. He believes a strictly photographic image does not allow the viewer to participate in the painting. If the image is fragmented, the viewer can imagine for himself the missing parts and involve himself in the creation of the whole image. The viewer has seen his own interpretation of the fragmented images; the next viewer may see something different. 100% GOLD POWERSELLER