---
"Red Nebula" by Pamela Rys (now sold)
£950.00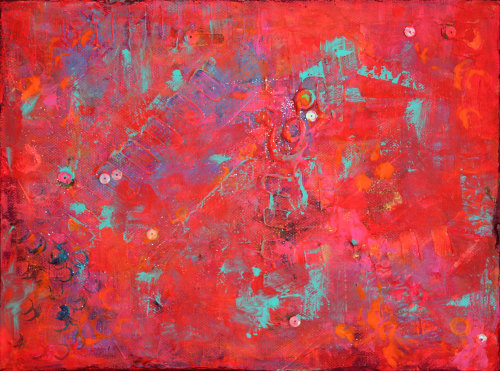 NEW SUPERB PAINTING

"Red Nebula"

.............. BY THE SUPER ARTISTS PAMELA RYS


"Red Nebula" by Pamela Rys

This is an abstract painting on canvas. I'm currently creating a new series of paintings about solar system. I'm inspired by structure of outer space. This one was inspired by surface of nebula. I very much enjoyed the painting process, because it gave me a lot of room to experiment. I also discovered some new features of materials that I used. It is mixed-media painting in heavy impasto with acrylic paints, plastic, brocade and gesso. I use only top quality art materials. Finest quality high grade professional acrylic paints. The colors may look a little bit different depending on the screen. An artwork is signed on the back. Original title is written on the back. A signed Certificate Of Authenticity will be included with the artwork.
Measurements; 9 inches by 12 inches
(23 cms x 30 cms)
Acrylic on Canvas
Investment
" An Amazing Blue Chip Investment Opportunity to Acquire an Original Pamela Rys Painting" ..


Invest in one of our paintings, rather than risky bank investments, where you can actually touch your investment. Take pleasure in looking at it and watch it appreciate in value over the years!! Remember we guarantee every painting sold is unique, original e.g only one of it's kind in the world!!!

Scarcity alone guarantees the investment !!!!

Asgard Arts offers works of art which will not only look fantastic in your home or offices (One Investment Bank in particular has purchased paintings from us for their offices see Bull paintings) but will also be a sound financial investment for the future. Art has long been regarded as a strong and safe investment. Investment in paintings was discussed recently on Bloomberg television as a sound investment as a hard asset like Gold, Platinum Silver etc. Also Ellen Kelleher a personal finance journalist for The Financial Times recently wrote an article recommending the purchase of Art, particularly in the $500 - $50,000 range as a sound long term investment with an impressive current average annual increase of 9.7 percent. Go to Latest Art news on Asgard Arts and see Hang your investments on the wall by Ellen Kelleher Published October 22 2010 in the Financial Times.


Ref only; asgard-arts




Pamela Rys
My artworks mainly exhibit rich internal feelings as well as the most sombre corners of my soul in favour of cathartic effect. I focus mainly on the emotional side of the life experience. Colours take the upmost importance here. They symbolise my feelings and the way I perceive the world. The juxtaposition of white and black are in the sharpest contrast to each other, which is purposely used as a main form of expression. They depict constructive and destructive feelings on the equal ground. My style is often defined by stencil and texture art. I work in a variety of media, because I always need to try a new ways to express myself.
Biography
Pamela Rys Rys is a contemporary artist who works in a variety of media. She is a London based artist, born in Czestochowa, Poland. Pamela Rys worked in Industrial and Fashion Design while studying Art in Academy of Fine Ars in Wroclaw and Cracow. During her studies she was working mainly by means of computers and visual editing software. Using mainly computers resulted in restriction to the traditional, pure and free art forms. This could be obtained only by traditional media. She really enjoyed working with real materials and creating hand structured forms. It was one of the main reasons to put the design on hiatus and focus on painting. Pamela Rys is currently studying painting towards completing the BA degree in Fine Arts.
Solo exhibitions
May 2014, White Black Retrospective #2, Gallery Futer, Siemianowice Slaskie, Poland
March 2014, White Black Retrospective, Nuta, Czestochowa, Poland

Group exhibitions
April 2015, In Dialogue, Gallery BAR, London, United Kingdom
January 2015, Drawn your Own Conclusions, Gallery Art With A Heart, Manchester, United Kingdom
June 2014, Painters #2, Gallery Konduktorownia, Czestochowa, Poland
February 2011, After En Plein Air in Zakopane, Gallery Schody, Cracow, Poland
GUARANTEED TO BE 100% ORIGINAL AND GENUINE WITH C.O.A.
Pay instantly with your debit or credit card through PayPal.