---
"Sleepy Hollow - Burnham Beeches" by David Aldus U.A (now sold 25/12/18)
£1250.00

HIGH PRESTIGE EXHIBITION STANDARD OIL PAINTING

"Sleepy Hollow - Burnham Beeches"

.............. BY THE FABULOUS ARTIST DAVID ALDUS U.A

"Sleepy Hollow - Burnham Beeches" by David Aldus U.A



Painted in Buckinghamshire, England. Nestled almost on the southern Buckinghamshire/northern Berkshire border, the village of Burnham is neighbour to historic Burnham Beeches, described as one of the finest woodland tracts anywhere in Britain. The remnants of a vast forest that once covered almost the entire county of Buckinghamshire, it is owned and managed by the Corporation of London who, in 1880, bought the woodland to save it from prospective developers. Bounded by Windsor, Maidenhead and Slough, Burnham and Burnham Beeches are within the area around London now protected from further encroachment by Green Belt legislation. The village itself is mentioned in the Domesday Book, although there has more than likely been a settlement on the site since well before the Romans came.
At 540 acres, the interior of the Beeches offers many easy walks as well as chances for some sly comparisons to the locations of many comparatively recent movies. Burnham Beeches is in fact a favorite location shoot, having stood in for Sherwood Forest in Robin Hood, Prince of Thieves, an Irish woodland in The Crying Game, ancient generic England in First Knight and Ivanhoe, and even a more tropical setting in A Town Like Alice. Off to the left of Park Lane lies Dorney Wood, a favorite haunt of footpads during the reign of Henry VIII. The entire area around Burnham was inundated with highwaymen during the Middle Ages, so much so that it was said that the Vicar of nearby Hurley got danger money for riding through the region. Further along on the right is a convenient parking area for those interested in viewing Hardicanute's Moat, a diamond-shaped earthwork of unknown origin.


Signed by Aldus
Highest price received for one of his paintings is £20,000. "Armada under attack from the English Fleet". Also £14,000 "Lot's Wife" Absolute investment opportunity!
Measurements; 16 inches x 20 inches
(40.6 cms x 50.8 cms)

Oil on Canvas Board.

Investment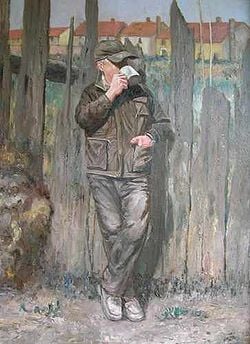 " An Amazing Blue Chip Investment Opportunity to Acquire an Original David Aldus U.A Painting" ..


Invest in one of our paintings, rather than risky bank investments, where you can actually touch your investment. Take pleasure in looking at it and watch it appreciate in value over the years!! Remember we guarantee every painting sold is unique, original e.g only one of it's kind in the world!!!

Scarcity alone guarantees the investment !!!!

Asgard Arts offers works of art which will not only look fantastic in your home or offices (One Investment Bank in particular has purchased paintings from us for their offices see Bull paintings) but will also be a sound financial investment for the future. Art has long been regarded as a strong and safe investment. Investment in paintings was discussed recently on Bloomberg television as a sound investment as a hard asset like Gold, Platinum Silver etc. Also Ellen Kelleher a personal finance journalist for The Financial Times recently wrote an article recommending the purchase of Art, particularly in the $500 - $50,000 range as a sound long term investment with an impressive current average annual increase of 9.7 percent. Go to Latest Art news on Asgard Arts and see Hang your investments on the wall by Ellen Kelleher Published October 22 2010 in the Financial Times.


Ref only;Wikipedia; david aldus davidaldus.com





David Aldus the artist has exhibited with the Royal Society of British Artists (R.B.A); the Royal Institute of Oils (R.O.I); and the Royal Society of Marine Artists (R.S.M.A) He has been nominated twice as a finalist in the Garrick/Milne prize exhibition held at Christies LONDON. His work has been selected for the Discerning Eye Exhibition by Art Critic, Edward Lucie Smith, where all his work was sold. At the same Exhibition he was awarded a special commendation for his brushwork. He also sold all his work at the Lambeth Palace when exhibiting under the auspices of the Royal Society of Marine Artists. At the Westminster Central Hall United Artists' Exhibition he won first prize for the best Oil painting!! Highest price received for one of his paintings is £20,000 "Armada attack from the English Fleet". Also £14,000. "Lot's wife" see davidaldus.com . This painting was the same size as Turner's Hannibal crossing the Alps 5 foot by 8 foot. David Aldus also sold "A tribute to the people of Malta" that sold for £10,000. The same painting was the subject of a congratulatory letter from Queen Elizabeth II. Lord Lewin, Admiral of the Fleet also sent a letter of congratulations. He has held one or two-man shows at Knightsbridge; South Kensington; Windsor and numerous other venues. He has exhibited in Westminster Central Hall; Royal Festival Hall; Birmingham's Royal British Artists exhibition; Victoria Art Gallery, Bath; Rooksmoor Gallery, Bath; London Guildhall; Mann Island, Liverpool; Christies, the London Auction House, etc.
GUARANTEED TO BE 100% ORIGINAL AND GENUINE WITH C.O.A.
Powered by eBay Turbo Lister


Pay instantly with your debit or credit card through PayPal.