---
"On Fire" by Dulux
£1,200.00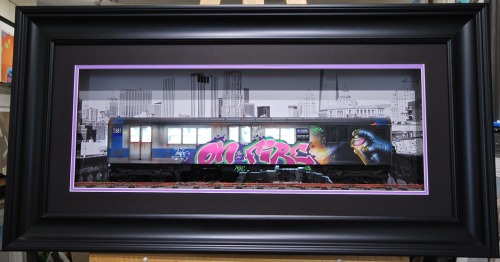 Original modern Graffiti painting

"On Fire"

by Dulux

.........Dulux is a sought after Graffiti Artist active since 1985! Many of his large works can be seen at Waterloo Graffiti the 200 metre long Graffiti legal walkway near Waterloo train station.....This is an actual train inside its lit display case with a Glass front N.B the Glass will be removed before postage to avoid damage so will need re-glazing!!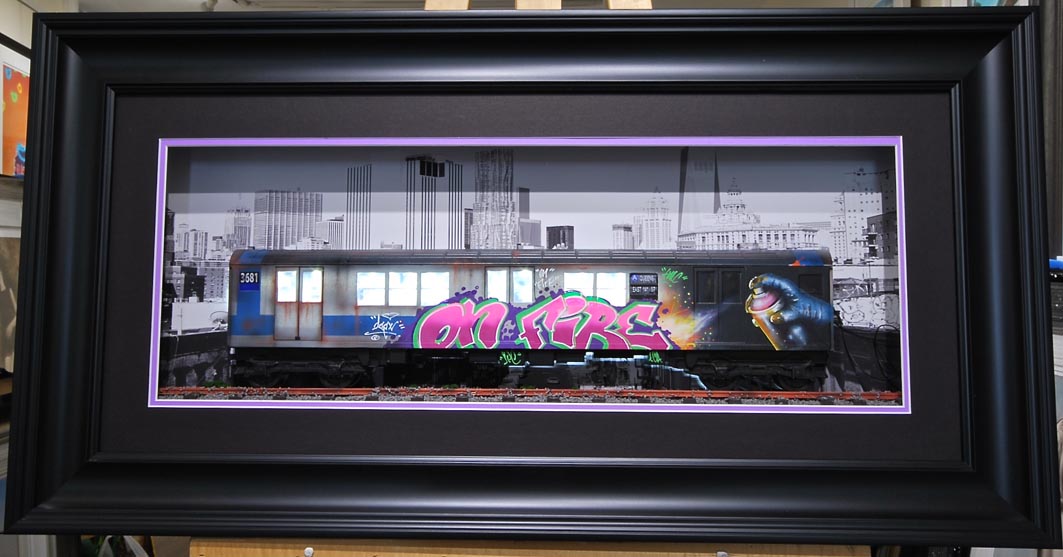 "On Fire" by Dulux
Graffiti and graffito are from the Italian word

graffiato

("scratched"). "Graffiti" is applied in Art History to works of art produced by scratching a design into a surface. A related term is "graffito", or "sgrafitto,"

which involves scratching through one layer of pigment to reveal another beneath it. This technique was primarily used by potters who would glaze their wares and then scratch a design into it. In ancient times graffiti was carved on walls with a sharp object, although sometimes chalk or coal were used. The word originates from Greek γράφειν —

graphein

— meaning "to write." Graffiti has existed since ancient times with examples dating back to Ancient Greece and the Roman Empire!!
Lit Display Cabinet size 32 inches x 16 inches
(41 cms x 81 cms)
Train size; 5 inches x 20 inches deep
(12 cms x 52 cms)
Comes with l.e.d lighting!
Acrylic on Train ..............
Framed with anti-reflective glass
Ref only; asgard-arts





Dulux

- Dulux is a sought after Graffiti Artist active since 1985. He was featured in the Telegraph Colour Supplement showing him at work on one of his Graffiti pictures. He was also commissioned by an art gallery to paint their window awning. However, he was arrested by the police for vandalism and had to be freed by his father only after the gallery owner assured them he had been commissioned to paint the gallery awning.
GUARANTEED TO BE 100% ORIGINAL AND GENUINE WITH C.O.A.

Powered by eBay Turbo Lister


Pay instantly with your debit or credit card through PayPal.