---
"The Commons from South Bank" by Martin Davis (now sold 23/7/17)
£1250.00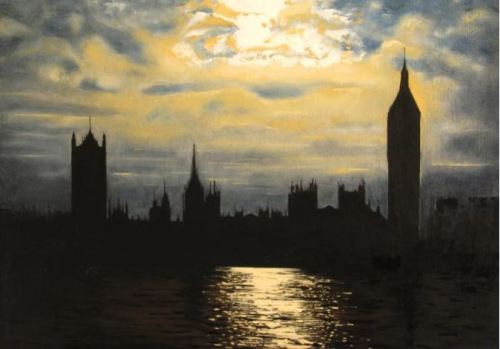 BEAUTIFUL OIL PAINTING

"The Commons from South Bank"

.............. BY THE SUPER ARTIST MARTIN DAVIS.

"The Commons from South Bank" by Martin Davis
Measurements; 11 3/4 inches x 16 1/2 inches (30 cms x 42 cms)
Oil on Canvas Board
Investment

" An Amazing Blue Chip Investment Opportunity to Acquire an Original Martin Davis Painting" ..


Invest in one of our paintings, rather than risky bank investments, where you can actually touch your investment. Take pleasure in looking at it and watch it appreciate in value over the years!! Remember we guarantee every painting sold is unique, original e.g only one of it's kind in the world!!!

Scarcity alone guarantees the investment !!!!

Asgard Arts offers works of art which will not only look fantastic in your home or offices (One Investment Bank in particular has purchased paintings from us for their offices see Bull paintings) but will also be a sound financial investment for the future. Art has long been regarded as a strong and safe investment. Investment in paintings was discussed recently on Bloomberg television as a sound investment as a hard asset like Gold, Platinum Silver etc. Also Ellen Kelleher a personal finance journalist for The Financial Times recently wrote an article recommending the purchase of Art, particularly in the $500 - $50,000 range as a sound long term investment with an impressive current average annual increase of 9.7 percent. Go to Latest Art news on Asgard Arts and see Hang your investments on the wall by Ellen Kelleher Published October 22 2010 in the Financial Times.


Ref only; martindavisartist



Artist's statement

I can't remember a time when I didn't love art – practicing art anyway.
For 30 years until 2008 I was a career firefighter and I found that losing myself in my art was the perfect counterpoint to the stresses of working in the emergency services, and equally as rewarding.
Creating art has always been for me essentially a form of escape into a private world, a world in which the creative process itself rather than the end product is my primary reward. Whatever my theme of the moment it always contains the same germ of inspiration, that of a love of making a mark on a blank page. It is a love of art for its own sake.
The act of applying paint to a surface is magical, but also for me a matter of intense personal struggle to capture the essence of a subject as I want to see it. I am mainly inspired by form and colour but also by light & atmosphere too. I think there is an inner beauty, a sort of "heroic" quality, inside everything if you look hard enough – it doesn't have to be something intrinsically pretty, or attractive or especially worthy of attention. Quite often it is better if it isn't.
As a result I've never really limited my subject matter – I've never wanted to paint any one thing more than anything else. I'm not drawn, for example, especially to boats or figures or buildings, or anything whole like that. Rather I find I am attracted from time to time to bits of all of these things. Often they have a resonance for me like a half forgotten but persistent memory, sometimes from as long ago as childhood - the shape of a hat, the way a shadow lies across an object tantalisingly concealing it, a glint of light or an unexpected but delightful bit of colour. In my experience such things are very rarely comprised in the whole of something.
I am an instinctive painter, self taught and relatively unschooled in the orthodoxies of art but that gives me a freshness I might otherwise lack. I try to paint what I know is there, not what I first see. What I see I know can be corrupted by familiarity, what life conditions me to overlook. But to paint well what I do paint has to move me. I need to be in a kind of thrall to it. Something I might see in everyday things, a particular line or effect of light will trigger my imagination or stir a memory from the past, and then I'm hooked.
So although the products of my work may vary widely in terms of subject matter and style the genesis of my inspiration almost always follows this same path.
About the artist
I grew up in the coalfields of Derbyshire UK in the 1950's and 60's, painting and drawing from an early age - as soon as I could grasp a brush or pencil in fact. Art has been a private passion I've carried with me ever since, throughout the 1970's as an undergraduate and on into adult life.
I graduated from the University of Birmingham in 1976 with an honours degree in Economics and went on to complete 30 years in the UK Fire & Rescue Service retiring in 2007. I only turned fully to painting from 2008 after I left the service and found more time to devote to it.
I am a self taught artist with no formal training beyond school. I think of myself as a student just practicing, probably I always will. I'm definitely contemporary but from a traditionalist vein. I paint mainly, but not solely, in oil paint because I love its plasticity and textural qualities. Perhaps as a result of this producing art for me has always been as much about the creative process itself as the end product.
My greatest hope is that my art might reach out to the viewer, mean something more to them than just a passing glance or strike a chord within them they were perhaps unaware of. Showing my work is something I love to do as it allows me to share it with others......but it's not why I paint, it never was. Painting for me just calms the soul, a private world. I hope you enjoy the examples of my work shown here, and return often to see how my art develops.

In 2010 I was shortlisted for the Art of Giving, National Art Competition at the Saatchi Gallery, London.
GUARANTEED TO BE 100% ORIGINAL AND GENUINE WITH C.O.A.
Pay instantly with your debit or credit card through PayPal.