---
"Berserker" by Leon Goodman
£150.00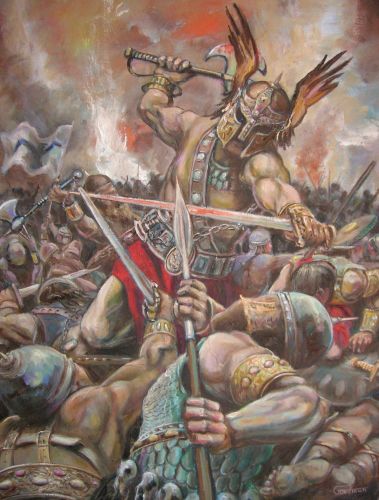 STUNNING LIMITED EDITION

"Berserker"

. Incredible new Goodman Quality Edition on Canvas!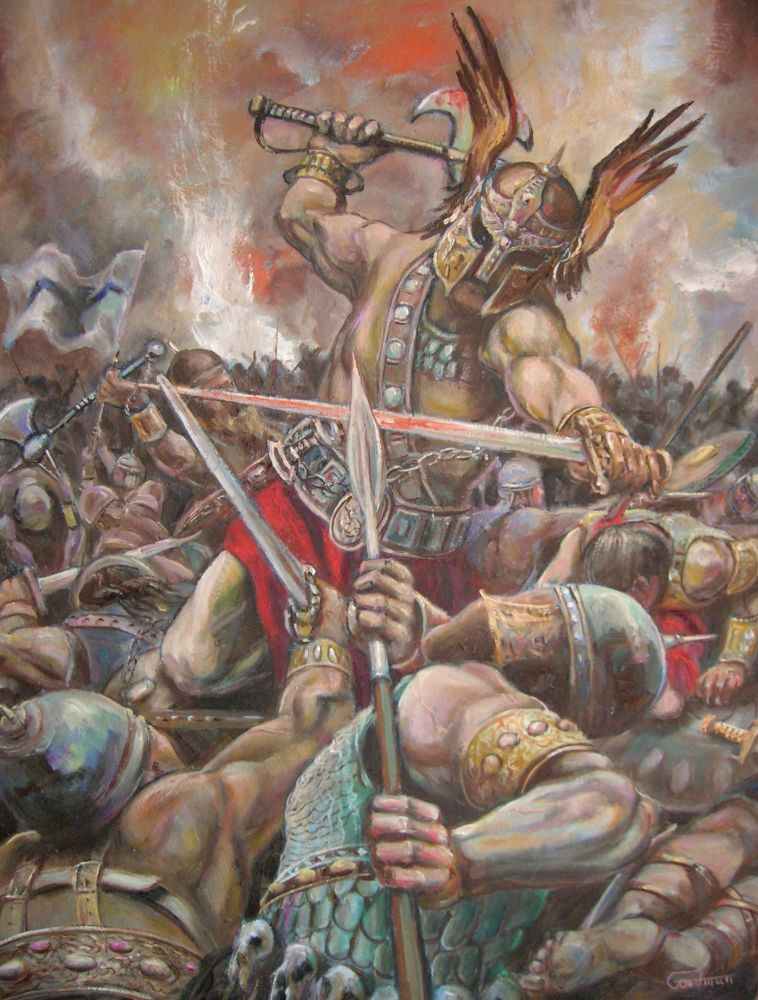 "Berserker" By Leon Goodman
BEAUTIFUL LIMITED EDITION Hahnemühle Fine Art Print of The Rare painting "BERSERKER" .
Berserkers fought with crazed or drugged strength, heedless of danger. They worked themselves up into a bloodlust – berserker rage – before battles, banging their helmets with their weapons, biting their shields, and howling. They were said to be immune to pain (or even immune to weapons) in battle. In their fury they would attack their enemies but also everything else in their path, sometimes even their own people and allies. Allies to the raging Norsemen were wary of Berserkers. Fearing that their own homesteads and families might be targeted by the Berserker's Violent instability. Here the Berserker unleashes their legendary ferocity with the Raven banner in the background. ....................
BY THE SUPERB LEON GOODMAN WHO IS AN ACCOMPLISHED ARTIST HAVING BEEN A FINALIST AT THE GARRICK-MILNE PRIZE. HE HAS MANY OF HIS WORKS SOLD AT CHRISTIES.
A Quality Hahnemuhle Edition of 100 Editions - All signed by the Artist with Certificate of Authenticity.
Measurements height 20 inches by 16 inches ..
This is a Quality Limited Edition Art Print ( Limited run of 100) Signed by the Artist ....................
Leon Goodman has been a professional artist for the majority of his working life. His work has been sold at The Omell Gallery, Ascot, as well as Christies, the fine art auction house in London. Many of his works have sold for thousands of pounds in the U.S. ( Please check out Ref only; leon-goodman.com ) Since seeing his work, Risborough Art Gallery have made him a regularly featured artist. Leon's philosophy is that it is not the delineation of the subject which is important, but its fragmentation. He believes a strictly photographic image does not allow the viewer to participate in the painting. If the image is fragmented, the viewer can imagine for himself the missing parts and involve himself in the creation of the whole image. The viewer has seen his own interpretation of the fragmented images; the next viewer may see something different.
GUARANTEED TO BE 100% ORIGINAL AND GENUINE WITH C.O.A.