---
"Sanctuary" by Leon Goodman (now sold 14/12/10)
£275.00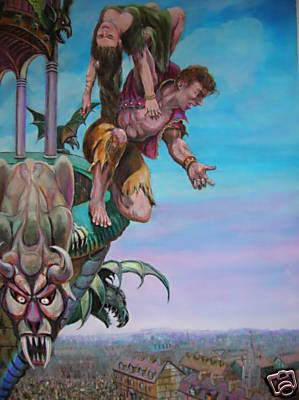 LOVELY ORIGINAL OIL PAINTING ON CANVAS "Sanctuary".............This beautiful rare and unusual painting pictures a terrifying moment from Victor Hugos's " Hunchback of Notre Dame ". Here the hunchback, Quasimodo, holds Esméralda aloft screaming "Sanctuary !! Sanctuary !!" to the baying crowd below. Esméralda is, a beautiful 16-year-old gypsy, who captures the hearts of many men but especially Quasimodo's stepfather, Claude Frollo. Frollo is torn between his lust and the rules of the church. He orders Quasimodo to get her. Quasimodo is caught and whipped and ordered to be tied down in the heat. Esméralda seeing his thirst, offers him water. It saves her, for she captures the heart of the hunchback. She is later accused of the murder of Phoebus, whom Frollo tried to kill in jealousy, and is sentenced to death by hanging. Quasimodo saves her by bringing her to the cathedral under the law of sanctuary. Frollo rallies the truands (criminals of Paris) to charge the cathedral. The king, seeing the chaos, vetoes the law of sanctuary and commands his troops to take her out and kill her. When Quasimodo sees the truands, he assumes they are there to hurt Esméralda, so he drives them off. Frollo betrays Esméralda by handing her to the troops and watches while she is hanged. Quasimodo pushes him from Notre-Dame to his death. He then goes to Esméralda's grave, lies next to her corpse and eventually dies of starvation. Two years later, excavationists find the skeletons of Esmeralda and Quasimodo locked in an embrace........... ...........BY THE SUPERB LEON GOODMAN WHO IS AN ACCOMPLISHED ARTIST HAVING BEEN A FINALIST AT THE GARRICK-MILNE PRIZE.HE HAS MANY OF HIS WORKS SOLD AT CHRISTIES. Measurements height 22 inches by 16 inches Oil on Canvas. .
Leon Goodman

has been a professional artist for the majority of his working life. His work has been sold at The Omell Gallery, Ascot, as well as Christies, the fine art auction house in London. Since seeing his work, Risborough Art Gallery have made him a regularly featured artist. Leon's philosophy is that it is not the delineation of the subject which is important, but its fragmentation. He believes a strictly photographic image does not allow the viewer to participate in the painting. If the image is fragmented, the viewer can imagine for himself the missing parts and involve himself in the creation of the whole image. The viewer has seen his own interpretation of the fragmented images; the next viewer may see something different.

GUARANTEED TO BE 100% ORIGINAL AND GENUINE WITH C.O.A.