---
"Yellow Ribbon" by David Garvey (now sold 22/10/16)
£2250.00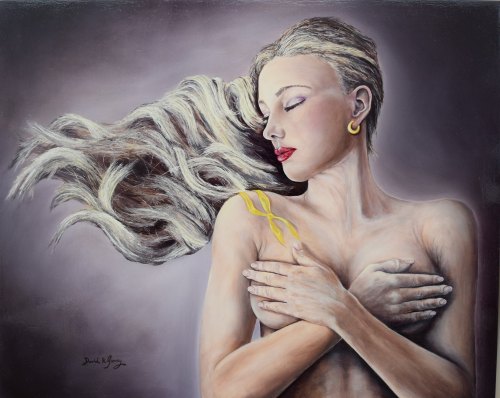 TRULY BEAUTIFUL OIL PAINTING

"Yellow Ribbon"

.............. BY THE SUPER ARTIST DAVID GARVEY.

"Yellow Ribbon" by David Garvey
Though tightly closed eyes and a heart felt sorrow gives passage to the meaning of the yellow ribbon of fate to be left dreaming of being reunited with all whom we lose through life's journey.
It's a pleasure to paint with all my heart and soul and find an expression and passion to share with all whom should experience pure love.
Measurements; 24 inches by 30 inches (61 cms x 76 cms)
Oil on Board
Investment


" An Amazing Blue Chip Investment Opportunity to Acquire an Original David Garvey Painting" ..


Invest in one of our paintings, rather than risky bank investments, where you can actually touch your investment. Take pleasure in looking at it and watch it appreciate in value over the years!! Remember we guarantee every painting sold is unique, original e.g only one of it's kind in the world!!!

Scarcity alone guarantees the investment !!!!

Asgard Arts offers works of art which will not only look fantastic in your home or offices (One Investment Bank in particular has purchased paintings from us for their offices see Bull paintings) but will also be a sound financial investment for the future. Art has long been regarded as a strong and safe investment. Investment in paintings was discussed recently on Bloomberg television as a sound investment as a hard asset like Gold, Platinum Silver etc. Also Ellen Kelleher a personal finance journalist for The Financial Times recently wrote an article recommending the purchase of Art, particularly in the $500 - $50,000 range as a sound long term investment with an impressive current average annual increase of 9.7 percent. Go to Latest Art news on Asgard Arts and see Hang your investments on the wall by Ellen Kelleher Published October 22 2010 in the Financial Times.


Ref only; asgard-arts




David Garvey
The work I produce is varied as I try to push my talents to the extreme, always trying to make the next picture better than the last, it's hard, but I do try. I drive an articulated lorry around the country part time and get views of our famous countryside seeing sun rises beyond imagination, fields of gold, endless mists of colours . If can capture these as I see them, I'll be famous . This is my aim, to capture these beautiful visions , although being famous would be nice whilst still being alive which is rare for an artist.
As I explore my natural talent I find every one loves the variety, some love the ballerinas, the landscapes, the tiger paintings. I'll continue to push, push, push.
GUARANTEED TO BE 100% ORIGINAL AND GENUINE WITH C.O.A.
Pay instantly with your debit or credit card through PayPal.