---
"Duart" by Anthony Birchwood B.A F.R.S.A
£995.00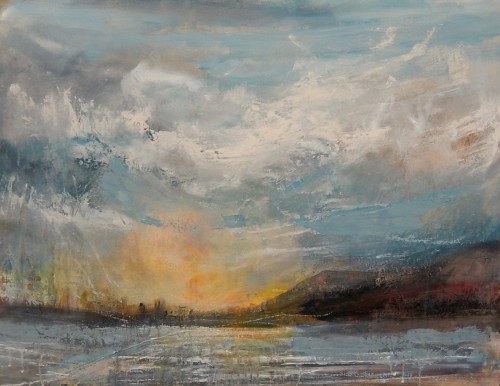 An opportunity to acquire a Magnificent original Anthony Birchwood B.A F.R.S.A painting

"Duart"

"Duart" by Anthony Birchwood B.A F.R.S.A
This beautiful Turneresque painting full of charm and Tranquility"!!!
Anthony Birchwood B.A (hon) Fine Art, F.R.S.A was recently featured in the international art magazine, Oz-Art.
In 2010 Anthony was made a Fellow of the Royal Society of Artists.
Anthony's studio lies adjacent to the seafront and a beautiful light bounces off the sea and in through the big windows to flood the smaller painting mezzanine.
Painting has been my life from as far back as I can remember. For me, the process of painting is a personal dialogue which explores the relationships between us and the perceived world. In a sense it's the activity that lets me know that I'm living. My influences are quite varied - from Masaccio to Pontormo, Turner to Sutherland, Pollock to Hodgkin. It's not always easy to see how these influences work, but these are the artists that make me want to paint. In the past I've lived in many parts of Britain, drifting between the city and the countryside, rarely in either for long, and working from these extremities of nature and neo-nature. I've also travelled extensively in Europe, the United States, North Africa and a small part of Asia, sometimes staying for extended periods, my method and application being directly influenced by place . Despite my travels, I do have a natural home, though it's not really a place as such. It's a view. That across Morecambe Bay and north to the Lakeland hills, a view I've obsessed over since childhood, being brought up in a village only a stones throw from the shores. I expect my paintings are some kind of synthesis of all the above, I don't really know. I'm not even sure that it's necessary to know. Literature is for telling the story, art is for telling how the story feels.
Anthony Birchwood B.A F.R.S.A has held exhibitions in the UK, America and Europe and his paintings hang in numerous private collections (as well as a few public).
Anthony's work is sold narrow framed for protection, but you may choose to change the frame to something more akin with your tastes and surroundings.




Anthony is part of a business putting artwork into work spaces as paintings or murals. These are in conjunction with his business partner, Shawn Williamson, the internationally acclaimed artist, who produces stone sculptures.
Measurements; 24 inches x 32 inches (61 cms x 81 cms)

Pigment, resin and mixed media on Panel
Anthony Birchwood B.A F.R.S.A
Since graduation I have led a somewhat nomadic existence over the years. I have, though, along the way exibited in this country and overseas and sold a good deal of work into private collections where ever my travels have taken me. It's my snail trail of past works and if I ever stopped to put pins into a map in the location of each of those sales it would make a perfect diagram of my wanderings. For all that time I have been promising myself that I would eventually return to my roots and begin a project of paintings concerned with the Lakes District and Morecambe Bay...and finally the time has come. I wasn't entirely sure how I was going to treat the subject, but knew it would be different to any previous work I'd done.

The present application has evolved slowly over the last two years into what I now consider to be a working style. It's strange that it is almost impossible to predict how one will approach a subject before attempting to do so. I had imaginged something quite different, but the moment I was back in the area it's romantic associations began to take control. What quickly became clear was that the Cumbrian landscape is really what goes on above it. If the light and weight of weather were correctly balanced, the rest would fall into place by instinct alone. After several false starts on canvas and paper, wood panels became the prefered support. I find that the way I work (somewhat heavy handed) is much better suited to a support with less give. I work on these paintings like a watercolourist, despite using oil paint, in that I work from light to dark in a series of thin glazes, over a 'discovered' ground composed of a mixed media and acrylic. Over the course of time, and many reworkings, this builds into a highly textured surface which allows each following layer to pick up accidental details from the surface below, which essentially are the details in the painting in the end result. This method is quite unpredictable, which rather matches the weather of the area, and in the end when the painting stops it has either worked or failed, for each picture, like the ephemeral Cumbrian light itself, depends a good deal on the twilight world of chance and a decent helping of luck.
Investment

" An Amazing Blue Chip Investment Opportunity to Acquire an Original Anthony Birchwood B.A F.R.S.A Painting" ..


Invest in one of our paintings, rather than risky bank investments, where you can actually touch your investment. Take pleasure in looking at it and watch it appreciate in value over the years!! Remember we guarantee every painting sold is unique, original e.g only one of it's kind in the world!!!

Scarcity alone guarantees the investment !!!!

Asgard Arts offers works of art which will not only look fantastic in your home or offices (One Investment Bank in particular has purchased paintings from us for their offices see Bull paintings) but will also be a sound financial investment for the future. Art has long been regarded as a strong and safe investment. Investment in paintings was discussed recently on Bloomberg television as a sound investment as a hard asset like Gold, Platinum Silver etc. Also Ellen Kelleher a personal finance journalist for The Financial Times recently wrote an article recommending the purchase of Art, particularly in the $500 - $50,000 range as a sound long term investment with an impressive current average annual increase of 9.7 percent. Go to Latest Art news on Asgard Arts and see Hang your investments on the wall by Ellen Kelleher Published October 22 2010 in the Financial Times.


Ref only: asgard-arts.com
GUARANTEED TO BE 100% ORIGINAL AND GENUINE WITH C.O.A.


Powered by eBay Turbo Lister



Pay instantly with your debit or credit card through PayPal.