---
"Marcel" by Simon Kirk (now sold 23/10/20)
£750.00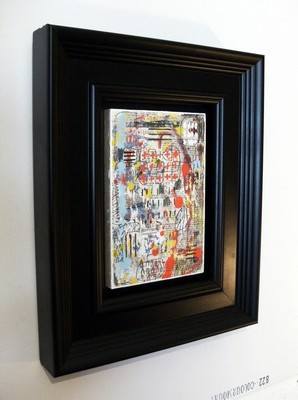 A rare opportunity to acquire an incredible original Simon Kirk painting

"Marcel"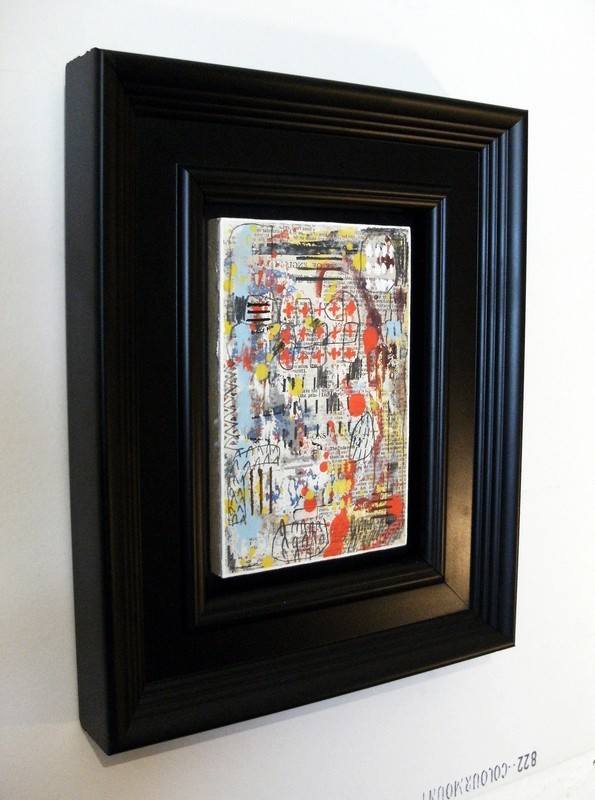 "Marcel" by Simon Kirk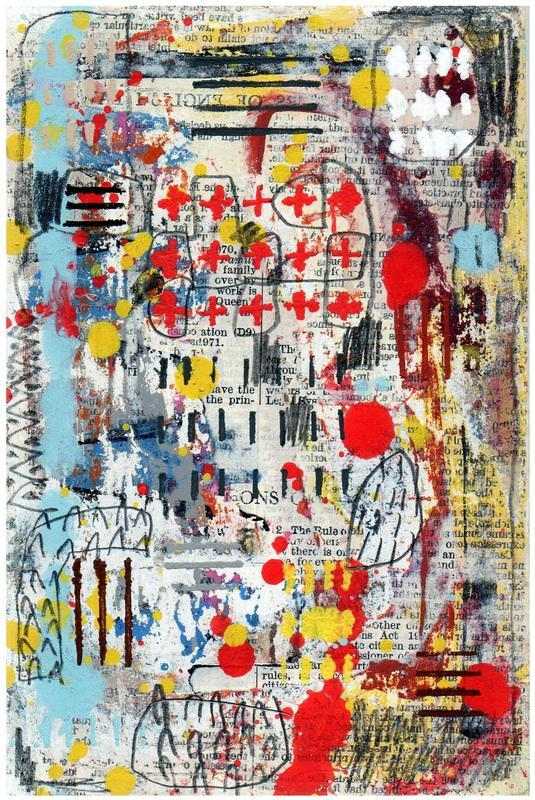 ............. BY THE INCREDIBLE ARTIST SIMON KIRK (Recently exhibited at the Royal Academy, see below!)
This style of work by Simon Kirk is highly praised and sought after. Works of this type have twice been selected for the Royal Academy Summer Exhibition in 2010 and 2013. In both cases the works were sold very early in the exhibition. In October 2011 Simon Kirk had his first US show in Flagstaff, Arizona. The show was a commercial and critical success, making the front cover of the arts and culture publication 'Flagstaff LIVE!'. His works are now on permanent exhibition in Arizona. Building on this success Simon continues to attract attention from the US market and these works regularly sell out at the New York Affordable Art Fairs.

The work is primarily layers of painting combined with collaged elements. However, Simon Kirk also uses the decollage technique - cutting, tearing or sanding away parts of the built up surface image to reveal layers below."
Measurements; Size: 10 1/2 x 8 1/2 inches
(27 cms x 22 cms)
(Lovely Frame)
Acrylic and Collage on Board
Simon Kirk has just exhibited at the Affordable Art Fair in Battersea, London last weekend (24th - 27th October). This is from an interview with Brownhill Art Insurance.

"Simon Kirk, a Leigh-on-Sea based artist, is showing for the third time in London. He has had great success with his work at the New York shows and has been accepted into the Royal Academy Summer Exhibition for the last two years, both times selling his art on the opening night. He really is one to watch as this is an accreditation to both him and his work to becoming a collectable artist."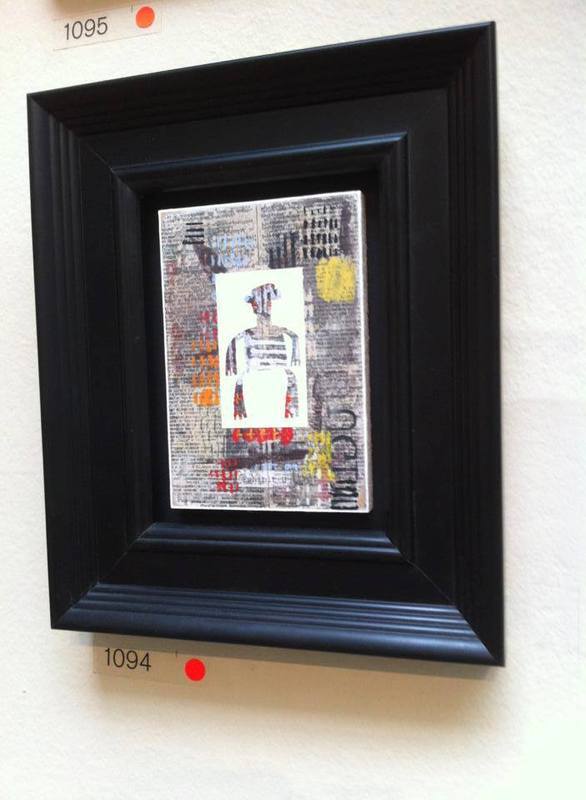 A photo of "Exhibit U" which was sold at this year's Royal Academy Summer Exhibition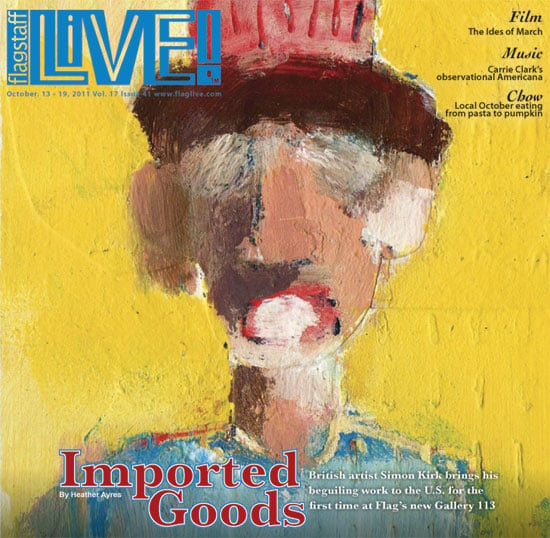 Flagstaff LIVE! featuring the works of Artist Simon Kirk!!!
Simon Kirk CV


Work by Simon Kirk has been selected for the Royal Academy Summer Exhibition 2013.


This work has sold



Simon Kirk previously exhibited and sold at the Royal Academy Summer Exhibition in 2010.

His work has sold at the New York, Hong Kong and London Affordable Art Fairs. In addition to the UK he exhibits in Denmark and he is currently showing work in Flagstaff, Arizona.

Work by Simon Kirk was recently sold at theMuseum of New Art Auction in Armada, Michigan as part of a fund raising program for its new state of the art museum space.
Honours and Awards

Exhibitor at the Royal Academy of Arts Summer Exhibition 2013 (work SOLD)
Exhibitor at the Royal Academy of Arts Summer Exhibition 2010 (work SOLD)
Solo Shows:
Gallery Yada, August-September 2013
Hvide Sande Denmark
The Coach House Coffee Shop – August/September 2012
Waterside, Brightlingsea CO7 0AX

Gallery 113 Flagstaff, Arizona - October 2011 (now resident artist)


Ida Trier Gallery Jaegerspris, Denmark - May 2011


Selected Group Exhibitions/Art Fairs:
'1 + 1 = 11' 1st – 6th Sept 2013 The Forum, Norwich
'Paper and Wire' Aug 2013 The Faux Gallery, Leigh on Sea United Kingdom
Impression and Narrative: An exhibition of paintings
by Simon Kirk and Thomas Hogan
July 23rd Aug 4th 2013 Lauderdale House, Highgate London
People: A Figurative Exhibition (curated by Lemon Art)
3-7 July 2013 Bankside Gallery, London
The New York Affordable Art Fair
(showing with the Turner/Barnes Gallery)
Metropolitan Pavilion
April 3-7, 2013
April 3-7, 2012
The Affordable Art Fair, Hong Kong
(showing with the Turner/Barnes Gallery)
Hong Kong Convention and Exhibition Centre,
15 – 17 March 2013

The Affordable Art Fair, London
(showing with the Turner/Barnes Gallery)
Battersea Park 25-28 Oct, 2012

Kunst I Slusen - Art Hvide Sande 29th July – 10th August 2012
Hvide Sande, Denmark

'A Reservoir of Raw Materials' 9th July – 3rd August 2012
The Lloyd Gill Gallery, Weston-Super-Mare


'The White Garden' – Joint Exhibition August 2011
White Wall Space Gallery

The Leigh Art Trail – Exhibitor and organiser, June 2008/09/10/11/12/13
Annual event:
(Jan 2013 ongoing - Leigh Art Trail Director)

'Safety Helmets Must Be Worn', an exhibition of artist books and sketchbooks, Southend Library March 2011

Baba Yaga Gallery Battlesbridge, Essex May 2010 – February 2011


Selected Publication and Bibliography

Midway Still – 'Always Ends' - Album cover art, June 2012

'The Noise – Arts and News' December 1st 2011
'Holiday Element – Crossing the Ocean'

Northern Arizona News October 18th 2011
'Gallery 113 Provides New Zeal For Art'

'Flagstaff Live!' Magazine, Flagstaff, Arizona: October 13 – 19th 2011, Vol. 17 Issue 41
Cover story and feature on first US exhibition:
'Imported Goods – British Artist Simon Kirk brings his beguiling work to the U.S. for the first time at Flag's new Gallery 113'

Evening Echo (UK) September 16th 2011
'Artist's Arizona show is thanks to Facebook'

'Safety Helmets Must Be Worn' - an exhibition of artist books and sketchbooks, March 2011


'ART! East Anglia' 2011 – Featured Artist
Published by Green Pebble,

Investment
" An Amazing Blue Chip Investment Opportunity to Acquire an Original Simon Kirk Painting" ..


Invest in one of our paintings, rather than risky bank investments, where you can actually touch your investment. Take pleasure in looking at it and watch it appreciate in value over the years!! Remember we guarantee every painting sold is unique, original e.g only one of it's kind in the world!!!
Scarcity alone guarantees the investment !!!!

Asgard Arts offers works of art which will not only look fantastic in your home or offices (One Investment Bank in particular has purchased paintings from us for their offices see Bull paintings) but will also be a sound financial investment for the future. Art has long been regarded as a strong and safe investment. Investment in paintings was discussed recently on Bloomberg television as a sound investment as a hard asset like Gold, Platinum Silver etc. Also Ellen Kelleher a personal finance journalist for The Financial Times recently wrote an article recommending the purchase of Art, particularly in the $500 - $50,000 range as a sound long term investment with an impressive current average annual increase of 9.7 percent. Go to Latest Art news on Asgard Arts and see Hang your investments on the wall by Ellen Kelleher Published October 22 2010 in the Financial Times.

Ref only: asgard-arts
GUARANTEED TO BE 100% ORIGINAL AND GENUINE WITH C.O.A.


Powered by eBay Turbo Lister



Pay instantly with your debit or credit card through PayPal.