---
"On the Grand Canal" by Miranda Halsby R.B.A
£300.00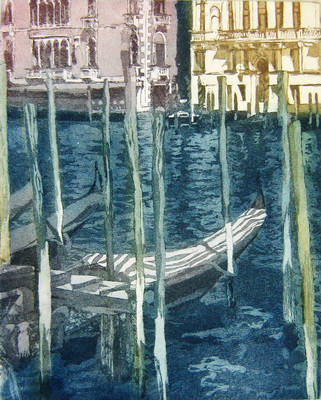 A Rare opportunity to acquire an Original Miranda Halsby R.B.A etching and aquatint "On the Grand Canal" Venice!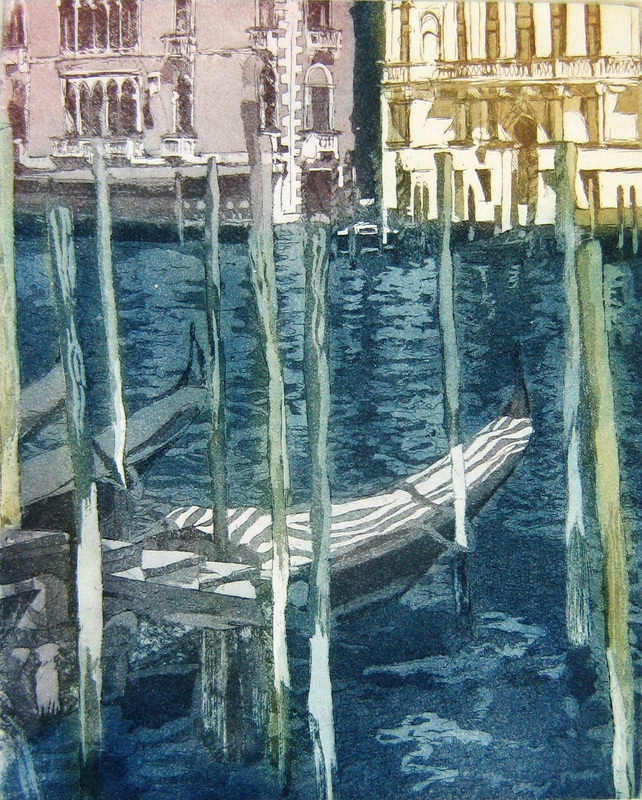 "On the Grand Canal" by Miranda Halsby R.B.A
............By the internationally acclaimed Artist Miranda Halsby R.B.A
Miranda was elected to the Royal Society of British Artists in 2001 !!!! The Royal Society of British Artists along with the Royal Academy are the two most prestigious Art institutions in the world!! Miranda's works are in numerous private collections in England, France, Holland, Japan and the USA.

Miranda Halsby RBA
Working Methods
Miranda makes etchings and aquatints, mostly on copper plates.
She works from her own drawings made on the spot and uses her own photographs as well, so each print represents something very personal in her own experience and awareness. She then prepares a pencil drawing to exactly the plate size which is transferred onto the plate after the wax coating has been applied. This reverses the image, important for topographical subjects as people recognise places, which will eventually print back round the right way again. She then draws through the wax with the etching needle. It is sometimes necessary to use a mirror to view the original drawing reversed, to use as a guide. This is the first stage, and the plate is bitten in the acid to make the line of the etching. Miranda uses Edinburgh Etch, a recipe discovered in Edinburgh, consisting of Ferric Chloride in a saturated solution, with the addition of Citric Acid powder, which changes the chemical composition so the solution absorbs all the copper exposed without making particles which might clog the line. It produces beautiful results on copper. Thus the plate can be etched the right way up and the bite obtained is clean . It does not make fumes so no fume cupboard is necessary.
When she is happy with the line, the wax is removed and a first stage print is taken, in black and white. If this is satisfactory, she then applies the aquatint spray to the whole plate. This process will put the different tones on the plate. Using a plastic spray, and a badger model spray with a can of propellant, a very fine layer can be put on the plate, only slightly coarser than the traditional rosin dust which used to be shaken onto the plate and then fused with heat from underneath. She has found this to be very effective, particularly in a home studio as no aquatint box is necessary, only a large cardboard box to serve as an aquatint cupboard in which to spray. The six tones from white to black can then be established on the plate, by masking out with varnish the whites, then putting the plate in acid for increasingly longer periods, masking out each tone before putting it back in the acid, until the final black is achieved. The varnish and plastic aquatint is then removed and the first print is taken, always in black and white.
The stage of colouring usually takes some time, as one has to become familiar with the plate and how it prints. Imagination is required to create the right feeling that the original image prompted. She does not slavishly keep to the colour of the real world, but strives to let the plate dictate how it should be printed at this stage. She always keeps copious studio notes about each plate, and in particular colour notes and which paper the plate seems to print on most successfully. She prefers to limit her ink palette just like a painter might do, feeling that certain colours work in much more harmony if they are mixed rather than used straight from the tube. Greens are a particular case in point.
She makes her own plates and does all her own printing. She likes to work in colour, sometimes putting all the colours on one plate, using a method called 'a la poupee', which places the colours exactly where they are wanted to appear on the finished print, using a 'dolly' or a rag round her finger to do so. This method requires very accurate and careful wiping to achieve a clean print. At other times, she will make two or three plates, offsetting the one to the next for correct alignment, and each plate will bear a different colour, so that mixing of the colours takes place as the print is made, as it goes through the press once for each colour, with the plates being carefully changed each time. During this process, the paper is carefully rolled back over the press roller, while not being released until the final journey through the press is complete. A print made up in this way can take up to a week for the plates to be made.
Her print runs are normally only 50 in an addition, which she prints in batches as required, 8 successful prints in one day is quite good going.
We have the rare opportunity to sell one of Miranda Halsby R.B.A's incredible, sort after, works - which rarely come onto the open market!! A very rare opportunity!!!!
Measurements; ..10 inches x 8 inches (25 cm x 20 cms)
Etching and Aquatint .............
The work comes with a Certificate of Provenance. A rare opportunity to invest in Art while transforming your living space at the same time!!!
Investment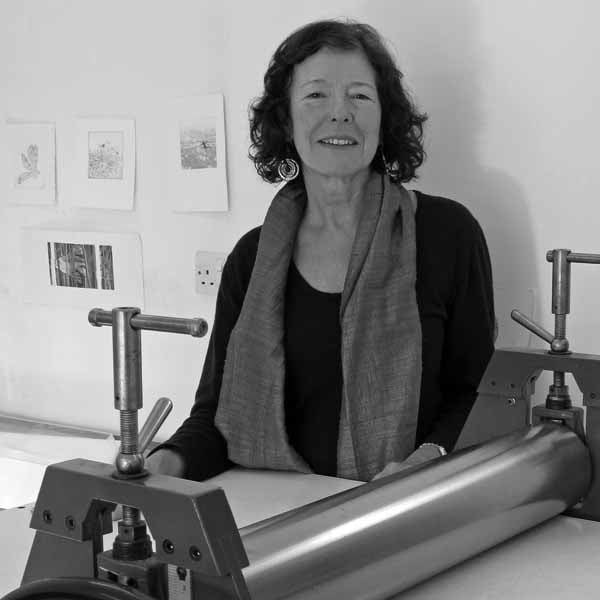 " An Amazing Blue Chip Investment Opportunity to Acquire an Original signed Miranda Halsby R.B.A etching and aquatint" ..


Invest in one of our paintings, rather than risky bank investments, where you can actually touch your investment. Take pleasure in looking at it and watch it appreciate in value over the years!! Remember we guarantee every painting sold is unique, original e.g only one of it's kind in the world!!!

Scarcity alone guarantees the investment !!!!

Asgard Arts offers works of art which will not only look fantastic in your home or offices (One Investment Bank in particular has purchased paintings from us for their offices see Bull paintings) but will also be a sound financial investment for the future. Art has long been regarded as a strong and safe investment. Investment in paintings was discussed recently on Bloomberg television as a sound investment as a hard asset like Gold, Platinum Silver etc. Also Ellen Kelleher a personal finance journalist for The Financial Times recently wrote an article recommending the purchase of Art, particularly in the $500 - $50,000 range as a sound long term investment with an impressive current average annual increase of 9.7 percent. Go to Latest Art news on Asgard Arts and see Hang your investments on the wall by Ellen Kelleher Published October 22 2010 in the Financial Times.
Ref only: asgard-arts
Miranda Halsby RBA
Miranda Halsby [née Stanton] was born in London in 1948 and went to Kingston and Hornsey Colleges of Art. Following that she trained and practised as an Occupational Therapist using Art and Craft as treatment in hospitals. After marrying her husband, Julian Halsby, they together ran Highgate Gallery, a business they ran for 10 years, meeting many artists and dealers whom they count among their friends today and giving several artists their first one-man shows.
Miranda returned to her own work after the sale of the business, a decision made to allow more time for personal creativity, and discovered print making while studying etching at Hampstead School of Art.
Since 1988 she has shown in mixed exhibitions in and around London and the Home Counties. She has shown with the RBA since 1997, winning the St. Cuthberts Mill Award in 2001, and was elected a member of the RBA in the same year. She has taken part in art festivals in England and France, nurturing interest in her work in both countries.
She had her first one man show at Abbott and Holder, London WC1 in 2001 and her second at the same gallery in 2007.
She has work in private collections in England, France, Holland, Japan and U.S.A.
Miranda's work reflects her life and interests and she has studios in Dorset and in the Languedoc, France, where she spends about three months each year. She likes to work in series and is very interested in people, particularly busy groups doing things they enjoy, markets, playing boules and village fetes. She also loves the landscapes of both Dorset and France and especially the pattern qualities that these can give to a picture. She is always looking for pattern, in leaves, roofs, buildings , deckchairs and, of course, trees. Sunlight is very important to her, giving the lights and darks so necessary to the tonal contrasts needed in a good print. She also likes to work in colour, something of a departure from traditional etching, sometimes putting colour on a single plate and sometimes using two or three contrasting plates to make a print. Other artists' work intrigues and influences her, and she goes regularly to exhibitions and galleries.
Miranda and Julian have two grown up children and, having moved from London, now jointly run Newland Gallery situated behind their medieval house in Sherborne, Dorset [www.newlandgallery.co.uk]. They run exhibitions of their own work as well as of other artists. They are also involved in community art exhibitions.
GUARANTEED TO BE 100% ORIGINAL AND GENUINE WITH C.O.A.
Pay instantly with your debit or credit card through PayPal.