---
"Sunset at Golden Bay" by Doranne Alden
£1750.00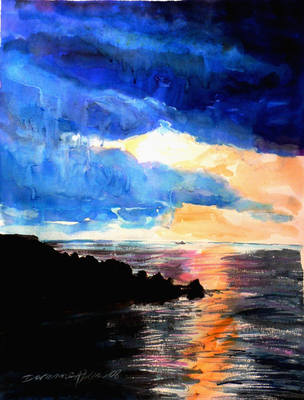 TRULY MAGNIFICENT WATERCOLOUR PAINTING

"Sunset at Golden Bay" Painted en plein air at Apple's Eye Beach, Malta (in English - ie the translation for Ghajn Tuffieha)

"Sunset at Golden Bay" by Doranne Alden
..........BY THE INCREDIBLE ARTIST DORANNE ALDEN......... Doranne Alden is a professional graphic designer and artist, and her preferred painting medium is watercolour. She enjoys working on various subjects and is mostly inspired by the colour of the composition rather than the subject matter itself. Her works have appeared in several exhibitions in Europe, both solo and collective over the last 20 years. She has also published photographic calendars, posters and postcards on Malta.
Doranne's works hang in the dining room of the current German Ambassador's Malta residence. Both the present German Ambassador and previous German Ambassador are Patrons of her incredible, unique paintings!!! See photo below
Dr Hubert Leo Joachim Ziegler, Ambassador of Germany with his wife Mrs J. Ziegler (On the left) Dr Petra Maria Schneebauer Austrian Ambassador to Malta (on right)
Over the years both foreign and local media have greeted Doranne Alden's work with positive acclaim – in fact her work has been referred to as

'little jewels of art'

in the 'Ammersee Kurier'; also 'natural without being too realistic' a phrase by Thomas Wellens in the 'Weilheim Tablett';

"the mixture of colour and form are the very strength of Doranne Alden"

- Starnberger Merkur; Marika Azzopardi coined the epithet

'warmth and mouth-watering mellowness'

for her fruit (pears) in the 'Weekender' the culture section of 'The Times' a local paper.

Doranne Alden's paintings form part of several private collections in Malta and overseas. One such work holds pride of place in the foyer of the Munich International School , Percha in Bavaria . Among her many prestigious patrons are Volksbank in Germany , Valletta Fund Management, Malta , and the Strickland Foundation Malta and the German Botshaftser's personal collection.




Also mentioned in the `International Womens Who is Who` her work has received positive critiques both in Germany and Malta...

...
Measurements; 25 1/2 inches x 19 inches ( 65 cm x 48 cm) Watercolour .............
Watercolour- a watercolour called Ecoline liquid watercolour which is a concentrated watercolour in bottles. Almost like ink but more vibrant and translucent. Doranne has worked with this medium for over 30 years as she worked as a graphic designer .............
Investment
" An Amazing Blue Chip Investment Opportunity to Acquire an Original Doranne Alden Painting" ..


Invest in one of our paintings, rather than risky bank investments, where you can actually touch your investment. Take pleasure in looking at it and watch it appreciate in value over the years!! Remember we guarantee every painting sold is unique, original e.g only one of it's kind in the world!!!

Scarcity alone guarantees the investment !!!!

Asgard Arts offers works of art which will not only look fantastic in your home or offices (One Investment Bank in particular has purchased paintings from us for their offices see Bull paintings) but will also be a sound financial investment for the future. Art has long been regarded as a strong and safe investment. Investment in paintings was discussed recently on Bloomberg television as a sound investment as a hard asset like Gold, Platinum Silver etc. Also Ellen Kelleher a personal finance journalist for The Financial Times recently wrote an article recommending the purchase of Art, particularly in the $500 - $50,000 range as a sound long term investment with an impressive current average annual increase of 9.7 percent. Go to Latest Art news on Asgard Arts and see Hang your investments on the wall by Ellen Kelleher Published October 22 2010 in the Financial Times.
Ref only;
asgard-arts.com



Doranne Alden
Doranne Alden is a professional graphic designer and artist, and her preferred painting media is ecoline and watercolour. Her works have appeared in several exhibitions in Europe, both solo and collective over the last 17 years. She has also published photographic calendars, posters and postcards on Malta. Doranne Alden was born in 1963 on the island of Malta and moved to Germany in 1996 and lived there until 2002. She studied Art for a number of years, at the Polytechnic School in Malta. At the same time she also frequented a painting group run British ex-pat, Joy Micallef Farndell. While completing her Art related studies in Malta, she worked as a designer with various advertising agencies and eventually, before moving overseas, she ran her own advertising company. During the years spent in Germany, she held drawing and watercolour classes for adults. She was also an active member of an abstract, painting group organised by a German artist in Tutzing. This also led Alden to have 3 successful, solo exhibitions, one in Austria and two in Germany and also to participate in joint and collective exhibitions there. Many of Alden`s paintings are now in private collections, banks, foundations in Europe, North America, Australia, and South Africa. One painting that holds pride of place, is hanging in the foyer of the Munich International School, Percha, Bavaria. Since her return to Malta, Doranne Alden taught art at a local private school, and carried on painting while partitcipating in several local collective exhibitions and holding other solo exhibitions. In 2006 Doranne Alden, won first prize in the Watercolour Section in the Silver Palette Competition, which is organised every 2 years, by the Society of Arts, Manufacture and Commerce, Malta. Doranne Alden is the daughter of a local, well known, Maltese watercolourist, Albert Caruana.
Events & Exhibitions
Events
Current Show - 2010 Nov/Dec - Collective Exhibition by Ferraro at Art Academy - Mosta
Future Shows - 2010/11 Dec/Jan/Feb Solo Exhibition - Jewelled Colours - Intercontinental Hotel - St. George's Bay - Malta
Dates still to be established - Germany and Malta. (Solos)
Exhibitions
EXHIBITIONS LIST
1990 Malta International Trade Fair Exhibition
1991 Women`s Collective Art Exhibition - Malta Chamber of Commerce
1991 Photographic Exhibiton (collective) held at Ta`Cenc Hotel Gozo
1994 Art Exhibition in Victoria, Gozo
1994 Art Exhibition - National Heritage Association (Din L`Art Helwa)- Malta
1995 Cathedral Museum Art Exhibition - Mdina - Malta
1995 Local Council Exhibition - Swieqi - Malta
1996 Art Exhibition - National Heritage Association (Din L`Art Helwa) - Malta
1996 Collective Society of Art and Manufacture Annual Art Exhibition - Malta
1996 Collective Exhibition at Murnau Townhall - Germany
1997 First Solo Exhibition at `Gasthof Zur Post` in Wessoburn - Germany
1998 Joint Exhibition at Townhall in Tutzing - Germany
1999 Agenda 21 - Collective Exhibition at townhall in Tutzing - Germany
1999 Starnberger Townhall Collective Exhibition - Germany
2000 Society of Art and Manufacture Malta
2001 Starnberger Townhall Collective - Germany
2001 Second Solo - Golden Tulip - Art Hotel, Vienna - Austria
2001 Silver Palette - Malta
2001 International Trade Fair - Malta
2001 Heidelberg Scholosswienstube Collective of Maltese Artists - Germany
2001 Collective Art Exhibition of Maltese Artists, Adelaide - Australia
2002 Salesians Collecitive Exhibition - Marsa - Malta
2005 The Mystery of Easter - Salesian Brothers Sliema - Malta
2005 VeeGeeBee Summer Exhibition
2005 VeeGeeBee Christmas Exhibition
2006 Silver Palette Competition - Valletta - Malta
2006 VeeGeeBee Summer Exhibition
2006 34U June Exhibition
2006 International Trade Fair - Collective Exhibition - Malta
2006 34U Malta Heritage Headquarters - Valletta - Malta
2006 Art Walk Round Mdina Exhibition - Malta
2007 Malta Trade Fair Exhibition
2007 Rotta ta'l Arti Mdina Malta
2008 February - New Faces at Gallery G, Lija, Malta.
2008 - 12 September - First Joint Exhibition in Malta - with Watercolourist Mr Albert Caruana(the artist's father) - at Gallery G - Lija Malta
2008 Dec Solo Exhibition - Passau - Germany
2008 DEC Collective 'the last five years' at Gallery G
2009 Solo Exhibition - March -'Glimpses' German Circle - Valletta Malta
2009 May Joint Exhibition COLLECTIONS - Albert J Caruana and his daughter Doranne Alden @ Le Meridien Hotel & Spa - St.Julian's Malta
2009 Filigree Exhibition - collective at Palazzo Castelania Valletta
2010 9 January E9-2-E99 Gozo
2010 May June - Unity in Diversity - Collective exhibition - Palazzo De la Salle, Valletta - Malta
2010 – Collective November – Art Academy – Mosta , Malta
2010 – Christmas Exhibition Collective - December – Auberge D'Italie – Valletta Malta
2010 – Jewelled Colours – Solo Exhibition @ Intercontinental Hotel – St. George's Bay2011 Girgenti Palace - open weekend exhibition
2011 - Collective Exhibition - Eros & Kenosis - Cavallieri Hotel - St. Julian's
2011 - Annual Exhibition for Members of Society of Art, Manufacture and Commerce - Valletta
2011 - Collective - Rotta Tal-Arti - Mdina - Malta
2011 - Notte Bianca Exhibition @ VGB - Valletta
2011 - Open evening @ Castille Palace - Valletta - Malta
2011 - Cavalieri Hotel open day - Collective Exhibition in aid of Istrina
2012 - Ta Pinu Collective in Gozo
2012 - Magnificat Fund Raising - Malta
2012 - Horticultural Society at San Anton Gardens – Malta
2012 - St. Patrick's Collective Fund Raiser – Malta
2012 - Small Art from the Heart Expo – Michigan – USA
2012 – 6th Solo Exhibition – Hotel Cavalieri – St.George's Bay - Malta
January 13th, 2011 - Naxxar,
The Times Weekender Saturday April 4 2009

Mellow to Sassy – it's all about colour.
Marika Azzopardi
We walk from one room into the other, and I cannot but notice the difference. Like two sides of the same coin, the rooms tell a different story that spells out Doranne Alden nonetheless. Yet each part of the 34-strong collection could not have been more unique in quality, colour and character. Once you discover that Ms Alden's first artistic inspiration originated from having a watercolourist for a father, and moved on to develop into the modern fast world of graphic design and beyond, her way of playing with paint, teasing it or cajoling it or hurrying it up according to mood and circumstance, starts to fall into perspective. She is an artist who manages to divide her artistic talents between the delicately casual and the stridently vibrant in a surprisingly blasé manner. The one common dominance is a skilful play of colours that makes watercolour not quite the wash-out kind of thing you'd expect.
This is Ms Alden's fourth solo exhibition and the second time her paintings are hanging in public exhibition in a relatively short space of time. The last time she exhibited was back in September 2008 in a tandem event with her father Albert Caruana, where her charismatic use of colours could be well appreciated. This show allows the viewer to step up the visual intensity gradually and the clever divide between style and genre well assists the viewer's experience.
I view the collection during a sunshiny morning, when natural light streaming in from the grand glass windows of the piano nobile at Palazzo Messina keeps us from having to resort to artificial lighting assistance. Room one is a collection of small(ish) watercolours showing this typically delicate medium bring out Maltese colour characteristics with particularly interesting intensity. One of the most emblematic of Ms Alden's skill at catching light and warmth of Maltese streetscapes is 'Evening Stroll – Mdina'. It is evidently a summer evening stroll and the lone character in the scene takes up what seems to be a lackadaisical fashion, effectively transporting the view into a day gone by. The scene which verges faintly on caricature is placed close to what is typically scenic in the 'The Bell Monument' - the kind of picture painting which would be more akin to her father, Mr Caruana's typology.
Yet I am immediately taken back to firm ground with 'Cordina – Valletta'. Here the artist manages to grasp the right balance of sunny warmth, relieving shade, sharp light, bristling colour and I can almost smell the cappuccino and hear the clinking cups. Back to good old Maltese characters with 'Sejjer L'Hemm Jimmy' showing your typical pjazza tar-rahal fellow imbued with all the mellowness and tranquillity in the world.Take a look at 'Tres Joli et Mignon' where mixed media come to the artist's help to created a shock of white gowns set against a delicately flower-strewn street that is balanced out by a hot bougainvillea in the background.
Next room adds punch to the works. Here Ms Alden is truly in her element – the brightest and mellowest colours possible. I walk immediately to the Cherries, which are strategically placed so they simply cannot escape attention. The cherries themselves, the basket, the plaid wrapped beneath it – energetic brush-strokes lend this still-life a suggestive realism that is unique and yet this is just colour. But what colour!
Ms Alden tells me that she discovered "this fascinating medium – ecoline – as a graphic designer and used it widely as an effective tool for logos, visuals. It is a relatively new medium that updates the traditional watercolour into a fast and modern version making it not only fun to use but extremely versatile. Over the years I have used it regularly and have perfected it to the point where I can use it with waxes, watercolour pencils…. And eventually I start to anticipate the picture from stage one."
Definitely gleaned from her graphic design experience come two flowery pictures: Sunflowers and Poppies. Neat, quick, vibrant and exciting, they are created by a hefty use of very few primary colours, intense enough to make me look closer. The Flower Vendor, a picture I had already met, makes a surprising re-entry into this exhibition.
"I purposely chose to exhibit this work again because it is probably the one and only which incorporates all the different mediums I like to use in my art. The memory of that girl is so vivid still…"
Before I leave I cannot help drooling over yet more fruity pictures. 'Tribute to Cezanne' may well present us with more exciting oranges than the master himself ever saw. The way Ms Alden plays with the paint, the brushstrokes laid on in what seems to be slapdash but turns out to be more sassy and smart is also present in 'Apples on Green'. The roundness and mellowness literally make the fruit come alive and tingle the taste buds. This time round I miss the really large canvases which help make Ms Alden's colours so marvellous to enjoy. I cannot help wonder what really huge canvases could do to this artist: who knows?

"Glimpses" by Doranne Alden was held at the German Maltese Circle, Palazzo Messina, Valletta until March/April in 2009.
GUARANTEED TO BE 100% ORIGINAL AND GENUINE WITH C.O.A.




Powered by eBay Turbo Lister


Pay instantly with your debit or credit card through PayPal.