---
"Beachside Hideaway" by Ben Payne (now sold 3/12/12)
£1450.00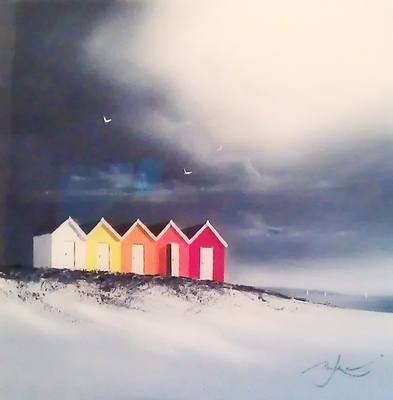 STUNNING NEW ORIGINAL OIL PAINTING ON CANVAS

"Beachside Hideaway".

"Beachside Hideaway" by Ben Payne





..........BY THE INCREDIBLE ARTIST BEN PAYNE....
Measurements; height

12

inches

12

by inches (

30.5

cms x

30.5

cms)
Oil on Board with Resin Finish

.............
Investment
" An Amazing Blue Chip Investment Opportunity to Acquire an Original Ben Payne Painting!
For not a great deal more than what his prints sell for !!!!
He is also being described by his publishers as one of the most celebrated " Up n Coming " Artists in the UK at present
" ..
Invest in one of our paintings, rather than risky bank investments, where you can actually touch your investment. Take pleasure in looking at it and watch it appreciate in value over the years!! Remember we guarantee every painting sold is unique, original e.g only one of it's kind in the world!!!

Scarcity alone guarantees the investment !!!!

Asgard Arts offers works of art which will not only look fantastic in your home or offices (One Investment Bank in particular has purchased paintings from us for their offices see Bull paintings) but will also be a sound financial investment for the future. Art has long been regarded as a strong and safe investment. Investment in paintings was discussed recently on Bloomberg television as a sound investment as a hard asset like Gold, Platinum Silver etc. Also Ellen Kelleher a personal finance journalist for The Financial Times recently wrote an article recommending the purchase of Art, particularly in the $500 - $50,000 range as a sound long term investment with an impressive current average annual increase of 9.7 percent. Go to Latest Art news on Asgard Arts and see Hang your investments on the wall by Ellen Kelleher Published October 22 2010 in the Financial Times.
Ref only; asgard-arts.com




Ben Payne -
Ben Payne has built a reputation for creating artwork which is fresh, escapist and above all, uplifting. Born in Surrey in 1975, he began drawing portraits and painting as a hobby; by the age of 16 he was selling his work, and he has now developed into a major British talent. Although he is almost completely self-taught Ben is able to respond to challenges and create artwork that is both technically accomplished and highly accessible.
Ben's degree from Southampton University is a world apart from his artistic life, yet the influence of his academic and professional background can be observed in his art. After graduating in Psychology he became an independent therapist and pursued a career in the field of Autism, working with young children, helping them to overcome their difficulties in communicating with the outside world. Whilst pursuing this career he continued painting in his spare time, teaching himself and extending his range into oils.
Ben's high-impact land, sky and seascapes are inspired by the British coastline. He owes an artistic debt to a range of artists, in particular Turner and Whistler. Their influence can be seen in the way he captures the appearance of clouds with such delicacy, while employing a vivid and dramatic palette - a characteristic which lends his work an ethereal quality.
Ben believes that working with children has taught him to value simplicity and to communicate in a very direct and accessible language. His powerful paintings do display a certain innocence which somehow sets them part from the work of his contemporaries. While his subjects are realistic they often have dreamlike overtones, rendering them an intriguing combination of enchantment and sophistication.
Ben Payne is a Whitewall gallery artist among the finest artists from around the world.
Asgard Arts and Outside The Square gallery is proud to present Ben's originals to our discerning audience of fine art lovers.
GUARANTEED TO BE 100% ORIGINAL AND GENUINE WITH C.O.A.



Powered by eBay Turbo Lister


Pay instantly with your debit or credit card through PayPal.