---
"Battle of Isandlwana" by Joel Kirk (now sold 12/6/13)
£950.00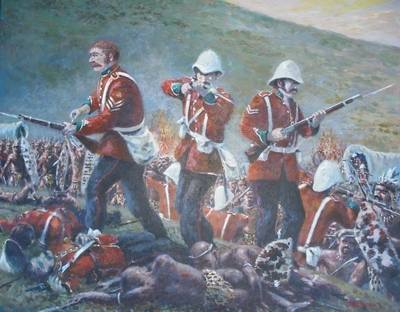 BEAUTIFUL NEW ORIGINAL PAINTING "Battle of Isandlwana" ..........by amazing Royal Patronage Artist Joel Kirk (see Royal link below)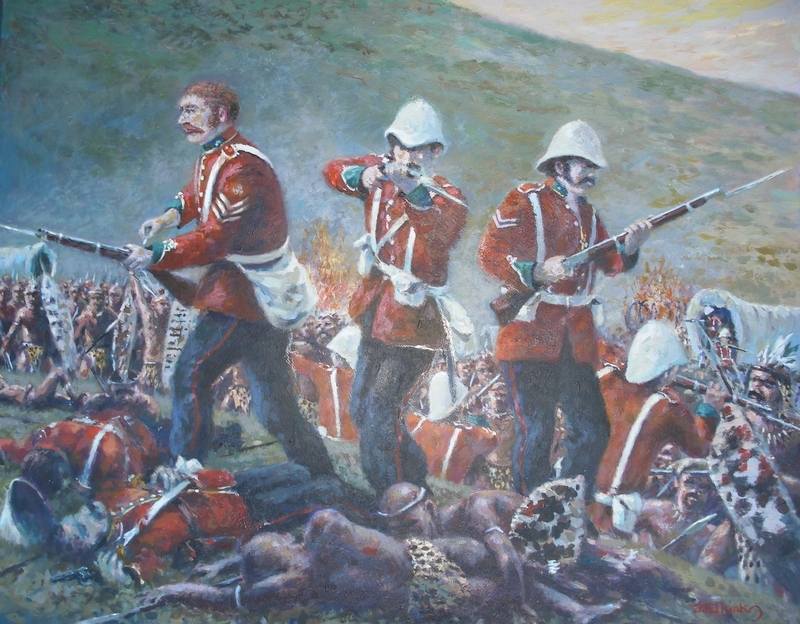 "Battle of Isandlwana" by Joel Kirk

Joel has captured a terrifying scene from the Battle of Isdandlwana which took place on January 22nd 1879!! It was first major encounter in the Anglo-Zulu War between the British Empire and the Zulu Kingdom!! Eleven days after the British commenced their invasion of Zululand in South Africa, a Zulu force of some 20,000 warriors attacked a portion of the British main column of 1,800 British, colonial and native troops and perhaps 400 civilians! Despite a vast disadvantage in weapons technology, the numerically superior Zulus ultimately overwhelmed the badly deployed British, killing over 1,300 troops, including all those out on the forward firing line. The Zulu army suffered around a thousand killed.

The battle was a crushing victory for the Zulus and caused the defeat of the first British invasion of Zululand. The British Armyhad suffered its worst defeat against an indigenous force. However, Isandlwana resulted in the British taking a much more aggressive approach in the Anglo-Zulu War, leading to a heavily reinforced second invasion and the destruction of Zulu King Cetshwayo's hopes of a negotiated peace!!
Joel Kirk has been a professional Artist for the past 40 years working in Acrylic, pastel and watercolours producing work for some of the leading publishing houses Solomon & Whitehead, Felix Rosenstiels, Buckingham Fine Art and Demontfort!! His work has sold in America, Australia, New Zealand and throughout the U.K with many in private collections!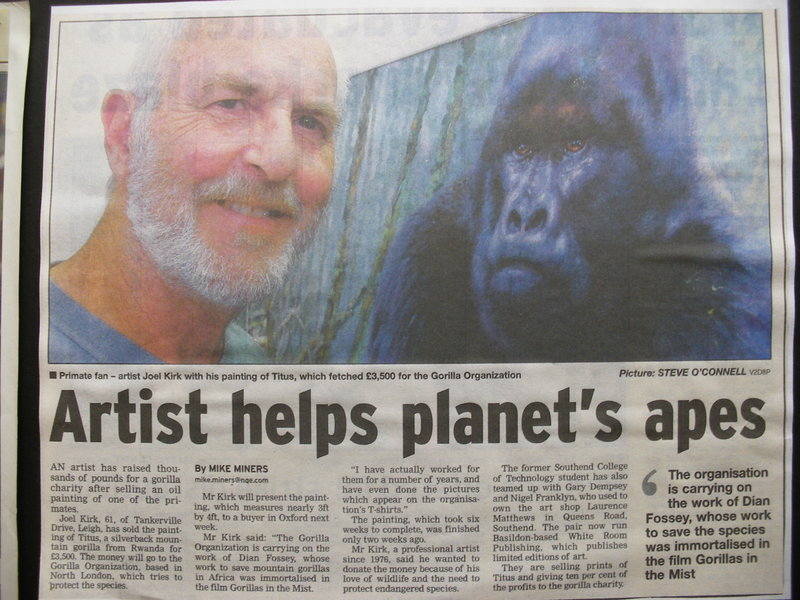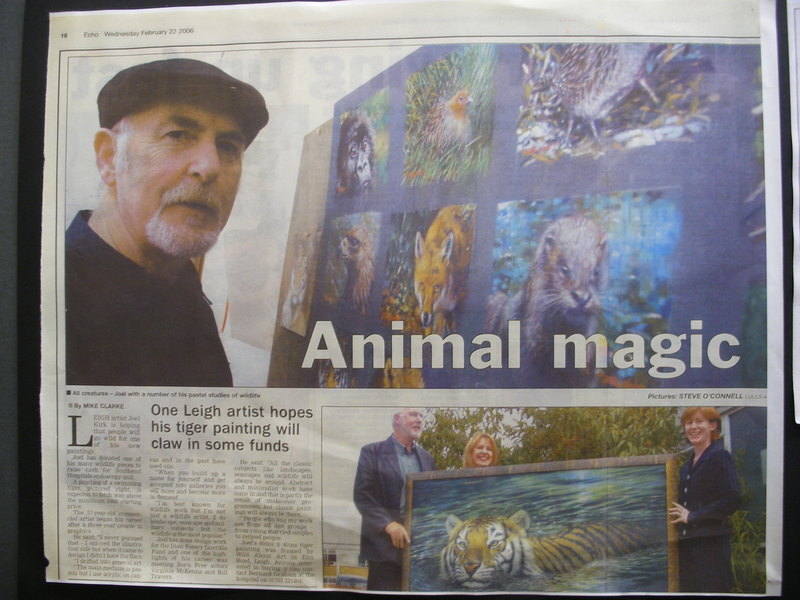 Christies have sold many of his paintings and for the past ten years Joel has been producing watercolours for Postage Stamps!! Guernsey Post for their endangered species range of Stamps which is ongoing! All his paintings for these Stamps have to go to Buckingham Palace, London for Royal approval!!!!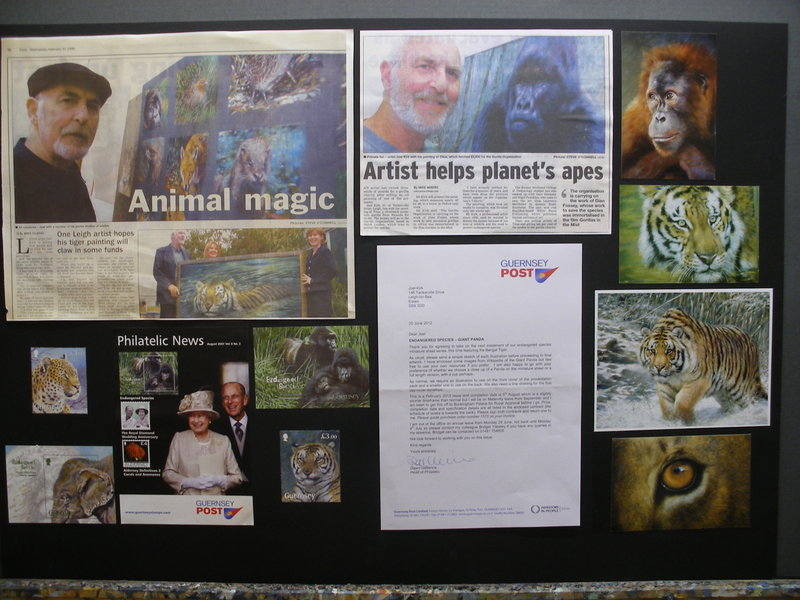 For many years Joel has worked with the Gorilla organisation producing paintings to rasie much needed funds to protect the Mountain Gorilla. A painting of Titus, a large Silverback raised £3,000!!! The buyer later paid £4,000 for a second painting of Joels' paintings! Joel is most famous for his wildlife paintings but he also paints land and Seascapes and military subjects.

............BY THE FANTASTIC ARTIST JOEL KIRK.

Measurements 15 inches x 19 inches (38 cms x 48 cms) Acrylic on Panel .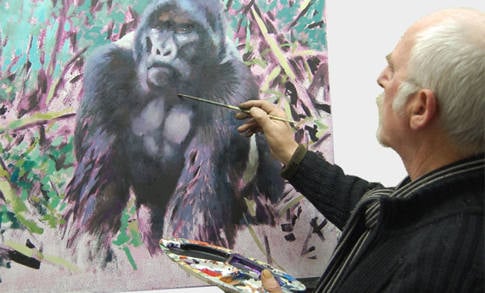 Joel Kirk painting "Titus"

Investment
" An Amazing Blue Chip Investment Opportunity to Acquire an Original Joel Kirk Painting" ..


Invest in one of our paintings, rather than risky bank investments, where you can actually touch your investment. Take pleasure in looking at it and watch it appreciate in value over the years!! Remember we guarantee every painting sold is unique, original e.g only one of it's kind in the world!!!

Scarcity alone guarantees the investment !!!!

Asgard Arts offers works of art which will not only look fantastic in your home or offices (One Investment Bank in particular has purchased paintings from us for their offices see Bull paintings) but will also be a sound financial investment for the future. Art has long been regarded as a strong and safe investment. Investment in paintings was discussed recently on Bloomberg television as a sound investment as a hard asset like Gold, Platinum Silver etc. Also Ellen Kelleher a personal finance journalist for The Financial Times recently wrote an article recommending the purchase of Art, particularly in the $500 - $50,000 range as a sound long term investment with an impressive current average annual increase of 9.7 percent. Go to Latest Art news on Asgard Arts and see Hang your investments on the wall by Ellen Kelleher Published October 22 2010 in the Financial Times.
Ref only; Asgard-arts.com Asgard Arts Ltd

.
Joel Kirk

Joel Kirk was born in Dorking, Surrey in 1948. He lived there for the duration of his father's service in the Coldstream Guards. When his father left the regiment the family moved to Leigh-on-Sea in Essex.
Joel has a love of wildlife that stems back from his school years, where his paintings dominated competitions and gave him his main subject matter.
In 1972 Joel was accepted into the Southend College of Art, After completing a three-year course, Joel immediately turned professional and embarked on a career doing what he loves best; observing the natural world and capturing its beauty in oils, pastels and water-colours. As a freelance artist Joel worked for a number of publishing houses. During this time a wide range of Joel's work was published for the small print market, these were to include a series of wildlife studies, wildflowers, landscapes and Joel's Thames Barges. Four limited editions were also published and several original works have been sold in Harrods, one in particular, a study of an Arabian stallion was sold within hours of being hung.
Joel has donated many paintings to help fund-raising for charities, working with Virginia McKenna,
The Born Free Foundation the Diane Fossey Gorilla Fund now called The Gorilla Organization and the Royal Society for Animal Protection of which he is an active member and tireless campaigner.

Joel is kept busy with commissions from wildlife organisations from all over the world. Joel's long and illustrious career as an artist has taken him all over the world to study wildlife in its natural habitat. This research has given him a unique insight into the habits of his subjects allowing him to paint with both accuracy and affection. Although he has experimented successfully with a variety of media, his first love is pastels as these give him the ability to work fast and effectively on location. The consequent velvety texture and subtlety of tones with shadows and highlights bring a unique realism to his portrayals and have earned him a wide and enthusiastic following.

Joel Kirk's supreme quality and accuracy has built him a worldwide following and His pictures have a ready market in North America, Australia, Japan, Europe and the United Kingdom.

Joel's work portrays a broad spectrum of wildlife. As well as the glamorous "Big Cats" and Elephants, Joel also likes to paint wildlife closer to home. Birds, foxes, squirrels and deer all feature in their natural surroundings or as studies.
Some years ago Joel Kirk set himself a task of painting as many breeds of dogs that are common in the United Kingdom and all were put into print.
Unusually Joel Kirk's watercolours contain very fine detail which has become one of his trademarks. After seeing Joel's work you must agree with us that any original work by Joel must appreciate in value.
GUARANTEED TO BE 100% ORIGINAL AND GENUINE WITH C.O.A.


P


Powered by eBay Turbo Lister


Pay instantly with your debit or credit card through PayPal.