---
"Varangian Guard- JomsVikinga" by Leon Goodman (now sold 11/10/12))
£2,250.00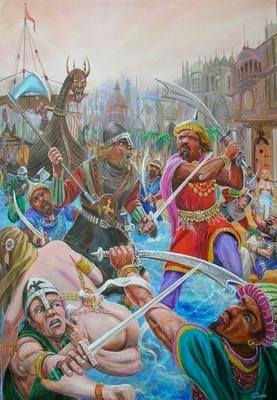 STUNNING NEW ORIGINAL OIL PAINTING ON CANVAS "Varangian Guard- JomsVikinga" .............This beautiful rare and unusual painting capturing the feared Viking elite the Varangian Guard in Constantinople (now Istanbul)!! Runic carvings found in the Hagia Sophia Basilica now Mosque where literally "Halfdan was here" was carved. During one of the Byzantine ceremonies Halfdan a Varangian Guardsman must have carved his name in to the then church Basilica!!! Incredible!!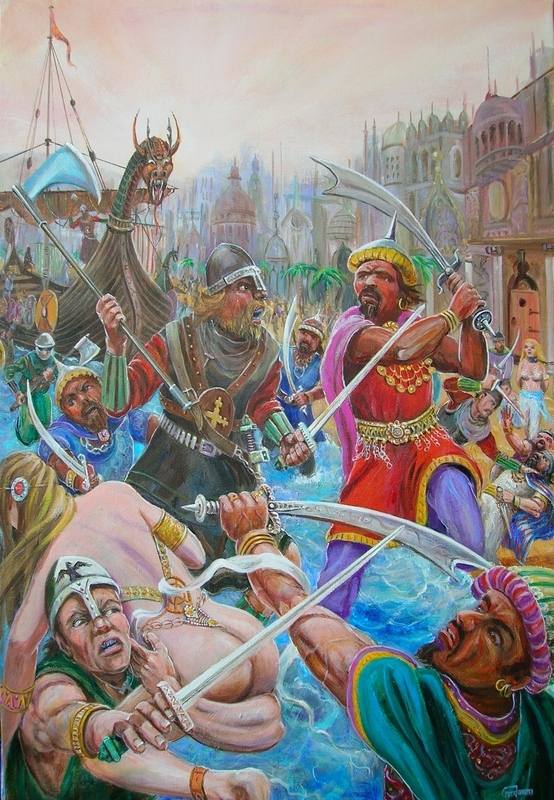 "Varangian Guard- JomsVikinga" by Leon Goodman
This rare and incredible painting illustrates also some of the most feared of all Vikings the mercenary Jomsvikinga with their blueteeth. The JomsVikinga were feared all over Europe they came from Jomsborg on the Baltic which is now the town of Swinoujscie in Poland which was the town of Wolin in Prussia. Jomsborg was founded by the most famous of all JomsViking Harold Bluetooth. The JomsVikinga were a brotherhood that were particularly fierce and only accepted the best warriors. They carved chunks/grooves out of their teeth and placed blue dye in them to give them distinctive sharpened blue teeth!!!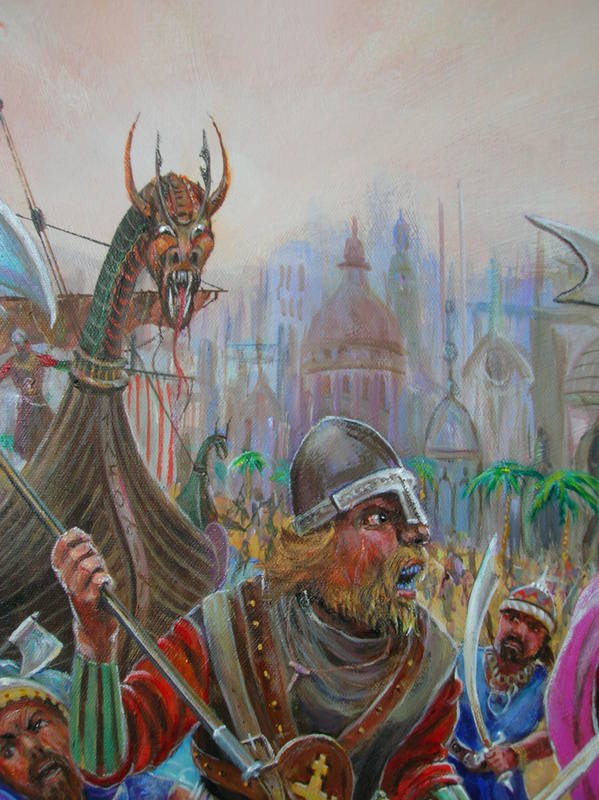 "Varangian Guard- JomsVikinga" by Leon Goodman
The Jomsviking were so notorious they spawned their own sagas!! It was written that when aband of them were once captured they asked to be beheaded facing their executioners. The recent uncovering of 54 Vikings in Dorset England (Ridgway Hill near Weymouth) were almost certainly a band of mercenary JomsVikings as they had the distinctive grooves in their teeth and they were beheaded facing their executioners so having a warriors death to enter Valhalla!!

The JomsVikings pictured were part of the Varangian Guard which was an elite unit of the Byzantine Army in 10th to the 14th centuries, whose members, mainly Vikings, served as personal bodyguards of the Byzantine Emperors. The Varangian Guard was formed in 988 by Emperor Basil II when Vladimir I sent 6000 Vikings as part of a military assistance agreement. Basil II distrusted native Byzantine guardsman so he went on to use the Vikings as his personal guardsman!! Over the years new recruits from Sweden, Denmark, Norway and Iceland kept a predominantly Viking cast to the organisation until the late 11th Century. So many Scandinavians left to join the Guard that a medieval law from Västergötland stated that no one could inherit while staying in Byzantine!!! The Guard also recruited large amounts of Anglo-Saxons especially after the Norman Viking invasion of England in 1066. The Saxons shared with the Vikings a tradition of faith till death and many fighting saxon men who had lost their lands looked to live elsewhere!! The Guard was also involved in many local wars and played a crucial role. The Varangians had an awesome reputation and were greatly feared. The Varangians were still in Constantinople until its fall to Ottoman invaders under Mehmet II in 1453!!!



....................BY THE SUPERB LEON GOODMAN WHO IS AN ACCOMPLISHED ARTIST HAVING BEEN A FINALIST AT THE GARRICK-MILNE PRIZE. HE HAS MANY OF HIS WORKS SOLD AT CHRISTIES.
Measurements height 30 inches x 20 inches. (76 cms x 51 cms) Oil on Canvas. .
Investment
" An Amazing Blue Chip Investment Opportunity to Acquire an Original Leon Goodman Painting" ..


Invest in one of our paintings, rather than risky bank investments, where you can actually touch your investment. Take pleasure in looking at it and watch it appreciate in value over the years!! Remember we guarantee every painting sold is unique, original e.g only one of it's kind in the world!!!

Scarcity alone guarantees the investment !!!!

Asgard Arts offers works of art which will not only look fantastic in your home or offices (One Investment Bank in particular has purchased paintings from us for their offices see Bull paintings) but will also be a sound financial investment for the future. Art has long been regarded as a strong and safe investment. Investment in paintings was discussed recently on Bloomberg television as a sound investment as a hard asset like Gold, Platinum Silver etc. Also Ellen Kelleher a personal finance journalist for The Financial Times recently wrote an article recommending the purchase of Art, particularly in the $500 - $50,000 range as a sound long term investment with an impressive current average annual increase of 9.7 percent. Go to Latest Art news on Asgard Arts and seeHang your investments on the wall by Ellen Kelleher Published October 22 2010 in the Financial Times.
Leon Goodman has been a professional artist for the majority of his working life. His work has been sold at The Omell Gallery, Ascot, as well as Christies, the fine art auction house in London. Many of his works have sold for thousands of pounds to the U.S.A. Since seeing his work, Risborough Art Gallery have made him a regularly featured artist. Leon's philosophy is that it is not the delineation of the subject which is important, but its fragmentation. He believes a strictly photographic image does not allow the viewer to participate in the painting. If the image is fragmented, the viewer can imagine for himself the missing parts and involve himself in the creation of the whole image. The viewer has seen his own interpretation of the fragmented images; the next viewer may see something different.
GUARANTEED TO BE 100% ORIGINAL AND GENUINE WITH C.O.A.




Powered by eBay Turbo Lister


Pay instantly with your debit or credit card through PayPal.