---
"Life on Mars" In Red / Pink Colourway by Louis Sidoli (now sold)
£2,250.00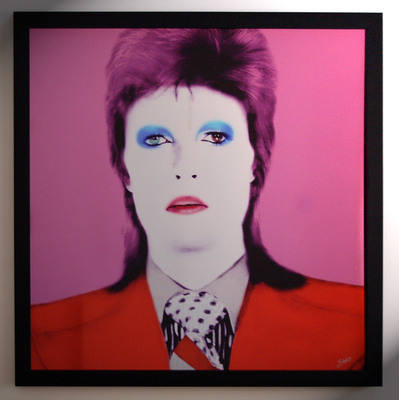 ABSOLUTELY STUNNING NEW DAVID BOWIE PAINTING

"Life on Mars"

In Red / Pink Colourway ................... BY THE FANTASTIC ARTIST LOUIS SIDOLI!....As one of the most versatile and exciting artists working today, Louis Sidoli's fusion of different artistic mediums and inspiring techniques demonstrates that he is a unique talent who likes to push the boundaries and challenge the concept of what art is, and what it can do!
Louis is currently exhibiting alongside Ringo Starr in New York's famous Gallery Pop International!!!!
He just sold one of his paintings to UB40's lead singer Ali Campbell !! (see pictures below)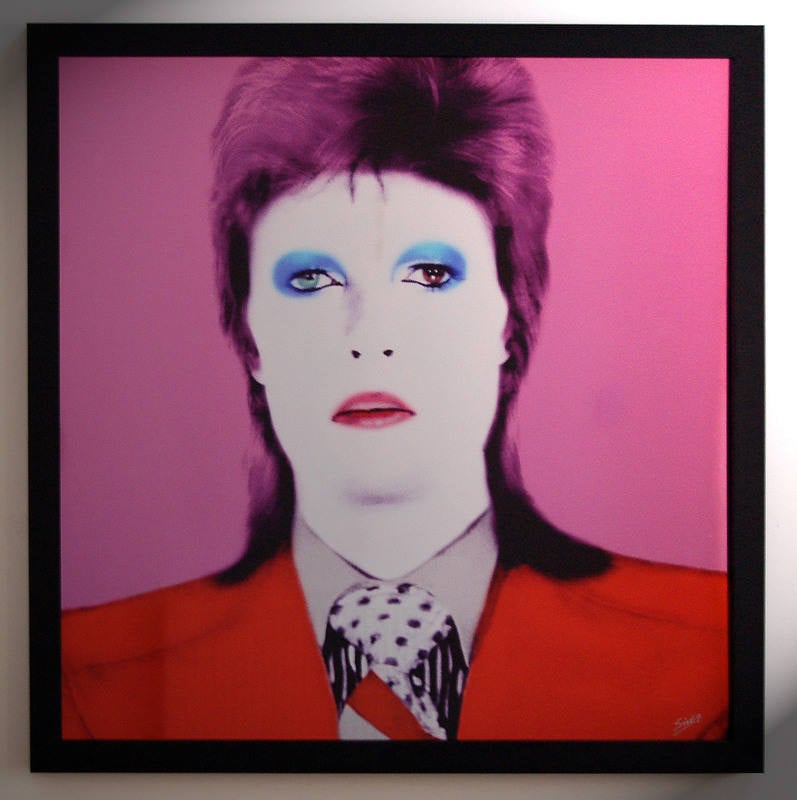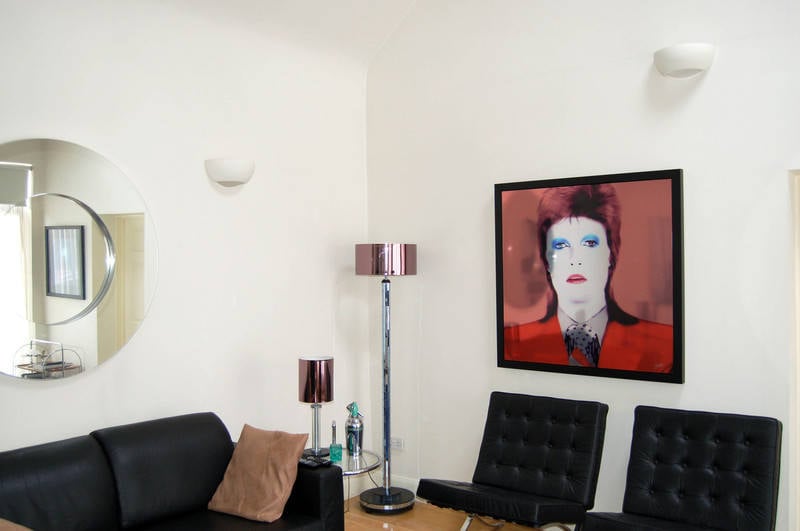 This Rendition in Red / Copper has been sold and shows in how it looks in situ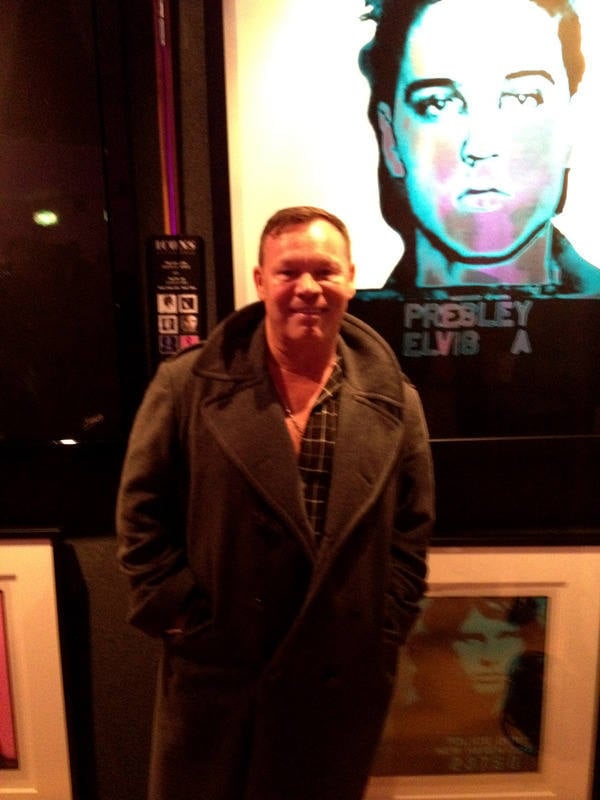 UB40's Lead Singer Ali Campbell

Measurements; height 3 foot 3 inches by 3 foot 3 inches. (100 cms x 100 cms)
Ink & Lacquer on brushed Aluminium / Semi reflective surface with ultra high gloss finish

...............
Investment
" An Amazing Blue Chip Investment Opportunity to Acquire an Original Louis Sidoli Painting" ..


Invest in one of our paintings, rather than risky bank investments, where you can actually touch your investment. Take pleasure in looking at it and watch it appreciate in value over the years!! Remember we guarantee every painting sold is unique, original e.g only one of it's kind in the world!!!

Scarcity alone guarantees the investment !!!!

Asgard Arts offers works of art which will not only look fantastic in your home or offices (One Investment Bank in particular has purchased paintings from us for their offices see Bull paintings) but will also be a sound financial investment for the future. Art has long been regarded as a strong and safe investment. Investment in paintings was discussed recently on Bloomberg television as a sound investment as a hard asset like Gold, Platinum Silver etc. Also Ellen Kelleher a personal finance journalist for The Financial Times recently wrote an article recommending the purchase of Art, particularly in the $500 - $50,000 range as a sound long term investment with an impressive current average annual increase of 9.7 percent. Go to Latest Art news on Asgard Arts and see Hang your investments on the wall by Ellen Kelleher Published October 22 2010 in the Financial Times.
Ref only; asgard-arts.com






Louis Sidoli

As one of the most versatile and exciting artists working today, Louis Sidoli's fusion of different artistic mediums and inspiring techniques demonstrates that he is a unique talent who likes to push the boundaries and challenge the concept of what art is, and what it can do.

Coming from an artistic Anglo Italian family, Louis was painting and drawing from an early age. But before his successful leap into life as a full time artist, he had a successful career in car design - working for well known brands such as BMW, Mini and Land Rover. Although his corporate days are now behind him, it was something that taught him the importance of artistic discipline, design and the processes involved.

Having long held the desire to do something more creative, Louis eventually decided to go it alone and the result was that within a year of producing his first collection of art, he was snapped up by a major art publisher and started supplying galleries around the world with his work. It was a tough decision to make, but he had no regrets, particularly as his first collection of London and New York cityscape art was commercially successful and gave him the confidence to really start to evolve as an artist and experiment in an edgier and more adventurous way.

Most recently this has manifested itself in a series of colourful and clever 3D 'lenticulars' as well as his most powerful and dynamic collection 'Most Wanted' - a multi coloured rogues gallery from popular culture, which pays homage to Andy Warhol in style and 'Sex Drugs and Rock n roll' in content. The collection has already attracted several rock legends among its list of celebrity collectors.

Sidoli himself gained media notoriety during the 2010 general election when one of his political images resulted in him being 'named and shamed' in Parliament much to his delight. He loves to challenge the conventional view. "Its art doing what it does best - questioning and raising issues and I like that challenging, anarchic aspect of it."

Ideas and Inspirations

Sidoli grew up listening to David Bowie and it was a reference to Andy Warhol on the track of Bowie's best selling 1971 'Hunky Dory' album that first ignited his interest in Warhol and led him to discover more about his art and innovative techniques at a very early age. Warhol's work was graphic in nature with photography at the core of his artistic practice, and those ground breaking 1960's editions of high-contrast silkscreen portraits remain one of the main influences on Sidoli's work. In 'Most Wanted' the grainy effect of a black and white photo is injected with life with a bright monochrome colour wash. "I like to think of this collection as Andy Warhol on steroids" laughs Sidoli.

Taking a series of twelve men who have fallen foul of the law, ranging from Al Capone to Al Pacino and from Kurt Cobain to Elvis, Sidoli has created a series of striking images which provide a fascinating historical archive of some of the most notorious and famous personalities of the twentieth century. What they all have in common (apart from a police record!) is a rebelliousness and eternal 'coolness' that is tangible, even in many cases after their death.

"I created the series of portraits using vintage mug-shots of iconic figures from contemporary culture, including gangsters, rock legends and Hollywood film stars" explains Sidoli. The subjects I have chosen are either my personal favourites or because they are great images. Each image has a story behind it, but the real appeal of these images is that everybody loves a bad boy!"

From Palette to Picture

A very visual person who is always absorbing ideas, Sidoli is characteristically opinionated about what he likes. Too rebellious to be particularly interested in traditional forms of painting, he prefers to take references and inspiration from the news and his immediate surroundings and influences. Sidoli is also self-taught, which he believes is a positive thing as he comes to his art without any pre-conceived ideas about what is possible, as well as life experiences beyond the rarefied world of art circles.

He loves to mix up artistic disciplines including photography, digital art, stencilling, spray paint, silkscreen printing, glass work and most recently lenticulars to achieve the end result. "I'm definitely a 'jack of all trades' and when I combine all my different skills together, I like to think that I create something truly unique" says Sidoli who is always experimenting with new ways to express himself as in his latest venture - a T-shirt spin off from the 'Most Wanted' collection which will be one of the most populist and engaging ways to own a Sidoli piece of art.

A Day in the Life of

Louis converted an old stable-cum-garage at the back of his house into an art studio five years ago, which allows him to work flexibly at his own pace and without the pressure of leasing expensive commercial premises.

Sidoli thrives on the diversity of his work pattern, and he happily says "No two days are ever the same." One day he may look for inspiration at an art exhibition, another day will see him developing ideas in his studio, working with his publisher to oversee the production of a new edition or promoting his work through a gallery exhibition or media interview. Not a natural multi-tasker, he has learnt to juggle and switch between the different demands that being a successful commercial artist now brings.

"Although being an artist is not the easiest way to earn a living. I love the challenge, it suits my personality and it gives me a flexible lifestyle. I believe that I am starting to define my own niche of pop art which collectors are really responding to."

" The Romance is in the Originals "
GUARANTEED TO BE 100% ORIGINAL AND GENUINE WITH C.O.A.


Pay instantly with your debit or credit card through PayPal.