---
"Marilyn Monroe" by Terence Vickress (now sold 1/11/13)
£850.00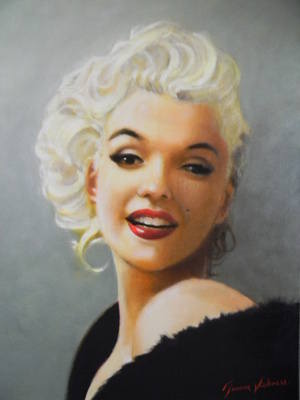 ORIGINAL OIL ON CANVAS "Marilyn Monroe". BY THE SUPERB PORTRAIT ARTIST TERENCE VICKRESS. ......................... The Wonderful portrait artist Terence Vickress has brought to life the legendary Marilyn Monroe!!!!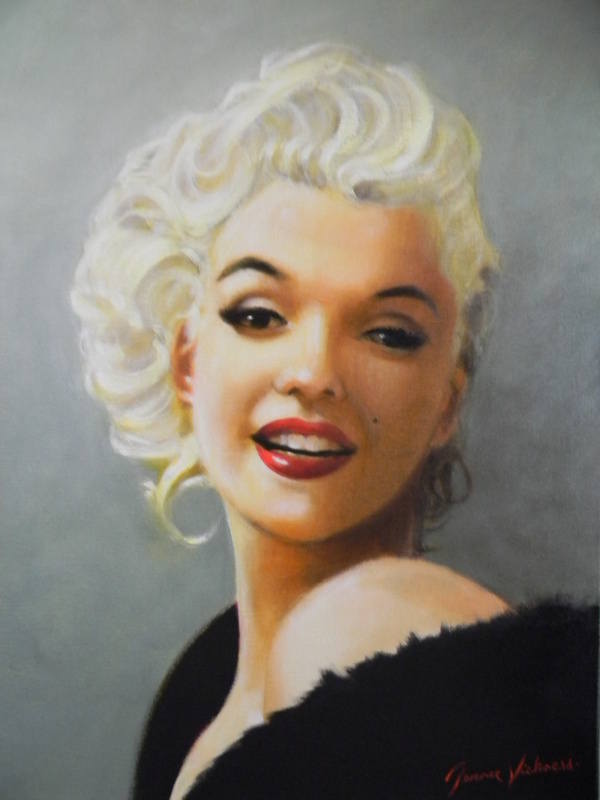 Measurements height 20 inches by 16 inches. Oil on canvas...........
Investment
" An Amazing Blue Chip Investment Opportunity to Acquire an Original Terence Vickress Painting" ..


Invest in one of our paintings, rather than risky bank investments, where you can actually touch your investment. Take pleasure in looking at it and watch it appreciate in value over the years!! Remember we guarantee every painting sold is unique, original e.g only one of it's kind in the world!!!

Scarcity alone guarantees the investment !!!!

Asgard Arts offers works of art which will not only look fantastic in your home or offices (One Investment Bank in particular has purchased paintings from us for their offices see Bull paintings) but will also be a sound financial investment for the future. Art has long been regarded as a strong and safe investment. Investment in paintings was discussed recently on Bloomberg television as a sound investment as a hard asset like Gold, Platinum Silver etc. Also Ellen Kelleher a personal finance journalist for The Financial Times recently wrote an article recommending the purchase of Art, particularly in the $500 - $50,000 range as a sound long term investment with an impressive current average annual increase of 9.7 percent. Go to Latest Art news on Asgard Arts and see Hang your investments on the wall by Ellen Kelleher Published October 22 2010 in the Financial Times.
Ref only; Asgard-arts.com Asgard Arts Ltd.

Terence Vickress the Artist was born 1955, Rochford, Essex. Now living and working in Southwold, Suffolk. Vickress trained at Southend Art School studying illustration to sculpture. Terence ultimately made the transition from illustration to portrait painter and enjoys the freedom of painting fine art, landscape, Seascapes, Traditional scenes and nudes. Among the many commissioned portraits are many celebrities including the Boxer FRANK BRUNO, Michael Schumacher, 5 Secretary Generals to The Commonwealth Parliamentary Association including Sir Howard D'Egville K.B.E LLD. This painting was unveiled in 1992. This painting was unveiled in Whitehall attended by Her Majesty the Queen Mother Elizabeth Bowes-Lyon and the Rt Hon Douglas Hurd M.P. Arthur Donohue Q.C, Dr the Hon David Tonkin, Sir Robin Vanderfelt all hung in secretariat offices in old palace yard Westminster !!
Numerous other famous Portraits. Mayors including in 1994 Howard Griffin, Henry Strode, Founders of the Company's College in egham (Members of the Worshipful Company of Coopers)Mayor Councillor Joe Tobin, The Worshipful the Mayor Councillor Allan Cole, Ann Bettes, Theresa Baggot, The Lord Mayor of Cambridgeshire Crowden, Lord Lieutenants and Members of Parliament including SIR TEDDY TAYLOR MP. Terence has many of his works in Public collections including The Palace of Westminster, London. Many Parliament Buildings in British Columbia, Canada. Also The House of Keys Parliament Building, The Tynwald including the Hon Charles Kerruish OBE. LLD (hc) CP, Isle of Man. Porters Grange Museum, Essex. The Hall of Mayoral Portraiture, Cambridge City. Also now the Town Hall, Southwold, Suffolk. Also the Speaker of the house of parliament in Canada George McMinn Q.C





GUARANTEED TO BE 100% ORIGINAL AND GENUINE WITH C.O.A.





Powered by eBay Turbo Lister


Pay instantly with your debit or credit card through PayPal.

GUARANTEED TO BE 100% ORIGINAL AND GENUINE WITH C.O.A.




Powered by eBay Turbo Lister


Pay instantly with your debit or credit card through PayPal.