---
"Untitled work" a Jean-Michel Basquiat reproduction by David Aldus U.A (now sold 25/10/12)
£2,200.00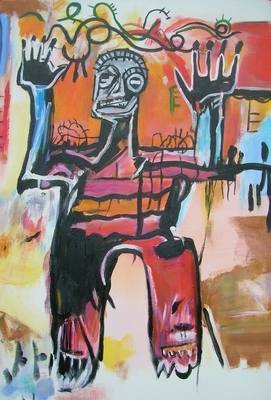 HIGH PRESTIGE EXHIBITION STANDARD REPRODUCTION OIL PAINTING OF Jean-Michel Basquiat amazing "Untitled" work!!

This lovely large painting recreating Jean Michel Basquiat's untitled celebrated work!!! Christies guide price for auction $8 million. Since Basquiat's death in 1988, his market has developed steadily — in line with overall art market trends — with a dramatic peak in 2007 when, at the height of the art market boom, the global auction volume for his work was over $115m.! Brett Gorvy, deputy chairman of Christie's, is quoted describing Basquiat's market as "two-tiered. The most coveted material is rare, generally dating from the best period, 1981-83."Until 2002, the highest money paid for an original work of Basquiat's was $3,302,500, set on November 12, 1998 at Christie's. In 2002, Basquiat's Profit I (1982), a large piece measuring 86.5" by 157.5", was set for auction again at Christie's by drummer Lars Ulrich of the band Metallica. It sold for $5,509,500 !!!! In 2008, at another auction at Christie's, Ulrich sold a 1982 Basquiat piece, Untitled (Boxer), for $13,522,500 to an anonymous telephone bidder. Another record price for a Basquiat painting was made on in 2007, when an untitled Basquiat work from 1981 sold at Sotheby's in New York for $14.6 million. In 2012, Basquiat's Untitled (1981), a painting of a haloed, black-headed man with a bright red skeletal body, depicted amid the artist's signature scrawls, was sold by Robert Lehrman for $16.3 million, well above its $12 million high estimate. A similar untitled piece, also undertaken in 1981 and formerly owned by the Israel Museum, sold for £12.92 million at Christie's London, setting a world auction record for Basquiat's work
"Basquiat speaks articulately while dodging the full impact of clarity like a matador . We can read his pictures without strenuous effort—the words, the images, the colors and the construction—but we cannot quite fathom the point they belabor. Keeping us in this state of half-knowing, of mystery-within-familiarity, had been the core technique of his brand of communication since his adolescent days as the graffiti poet SAMO. To enjoy them, we are not meant to analyze the pictures too carefully. Quantifying the encyclopedic breadth of his research certainly results in an interesting inventory, but the sum cannot adequately explain his pictures, which requires an effort outside the purview of iconography... he painted a calculated incoherence, calibrating the mystery of what such apparently meaning-laden pictures might ultimately mean."
— Marc Mayer, Basquiat in History


Highest price received for one of David Aldus paintings is £20,000 "Armada under attack from english fleet" £14,000 "Lot's Wife" Absolute investment opportunity!
Measurements Height 3 ft x 2 ft (92 cms x 61 cms)
Oil on Canvas ..............
Investment
" An Amazing Blue Chip Investment Opportunity to Acquire an Original David Aldus U.A Painting" ..


Invest in one of our paintings, rather than risky bank investments, where you can actually touch your investment. Take pleasure in looking at it and watch it appreciate in value over the years!! Remember we guarantee every painting sold is unique, original e.g only one of it's kind in the world!!!

Scarcity alone guarantees the investment !!!!

Asgard Arts offers works of art which will not only look fantastic in your home or offices (One Investment Bank in particular has purchased paintings from us for their offices see Bull paintings) but will also be a sound financial investment for the future. Art has long been regarded as a strong and safe investment. Investment in paintings was discussed recently on Bloomberg television as a sound investment as a hard asset like Gold, Platinum Silver etc. Also Ellen Kelleher a personal finance journalist for The Financial Times recently wrote an article recommending the purchase of Art, particularly in the $500 - $50,000 range as a sound long term investment with an impressive current average annual increase of 9.7 percent. Go to Latest Art news on Asgard Arts and see Hang your investments on the wall by Ellen Kelleher Published October 22 2010 in the Financial Times.




Ref only;Wikipedia; david aldus davidaldus.com





David Aldus the artist has exhibited with the Royal Society of British Artists (R.B.A); the Royal Institute of Oils (R.O.I); and the Royal Society of Marine Artists (R.S.M.A) He has been nominated twice as a finalist in the Garrick/Milne prize exhibition held at Christies LONDON. His work has been selected for the Discerning Eye Exhibition by Art Critic, Edward Lucie Smith, where all his work was sold. At the same Exhibition he was awarded a special commendation for his brushwork. He also sold all his work at the Lambeth Palace when exhibiting under the auspices of the Royal Society of Marine Artists. At the Westminster Central Hall United Artists' Exhibition he won first prize for the best Oil painting!! Highest price received for one of his paintings is £20,000 "Armada under attack from english fleet" & £14,000. "Lot's wife" see davidaldus.com . This painting was the same size as Turner's Hannibal crossing the Alps 5 foot by 8 foot. David Aldus also sold "A tribute to the people of Malta" that sold for £10,000. The same painting was the subject of a congratulatory letter from Queen Elizabeth II. Lord Lewin, Admiral of the Fleet also sent a letter of congratulations. He has held one or two-man shows at Knightsbridge; South Kensington; Windsor and numerous other venues. He has exhibited in Westminster Central Hall; Royal Festival Hall; Birmingham's Royal British Artists exhibition; Victoria Art Gallery, Bath; Rooksmoor Gallery, Bath; London Guildhall; Mann Island, Liverpool; Christies, the London Auction House, etc.
GUARANTEED TO BE 100% ORIGINAL AND GENUINE WITH C.O.A.

Powered by eBay Turbo Lister


Pay instantly with your debit or credit card through PayPal.