---
"Boogitty, Boogitty Boogitty!! Nascar Sprint Cup 2009" by David Daisy
£900.00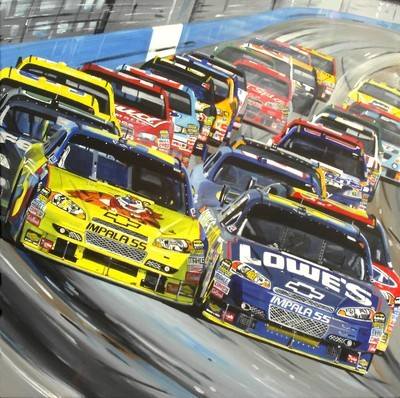 NEW ACRYLIC PAINTING "Boogitty, Boogitty Boogitty!! Nascar Sprint Cup 2009". BY THE ARTIST DAVID DAISY!

This is a stunning piece with the added bonus of Nascar driver Jimmie Johnson having also signed the painting and there is a photograph of him signing the painting. It was actually painted at the Daytona race and included is the artists ticket from Daytona.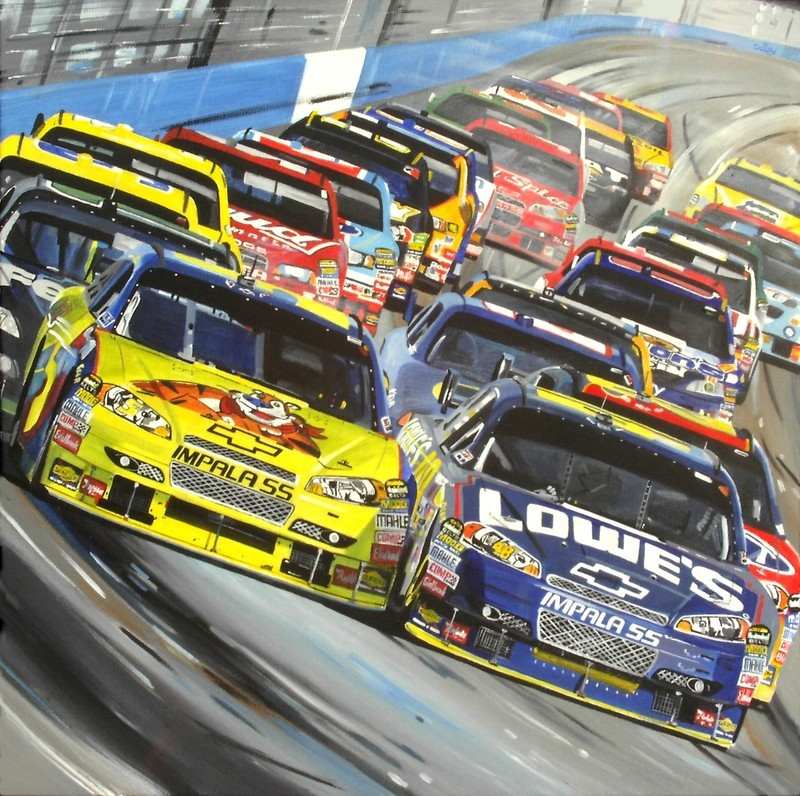 "Boogitty, Boogitty Boogitty!! Nascar Sprint Cup 2009" by David Daisy
Measurements height 24 inches by 24 inches. Acrylic on Canvas... Box Framed............
Ref only; asgard-arts.com






"Boogitty, Boogitty, Boogitty Nascar Sprint Cup 2009" by Motorsport Artist David Daisy


David Daisy - Motorsport Artist
David studied illustration and graphic design at Rochester Art and Design College in 1993, before attending Canterbury School of fine arts 1994-1999, finishing with a BA Hon's in graphic fine arts.
After finishing college he combined his skill for painting, and his passion for motor racing leading him to create a bold and exciting new style of motorsport art.
First exhibition: the A1 GP at Brands Hatch 2005 and with the British A1 GP team at Brands Hatch in 2007.
Since then has been commissioned by:-
Double British GT champion Scuderia Ecosse
Original painting of Lewis Hamilton owned by McLaren's CEO
Original paintings signed and commissioned by Ferrari F1 world champion and 500cc motorcycle champion John Surtees and by F1 World champion Nigel Mansell
Also commissioned to complete a special memorial to Henry Surtees, by his father & trustee John Surtees.
Paintings owned and signed by double F1 world champion Emerson Fittipaldi, Jonathan Palmer, Leon Camier with 2003 and 2008 British Superbikes Champion Shane 'Shakey' Byrne.
Many Paintings also signed, for example by Stirling Moss, Jiacomo Agostini (15 x Motorcycle World Champion), double world superbike champion James Toseland, Troy Bayliss (Triple World Superbike Champion), Tom Christianson (Eight x La Mans Winner), Jimmie Johnson (5 x NASCAR Champion), Neil Hodgson (WSB Champion), Lord Drayson, Science Minister & LeMans 2009 competitor along with Mike Helton, President of NASCAR whom invited David to the Daytona 500 in 2010.
Work sold around the world to collectors in:
Australia, Bahrain, Brazil, Canada, Italy, Lithuania and the USA as well all around the UK since July 2006.
Currently exhibiting at:
RacingEvents.info - Brands Hatch.
Outside The Square Gallery 3 Duke St, Margate Opposite Turner Contemporary.
Letters of Authenticity/ Providence can be obtained on request upon purchase.
This is your chance to buy original paintings on canvas from a new artist; a real investment for the future.
GUARANTEED TO BE 100% ORIGINAL AND GENUINE WITH C.O.A.




Powered by eBay Turbo Lister


Pay instantly with your debit or credit card through PayPal.