---
"Westminster at Night" by Lesley Ann Derks
£1,900.00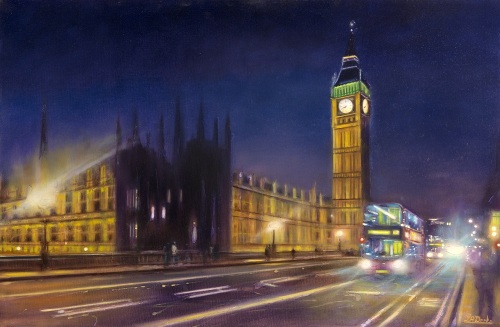 A rare opportunity for a truly stunning new painting

"Westminster at Night"



..................... by internationally acclaimed Artist Lesley Ann Derks........Oil on Canvas

"Westminster at Night" by Lesley Ann Derks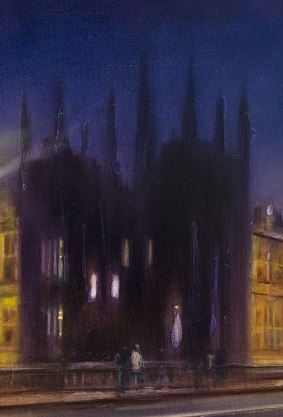 Lesley Ann Derks is an internationally renowned, landscape artist whose work can be found in some of the finest homes in the world, as well as in corporate collections!
-" I'm fascinated by the hustle and bustle of city night street. The sounds, the smell, the lights and in particular the reflections they create ."
Measurements; Large Canvas
1 foot 11 inches x 2 foot 11 inches (60 cms x 90 cms)
...........

..
Ref only: laderks.co.uk
Lesley Ann Derks
" I'm fascinated by the hustle and bustle of city night street. The sounds, the smell, the lights and in particular the reflections they create ."

I was born in Falkirk, Scotland in 1977 and brought up in Grangemouth where I continue to live until this day.

Grangemouth is predominantly an industrial town. In my early years it hosted businesses such as ICI, Docks and the BP Petro-chemical plant which were all major influences in my life.

At school everyone seemed to have a parent or relation who worked in these fields. My father worked at the BP plant for 30 years until his retirement. The plant which dominates much of the skyline of Grangemouth always had a deep fascination for me. I was amazed that something that appeared so grey and somewhat ugly during the day could become so beautiful at night.


When friends who were not familiar with Grangemouth came to stay my dad would take us on a tour in the car to see the lights at night. Some people have associated Grangemouth with its strange orange night glow as being some form of an alien world; a scene out of Bladerunner or cities such as New York.


Grangemouth in my early years at school would always make some appearance in my art work. In 1994 I left senior school and did a 1 year Art and Craft course at Falkirk College of Technology. In 1995 I was accepted into Glasgow School of Art where I completed a BA Hons in Fine Art Drawing and Painting. Again Grangemouth would make some appearance in my work all be it in a very abstract manner.


It wasn't until my final year and after a 3 month student exchange in Barcelona I became fascinated with night scenes. It was then I realised the thing I really loved painting was nightscapes. Back home the inspiration was right on my doorstep.


For several years Grangemouth became the main inspiration for my work. I then progressed this love of night onto cityscapes. However, the early halos of colours and strange glows from Grangemouth are still apparent in my work.


Ideas & Inspirations.


All my work is based on the places I have visited over the last few years. I'm fascinated by the hustle and bustle of city night streets. The sounds, the smells, the lights and in particular the reflections they create. My aim is to produce work that evokes these feelings within the viewer, almost allowing them to step into these scenes, experiencing the lights, sounds and movement.


I feel in order to paint these scenes you must see them first hand and travelling is an integral part of my work. I need to hear the sounds, smell the smells, soak up the atmosphere of a particular place. I also use my camera as a back up to these experiences treating it almost as my sketchbook. When taking photographs I know exactly what I am hoping to capture in my composition. The camera also allows me to play with movement, such as passing vehicles.


I then work from a series of photographs and choose certain elements from each one bringing them together in one composition.


From Palette to Picture.


My palette consists of enamels and oils. Working in mixed media allows me to experiment with different texture and effects. I always begin with a bright base coat consisting of red, yellow and white. This foundation gives my work a glow like quality. My paintings are built up over several layers which often includes areas where I peel back a layer to show what went on before. This gives depth to my work.


A day in the Life of...


I spend at least 5 days a week in my studio but sometimes more. I try to work at least 8 hours a day and normally I am in the studio for around 9.30am. I find it very hard to get out of my studio before 7pm and do feel it tends to take over my whole life. However I wouldn't have it any other way as I love what I do and feel very lucky that people taking an interest in my work has allowed me to do this.


Being an artist has also allowed me to lecture, organise and teach workshops. More recently I was asked to curate a landscape exhibition. Currently I am attending an art therapy course and hope to use the skills learned in a practical sense.
GUARANTEED TO BE 100% ORIGINAL AND GENUINE WITH C.O.A.





Pay instantly with your debit or credit card through PayPal.