---
"Vinland - Viking America" by Leon Goodman (now sold 9/6/12)
£2,800.00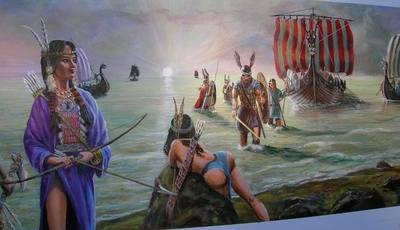 STUNNING NEW ORIGINAL OIL PAINTING ON CANVAS "Vinland- Viking America" ............. One of the finest works by Leon taking over one month to complete!!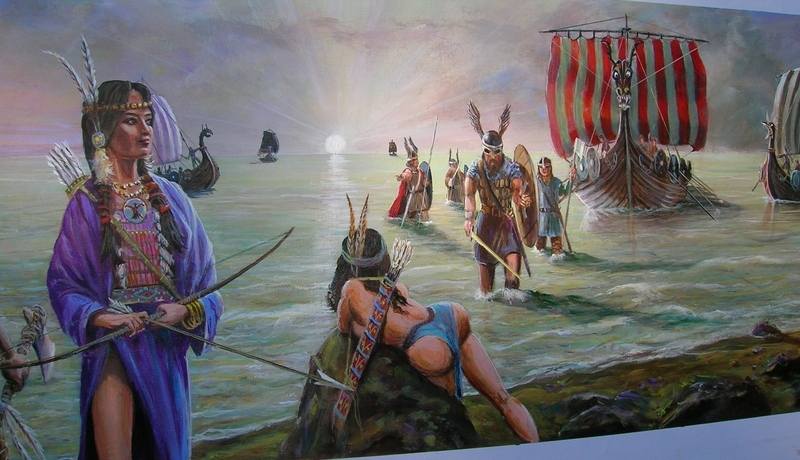 This beautiful rare and unusual painting captures the historical moment when Viking Leifr Eiríksson discovered America pre columbus in the year 1000 a.d !!! Leifr is the scary Viking, Winged-Helmeted, in the centre walking to shore for the first time!! Vinland was the name given to a part of North America by the Icelandic Vikings. In 1960 archaeological evidence of Norse settlement in North America was found at L'Anse aux Meadows on the island of Newfoundland, in what is recently now termed the Canadian Province of Newfoundland and Labrador.

Although this proved conclusively the Viking's pre-Colombian discovery of North America, whether this exact site is the Vinland of the Norse accounts is still a subject of debate.The main source of information about the Viking voyages to Vinland can be derived from two Icelandic sagas, The Saga of Eric the Red and the Saga of the Greenlanders.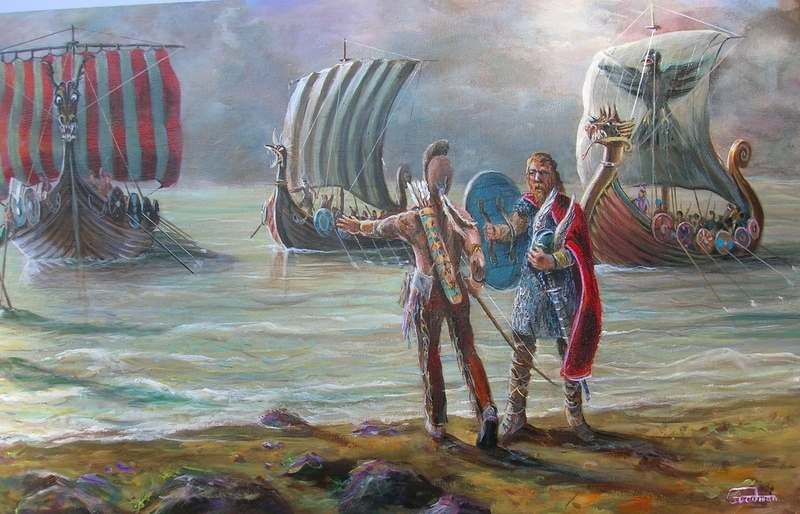 ....................BY THE SUPERB LEON GOODMAN WHO IS AN ACCOMPLISHED ARTIST HAVING BEEN A FINALIST AT THE GARRICK-MILNE PRIZE. HE HAS MANY OF HIS WORKS SOLD AT CHRISTIES.
Measurements height 1 foot 3 inches x 4 foot. ( cms x cms)
Oil on Canvas. .
Leon Goodman has been a professional artist for the majority of his working life. His work has been sold at The Omell Gallery, Ascot, as well as Christies, the fine art auction house in London. Many of his works have sold for thousands of pounds to the U.S.A. Since seeing his work, Risborough Art Gallery have made him a regularly featured artist. Leon's philosophy is that it is not the delineation of the subject which is important, but its fragmentation. He believes a strictly photographic image does not allow the viewer to participate in the painting. If the image is fragmented, the viewer can imagine for himself the missing parts and involve himself in the creation of the whole image. The viewer has seen his own interpretation of the fragmented images; the next viewer may see something different.
GUARANTEED TO BE 100% ORIGINAL AND GENUINE WITH C.O.A.




Powered by eBay Turbo Lister


Pay instantly with your debit or credit card through PayPal.