---
"Narcissus" by Marta Zawadzka (now sold 21/7/13)
£1,100.00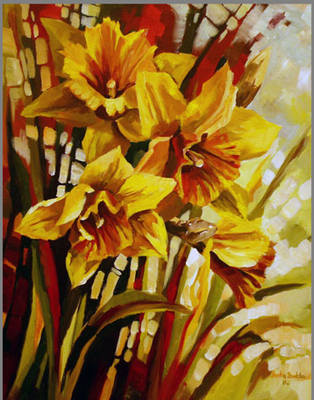 BEAUTIFUL LARGE ACRYLIC PAINTING "Narcissus" .............. BY THE SUPER ARTIST MARTA ZAWADZKA. A stunning new painting with real warmth!!!

"Narcissus" by Marta Zawadzka
Measurements; height 3 ft by 2 ft 3 1/2 in (90 cms x 70 cms)
Acrylic on Canvas...............
Ref only; martagallery.com



Marta Zawadzka - Marta Zawadzka is an Architect with several years experience in design work for large-area projects. But her main passion and way of life is painting and drawing!! She became a professional Artist some ten year ago. The themes of her work are doing exactly what is closest to her at any given moment in her life- so releasing great energy and delight!!! Painting allows Marta to feel love and joy in her heart!!

Since finishing her studies Marta now exhibits in solo and group exhibitions all over Europe and sells her works all over the World!!

For ten years now Marta has shared her experiences with a range of beautiful paintings and drawings. Her aim being to try to inspire others with her passion and sensitivity to Art. Marta has her own studio for drawing and painting enabling her to share her poweful love of beauty.

With years and hundreds of study hours preparing for her degree in Architecture now behind her with all its intricacies of perspective drawing - Marta is now launched into the World of Art bringing her joy and great satisfaction and a fresh look at self-expression!!!!
GUARANTEED TO BE 100% ORIGINAL AND GENUINE WITH C.O.A.
Powered by eBay Turbo Lister


Pay instantly with your debit or credit card through PayPal.