---
"Tribute to Ran" by Leon Goodman (now sold 25/3/12)
£1,200.00



Stunning new Viking painting "Tributes to Ran". In Viking tradition warriors would offer Gold to the Sea Goddess Ran so they would then be protected if ever they had the misfortune of falling to the Ocean floor - The Realm of the Sea Goddess!!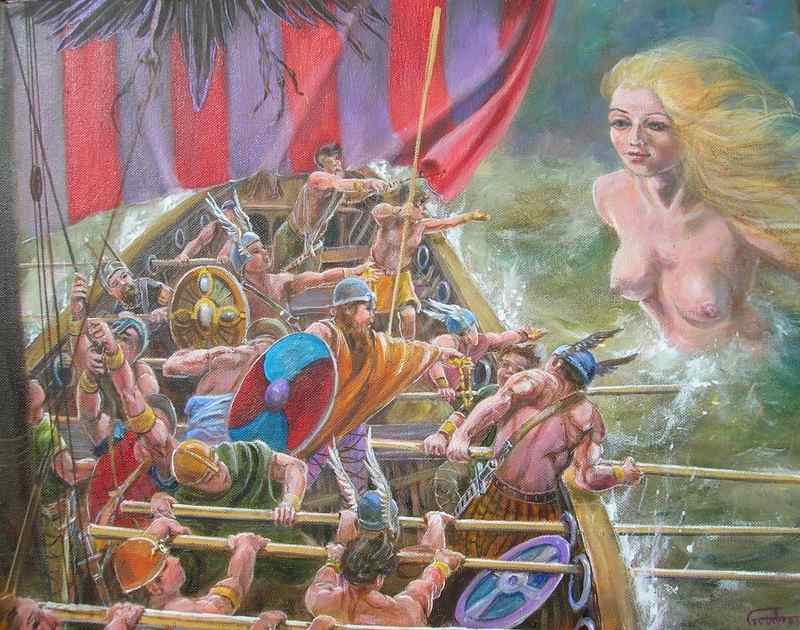 ........................................... BY THE SUPERB GOODMAN WHO IS AN ACCOMPLISHED ARTIST HAVING BEEN A FINALIST AT THE GARRICK-MILNE PRIZE. HE HAS MANY OF HIS WORKS SOLD AT CHRISTIES.




Measurements

;

16 inches x 20 inches. Oil on Canvas .
Ref only; leon-goodman.com Wikipedia; Leon Goodman


Leon Goodman has been a professional artist for the majority of his working life. His work has been sold at The Omell Gallery, Ascot, as well as Christies, the fine art auction house in London. Many of his works have sold to the U.S for thousands of pounds. (Please check out www.leon-goodman.com ) Since seeing his work, Risborough Art Gallery have made him a regularly featured artist. Leon's philosophy is that it is not the delineation of the subject which is important, but its fragmentation. He believes a strictly photographic image does not allow the viewer to participate in the painting. If the image is fragmented, the viewer can imagine for himself the missing parts and involve himself in the creation of the whole image. The viewer has seen his own interpretation of the fragmented images; the next viewer may see something different.


GUARANTEED TO BE 100% ORIGINAL AND GENUINE WITH C.O.A.

Powered by eBay Turbo Lister


Pay instantly with your debit or credit card through PayPal.