---
"Fat Bird at the Chicago" by Steven Lynch
£4,950.00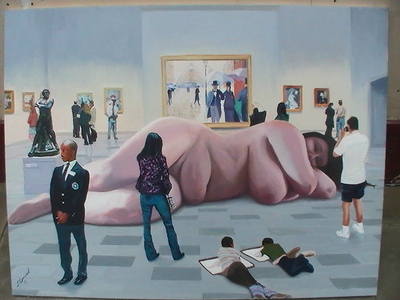 STUNNING NEW LARGE ORIGINAL OIL PAINTING ON CANVAS "

Fat Bird at the Chicago

"


"Fat Bird at the Chicago" By Steven Lynch


..........BY THE INCREDIBLE ARTIST STEVEN LYNCH. Steven Lynch is in the top 30 top selling UK Artists!!!
Measurements; 3 foot 3 inches x 4 foot ( 100 cms x 120 cms)
Oil on Canvas .............
Fat Bird in the Chicago. The Chicago is in deed the Chicago Museum, and the large lady is a representation of American excess. Our bodies were designed for the conditions in the Pliocene Epoch were food was scarce and hard fought over. Our biology stores what it gets for the hard times ahead. But now there are no hard times. The artist is suggesting we all take a good hard look at ourselves and exhibit the bit of self control that biology has not prepared us for before we go for the American Dream.
Ref only; asgard-arts.com


Steven Lynch - Steven Lynch is a UK artist who mainly works in oil on canvas. His work is predominantly figurative although he also produces wonderfully expressive seascapes, landscapes and cityscapes. Steven Lynch has his work in private collections throughout the UK. Whether he is creating provocative, affordable street art, or working on his series of beach dwelling characters, he creates skillful and attractive work that is reasonably priced. In other work he paints the everyday, some might say mundane, objects of the modern world in a nostalgic way. One of our best selling artists, we look forward to representing Lynch for a long time to come.
.

GUARANTEED TO BE 100% ORIGINAL AND GENUINE WITH C.O.A.



Powered by eBay Turbo Lister


Pay instantly with your debit or credit card through PayPal.