---
"Marlow Bridge" By Luke Piper (now sold 13/10/12)
£100.00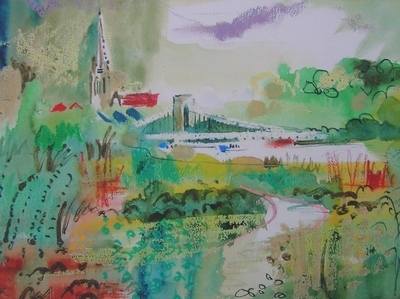 MAGNIFICENT LIMITED EDITION PRINT "Marlow Bridge". BY THE AMAZING INTERNATIONALLY ACCLAIMED ARTIST LUKE PIPER.........

!

Luke Piper is an English Landscape painter with incredible success!! His Grand Father was the famous Artist John Piper who has over 182 of his works in the Tate collection. Major retrospective exhibitions have been held at Tate Britain (1983-1984), the Dulwich Picture Gallery and the Imperial War Museum! His auction record was £325,000 at Sotheby's on the 15th July 2008 for "Forms on Dark Blue" a 3' x 4' oil painted in 1936!!
Limited edtion Number 9 of 250



"...the colour, light and structure of our surroundings fascinates the more you observe until you finally unearth the raw spirit of it all and come home feeling infinitely satisfied and strangely human..." Luke Piper


Measurements; 7 1/2 inches x 11 1/2 inches
( 19 cms x 29 cms) .............
Ref only: www.lukepiper.com asgard-arts.com


Luke Piper (born 1966) is an English landscape painter, especially in watercolours.
Luke Piper is the son of the painter Edward Piper. He is also the eldest grandson of another artist, John Piper. He grew up in Frome, Somerset and is still based in the county. He studied at Frome College and then read geography at the University of Cambridge!!
Piper's first major show of artworks was at the CCA Galleries, Dover Street, London in 1992 also used by his father. Since that time he has exhibited regularly in London and at venues such as the Henley Festival, Renishaw Hall, the River and Rowing Museum, Stonor and elsewhere in England.
He has travelled around the world to paint, including Nairobi via Western Sahara and Zaire in 1995, the Sahara desert in 1999 and 2000, Nepal and the Himalayas in 1998 and 2000–01, and Australia, New Zealand and Fiji 2002–03. In 2008, he painted in Egypt (including Luxor, Greece (including Paxos), Switzerland and Italy. He has also painted in France, Ireland and Spain as well as around the United Kingdom, including many paintings of the River Thames.
He married in 1997. His brother Henry Piper is a Sculptor.
GUARANTEED TO BE 100% ORIGINAL AND GENUINE WITH C.O.A.


Powered by eBay Turbo Lister



Pay instantly with your debit or credit card through PayPal.