---
"Robert "Buck" Mcnair by David Bryant
£6,800.00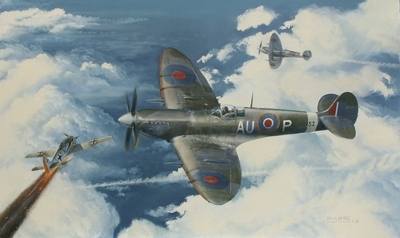 STUNNING NEW LARGE ORIGINAL OIL PAINTING ON CANVAS "Robert "Buck" Mcnair".



On the 24th June 1943 Robert 'Buck' Mcnair a Canadian, downed this Focke Wulf 190 south of Fecamp, northern France in Spitfire IXb BS152. This was one of 16 aircraft destroyed, 5 probably destroyed and 14 damaged that were credited to McNair by the end of the war.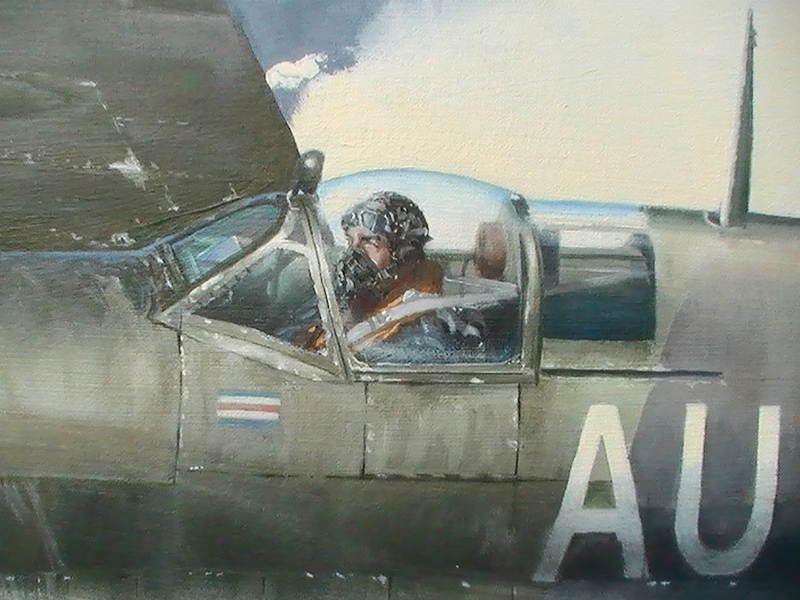 Robert 'Buck' Mcnair
You will note that the aircraft in the background is that of James Edgar 'Johnnie' Johnson, who flew with Mcnair during his time with 421 squadron. McNair is recorded as having flown this aircraft as well, whilst Johnson was off 'ops' and even scored a victory in it 4 days prior to this incident near Doullon; the victim in this instance was also an Focke Wulf 190.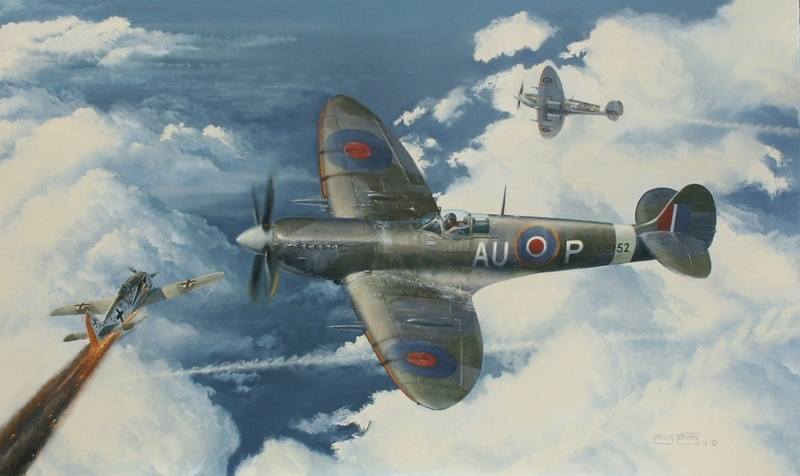 ..........BY THE AMAZING MILTITARY/AVIATION ARTIST DAVID BRYANT....
"An obsession with military aviation in the Second World War and more recently in events of our more recent operations has motivated me to create the majority of the images on this site. Many are commissions, but a number are just because I wanted to. I try to give the images as much life as I can and record as many of the details as faithfully as I know how. One of the great joys of painting for me has been access to people I would not normally get to meet and places I would not normally get to go. I am often invited to military establishments and have been spoilt with inconceivable kindness when there.
This is my homage to the exceptional generation of people who fought the last world war and the equally courageous men and women who followed." David Bryant

Measurements; height 2 foot 7 inches by 3 foot 3 inches ( 80 cms x 100 cms)


Oil on Canvas .............
Investment
" An Amazing Blue Chip Investment Opportunity to Acquire an Original David Bryant Painting" ..


Invest in one of our paintings, rather than risky bank investments, where you can actually touch your investment. Take pleasure in looking at it and watch it appreciate in value over the years!! Remember we guarantee every painting sold is unique, original e.g only one of it's kind in the world!!!

Scarcity alone guarantees the investment !!!!

Asgard Arts offers works of art which will not only look fantastic in your home or offices (One Investment Bank in particular has purchased paintings from us for their offices see Bull paintings) but will also be a sound financial investment for the future. Art has long been regarded as a strong and safe investment. Investment in paintings was discussed recently on Bloomberg television as a sound investment as a hard asset like Gold, Platinum Silver etc. Also Ellen Kelleher a personal finance journalist for The Financial Times recently wrote an article recommending the purchase of Art, particularly in the $500 - $50,000 range as a sound long term investment with an impressive current average annual increase of 9.7 percent. Go to Latest Art news on Asgard Arts and see Hang your investments on the wall by Ellen Kelleher Published October 22 2010 in the Financial Times.
Ref only; asgard-arts.com www.davidbryantart.com


David Bryant -From the age of seven I have been captivated by everything to do with our aviation history during the last war. It happened one day when a formation of aircraft I had never seen before flew over my home in Kent. It wasn't until later that my father explained that they were making the feature film 'The Battle of Britain' and the aircraft I had seen were supposed to be the very ones he had so feared during the war (he was London lad). I remember being surprised at the very real effect that they seemed to have had on him. (Apparently he nearly crashed the car when he saw them)
I was hooked… I had always had a small talent for drawing and proceeded to cover all of my school books and just about every piece of paper I owned with pictures of Spitfires and Hurricanes, Messerschmitts and Heinkels. I built models and read endless books about my new heroes. Men like Bob Stanford Tuck, Adolph Galland, Sailor Malan and Peter Townsend, great names that resonate with me just as much now nearly forty years later.
As I grew older I was distracted by many changes and obligations that always occur in the lives of everyone. But I never lost my fascination for the subject and always found myself drawn back to my boyhood obsession. Painting aircraft and the battles they were involved in, was always going to happen and I honed my skills by painting whenever I found the time.
It was a chance meeting at a signing event that first led me on the path to a wider audience. Colin Frost is the man behind 'Legends Aviation Gallery' a new venture then and financed entirely from his own pocket. It was refreshing to meet a man who was not just in it for business reasons, but had a real enthusiasm for the subject. I will be forever grateful to him for his patronage and encouragement and his tireless efforts to bring my work to a wider audience.
More recently I have had the great privilege to work for our own armed forces. I have enjoyed creating images that record the deeds of a new generation of our fighting men. I am grateful to have had the opportunity in a small way to help immortalise their exploits so they will be remembered by us all in the years to come.
.

GUARANTEED TO BE 100% ORIGINAL AND GENUINE WITH C.O.A.


Powered by eBay Turbo Lister


Pay instantly with your debit or credit card through PayPal.