---
"Study of Nude" by Oksana Leadbitter (now sold 5/11/12)
£2,850.00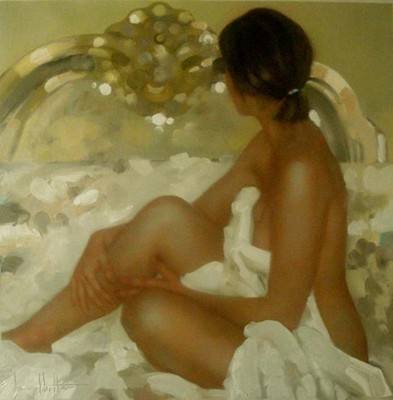 EXQUISITE NEW ORIGINAL PAINTING "Study of Nude".



..........BY THE AMAZING RUSSIAN ARTIST OKSANA LEADBITTER....The beautiful figurative work of Oksana Leadbitter aims to capture a moment in time and to portray the emotions of her individual subject, expressing a story through the eyes, body movement, shadows or light. Her paintings are designed to be interactive, encouraging the observer to engage in a visual conversation with the subject of each mesmerising portrait!!!



Measurements; 20 inches by 20 inches. (50 cms x 50 cms)
Oil on Canvas
Ref only; asgard-arts.com
Christie' s Auction House Artist.
Craft: Fine Art. Nationality: Russian. Citizenship: British since 2001. Residence: UK.
Born in Budapest ( Hungary ) in 1974, Oksana is the daughter of a Russian Artist. At the age of eleven she was fortunate to be offered a place at the Lithuanian State School of Fine Arts (Kaunas) where she was taught by Prof. Lukshis and Aimutis Morkunas, who are some of the most celebrated artists in Lithuania .
In 1998 Oksana moved to London to expand her work and reach out to a more universal audience. Over the years she produces a large number of paintings for many private clients, galleries, hotels, offices, design companies and luxury apartment buildings.
In June 2010 Oksana started selling her paintings with the World's most prestigious Auction House -- Christie's.
Some of her paintings have been published into prints by Rosenstiel's Publishing House.


She is now referred by Montague's Gallery as the "A One to watch for ...... A recommended investment"


Oksana is now based in England and currently working form her studio in Kent, which offers her a tranquil environment to work from.
In her figurative work she aims to capture the moment in time to portray the possession of an individuals emotions, expressing a story through the eyes, body movement, shadows or light.........


Her models are frequently Models from Modelling Agencies. Occasionally -- simply beautiful girls.
Oksana's paintings are designed to be interactive, allowing the observer to absorb the moment.
Each of the girls in the painting tells a unique and different story.


So each and every of one of her paintings becomes an individual invitation to discover each story........
Oksana's paintings are fantastic investments one recently fetched £12,500 !!

.


GUARANTEED TO BE 100% ORIGINAL AND GENUINE WITH C.O.A.




Powered by eBay Turbo Lister


Pay instantly with your debit or credit card through PayPal.