---
"The Feast of Odin" by Leon Goodman (now sold 9/4/12)
£1,600.00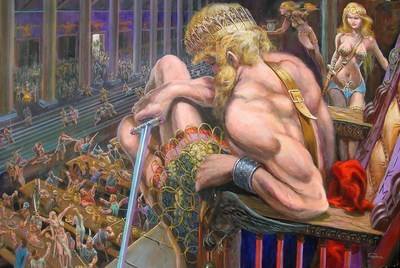 BEAUTIFUL NEW ORIGINAL OIL PAINTING ON CANVAS "The Feast of Odin" .............This beautiful rare and unusual painting is an illustration of the Father of all Gods - Odin.
This rare and unusual painting illustrates Woden or Odin in Valhalla. The painting captures the sheer enormity of the Hall of the Slain with its 540 doors each wide enough for 800 men to walk through abreast. Odin ,the lord of the skies and all Gods, looks down at the feasting and drinking of the newly slain Vikings. He is guarded by his beautiful Valkyries. In the distance one of the doors of Valhalla opens with a steady stream of newly dead welcomed by Heimdall and the asgard plains in the distance!!!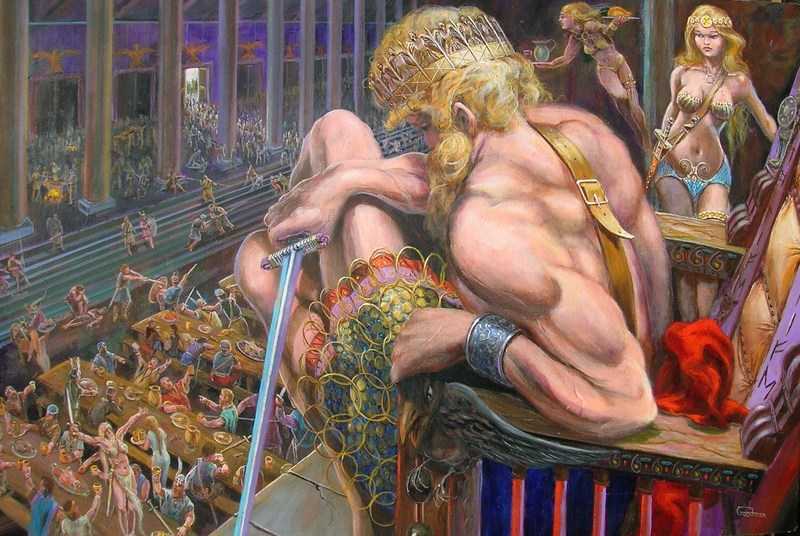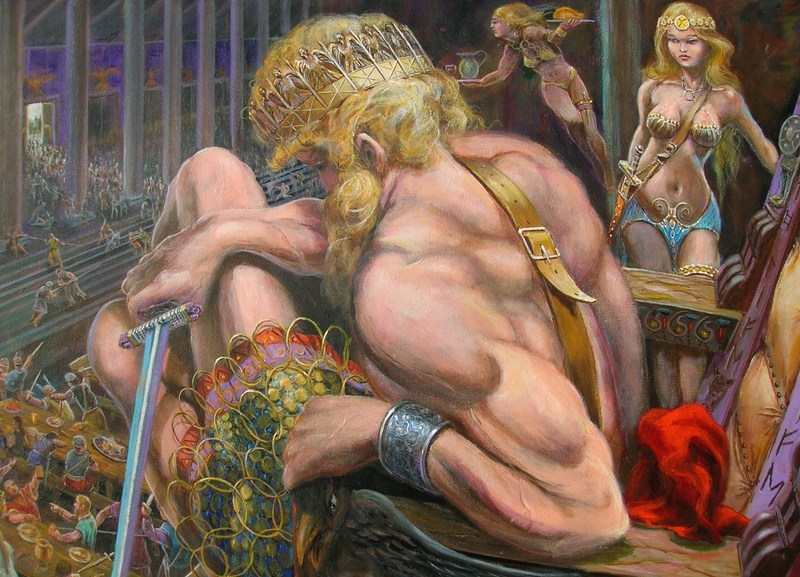 ....................BY THE SUPERB LEON GOODMAN WHO IS AN ACCOMPLISHED ARTIST HAVING BEEN A FINALIST AT THE GARRICK-MILNE PRIZE. HE HAS MANY OF HIS WORKS SOLD AT CHRISTIES.
Measurements height 2 foot x 3 foot. (61 cms x 92 cms) Oil on Canvas. .
Leon Goodman has been a professional artist for the majority of his working life. His work has been sold at The Omell Gallery, Ascot, as well as Christies, the fine art auction house in London. Many of his works have sold for thousands of pounds to the U.S.A. Since seeing his work, Risborough Art Gallery have made him a regularly featured artist. Leon's philosophy is that it is not the delineation of the subject which is important, but its fragmentation. He believes a strictly photographic image does not allow the viewer to participate in the painting. If the image is fragmented, the viewer can imagine for himself the missing parts and involve himself in the creation of the whole image. The viewer has seen his own interpretation of the fragmented images; the next viewer may see something different.
GUARANTEED TO BE 100% ORIGINAL AND GENUINE WITH C.O.A.